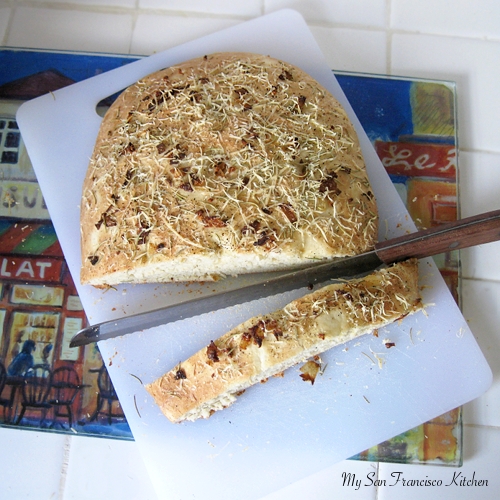 My wedding invitations came today! I can't wait to send them out, but I have to wait another month. I will probably need that much time to address them all (I am handwriting everything out). In the meantime, I have to study for my therapeutics oral exam which is next week, and after that what seems like midterm after midterm and then a 2 hour oral exam in mid-May. Is it summer yet?!
This afternoon I made this rosemary and Parmesan cheese focaccia. I cut it into thin strips and dipped them into sundried tomato marinara sauce-YUM! This bread recipe is one of the fastest I have tried before. This makes a great appetizer or sandwich bread.
Recipe adapted from Tyler Florence "Fabulous Focaccia" from the Food Network, 2001.

Ingredients
Dough
2 tsp rapid-rising dry yeast
1 cup warm water
2 tbsp sugar
3¾ cups all-purpose flour
½ tbsp coarse salt
¼ cup olive oil
Cornmeal
Topping
2 tbsp olive oil
½ onion, minced
2 garlic cloves, minced
2 tbsp rosemary
¼ cup fresh shredded Parmesan cheese
Black pepper
Instructions
In a standalone mixer fitted with a dough hook, add the yeast, warm water and sugar.
Let stand for 7 minutes to proof (should look foamy).
Add salt and 1 cup of flour and mix on low speed.
Pour in ¼ cup olive oil.
Add flour 1 cup at a time until finished. May need to stop and start again while adding the flour.
Increase the speed to medium and mix until the dough is smooth and elastic, about 10 minutes.
Turn the dough out onto a cutting board and fold over itself a few times. Place dough ball in an oiled bowl, and cover with a damp towel.
Let rise in a warm place until doubled in size, about 45 minutes.
Grease a baking sheet with a little olive oil and sprinkle corn meal on top.
Roll and stretch the dough on a cutting board out to an oblong shape about ½-inch thick.
Lay the flattened dough on the baking sheet and cover with the towel.
Let rest for 15 minutes.
In the meantime, add olive oil to a small saucepan and add the onion, then garlic.
Simmer over low heat for 10 minutes until the onions caramelize. Preheat oven to 400 degrees F.
Uncover the dough and dimple with your fingertips.
Brush the surface with olive oil and add onions, garlic, rosemary, Parmesan cheese, and salt and pepper as desired.
Bake on the bottom rack for 20 minutes (should be turning golden brown on edges).
Let cool 5 minutes, then cut on a cutting board and serve warm.
Makes 1 loaf
This post is sponsored by: