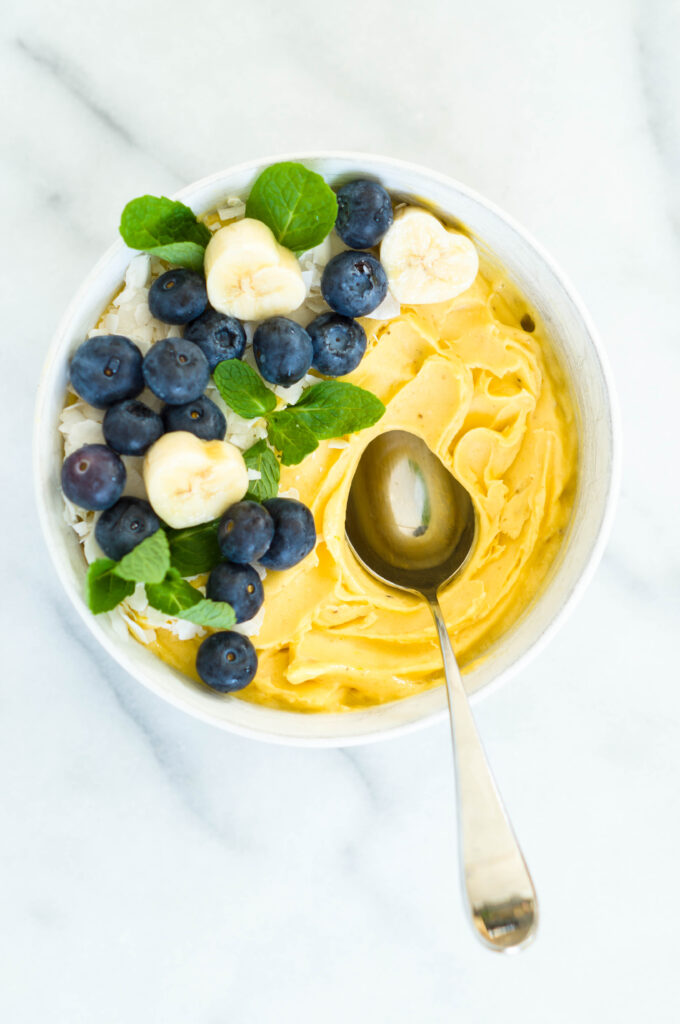 I'm not sure why, but there has been snow outside everywhere and it is freezing yet I keep making smoothie bowls! I always get cold after eating them, but they are so refreshing and delicious, even in winter! I recently made this mango smoothie bowl, which is essentially mango nice cream (frozen bananas and mango blended up). I love that it does not have any added sugar, it is naturally sweetened from the bananas and mango.
I love to make smoothie bowls using my Thermomix® TM6, because the motor is super powerful and makes the creamiest nice cream in the world!
Of course, the toppings make or break your smoothie bowl. For this mango smoothie bowl, I went with coconut flakes, fresh blueberries, bananas and mint leaves.
Enjoy this mango smoothie bowl for breakfast, as a snack, or for dessert!
Mango Smoothie Bowl
Course: Breakfast
Ingredients
1 frozen banana, chopped

1/2 cup frozen mango chunks

Toppings
Directions
Add the frozen bananas and mango to a Thermomix bowl and blend on speed 8 for 20 seconds.
Scrape down the bowl with a spatula, then mix again at speed 4 for 30 seconds.
Top with your favorite toppings!
Disclaimer: I am a Thermomix® consultant and sell them as an independent business. "THERMOMIX," "VORWERK," "COOKKEY," and "COOKIDOO" are a registered trademark of VORWERK (or its affiliates). VORWERK does not support, authorize or endorse this site.