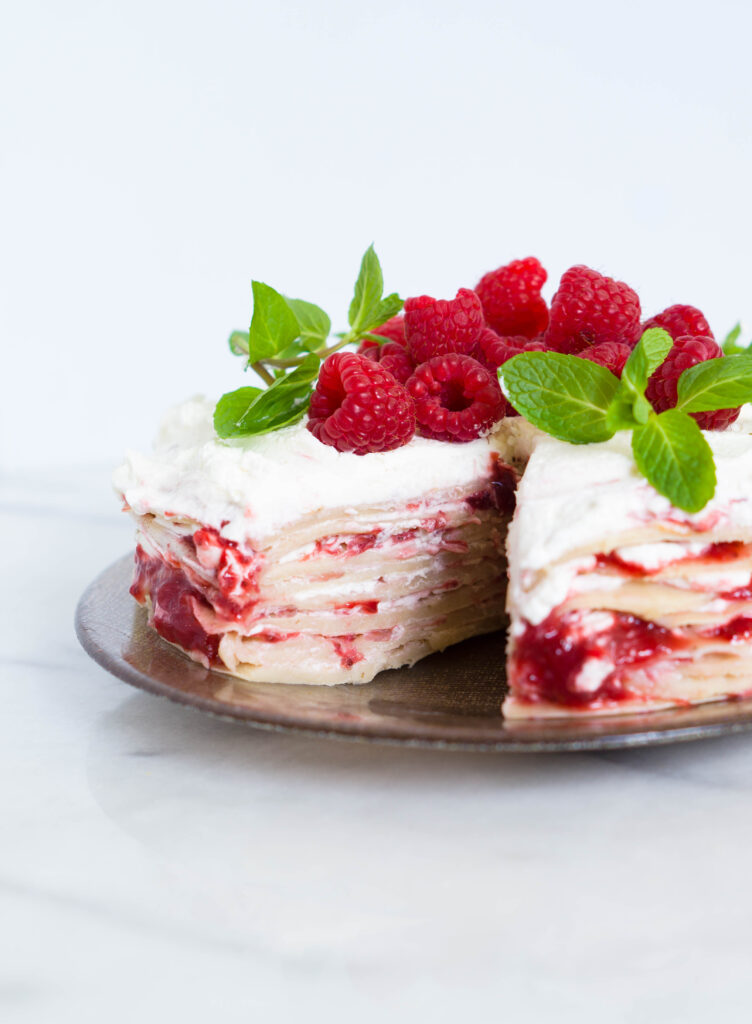 Valentine's Day is almost here! I was recently experimenting with vegan crêpes in my Thermomix® (basically made from almond milk and flour – who would have thought you could make crepes without eggs, but it works!) and it kind of turned into this entire vegan crêpe cake! I love that this vegan crepe cake can be made vegan or traditionally by using any crêpe recipe you know and love. I used coconut cream instead of using heavy whipping cream to make this crepe cake vegan, but both options are delicious. Here is how to make this beautiful vegan crepe cake:
Step 1. Prepare the crepes. This can be done up to a few days before, just cover them with wrap and put them in the refrigerator!
Step 2. Make a batch of homemade jam (easily done in the Thermomix®, and there are many recipes available to you!). If you are short on time or don't feel like making the jam from scratch, store-bought jam will work as well. For this vegan crepe cake, I used a homemade strawberry raspberry jam.
Step 3. Prepare the whipped cream. For vegan whipped cream, use coconut milk, and for non-vegan version, use heavy whipping cream.
Step 4. Assemble the cake! You want to stack all of the crepes and then put a plate on top so you can cut an even circle (this makes the cake stack easier, more pretty and is is easier to decorate the sides later!).
Step 5. Top your vegan crepe cake with fresh fruit and mint!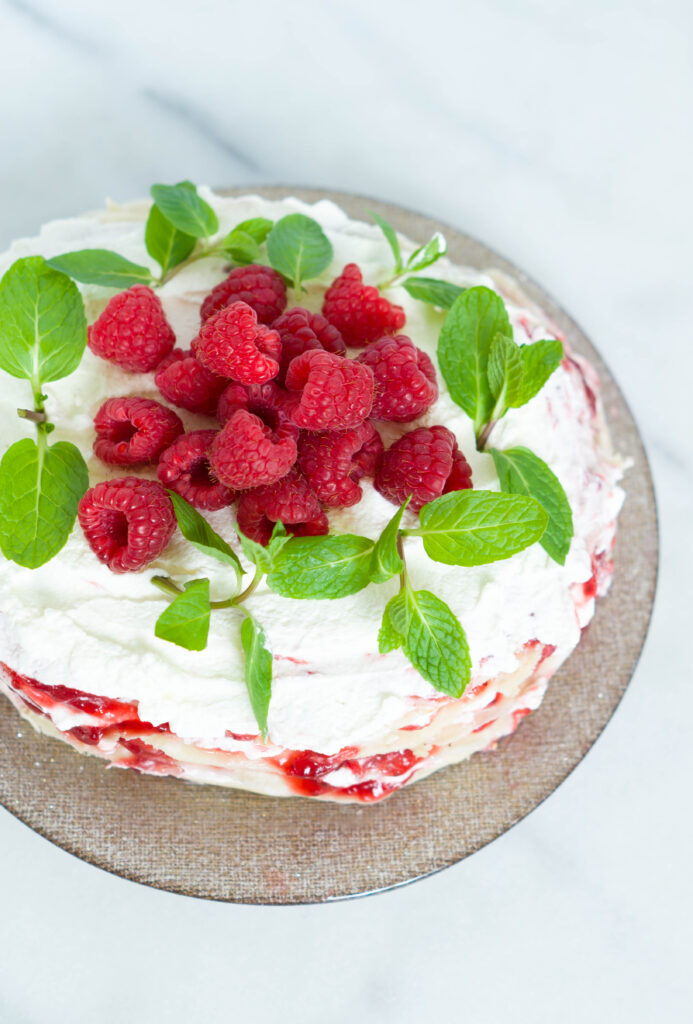 Vegan Crepe Cake
Course: Breakfast
Ingredients
1 cup flour

1 3/4 cups almond milk

Pinch of salt

1 tsp vanilla extract

2 tbsp avocado oil (or any neutral oil)

1 tbsp sugar

1 cup raspberry or strawberry jam

1 can (14 oz) coconut milk, chilled in the refrigerator for at least 2 hours

2 tbsp powdered sugar

Fresh fruit for topping
Directions
Add the flour, almond milk, salt, vanilla extract, sugar and oil to a Thermomix mixing bowl (or blender) and blend on high until mixed well.
Heat a skillet over medium heat and wait until hot. Grease with a small amount of avocado or coconut oil.
Pour 1/2 cup of batter into the skillet and swirl around slowly until the batter stops moving. Place back onto the cooktop and cook until bubbles appear and pop, about 2 minutes, then flip and cook the other side for 1 minute.
Transfer the crepes to a plate and cover with a towel.
Set aside to cool completely, or wrap and place in the refrigerator if using later.
In the meantime, make the whipped cream by adding just the cream part on top of the can and powdered sugar to a Thermomix mixing bowl or bowl with beaters and mix on medium speed until fluffy.
Assemble the vegan crepe cake by starting with one crepe on a plate, then top with jam and cream then repeat until you have used all of the crepes. Top the last crepe with jam then vegan whipped cream and fresh fruit and mint leaves.
Did you make this recipe? Tag me on Instagram @thecookingrx
Disclaimer: I am a Thermomix® consultant and sell them as an independent business. "THERMOMIX," "VORWERK," "COOKKEY," and "COOKIDOO" are a registered trademark of VORWERK (or its affiliates). VORWERK does not support, authorize or endorse this site.