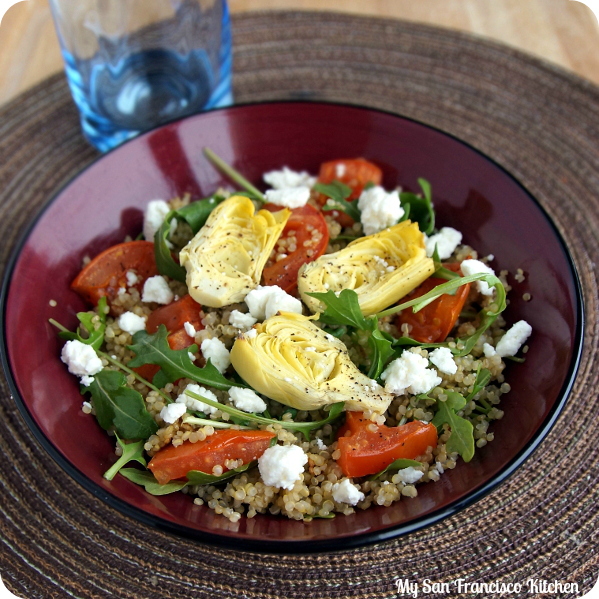 We are off to Tahoe! I actually packed everything on time for once in my life so hopefully we can leave before the Friday traffic hits SF! I'm serious, do not try to leave San Francisco on a Friday evening via the Bay Bridge…ever! It gets nasty. Before I go, I wanted to leave you with this healthy Mediterranean quinoa salad. I love roasted artichokes and tomatoes, but I love them even more in a salad! I have been obsessed with quinoa lately (you should see how many boxes I have stocked in my pantry!), it is just so much fun experimenting with different quinoa recipes. I couldn't stop eating this salad, I just love the flavors. It really is one of those salads that make you stop after taking a bite and say, "MMMM" out loud. Or maybe it is just my quinoa and feta cheese addiction that makes me love this salad so much…
Oh, by the way, have any of you living in the Bay Area seen the Bay Bridge lights at night? I still haven't gone to check them out! From the videos I have seen, I think what they did is so cool!
Have a happy Friday and great weekend!
Mediterranean Quinoa Salad
Prep time:
Cook time:
Total time:
Ingredients
2 cups cooked organic white quinoa
1 cup arugula, trimmed and rinsed
1 can/jar artichoke hearts
1 cup organic cherry tomatoes
1/2 cup crumbled feta cheese
3 tbsp olive oil, divided
Ground black pepper to taste
Instructions
Preheat oven to 375 degrees F.
Slice cherry tomatoes and artichoke hearts in half and add to a large mixing bowl.
Add 1 tbsp olive oil, and pepper and mix well.
Spread over a baking sheet and bake for 15-20 minutes. [br] [img src="http://mysanfranciscokitchen.com/wp-content/uploads/2013/03/med-salad-1.jpg" /]
Add quinoa, arugula, feta cheese and roasted vegetables to a large mixing bowl.
Drizzle olive oil over the salad and sprinkle desired amount of ground black pepper over the salad.
Toss everything together before serving. [br] [img src="http://mysanfranciscokitchen.com/wp-content/uploads/2013/03/art-salad-2.jpg" /]
Makes 4 cups