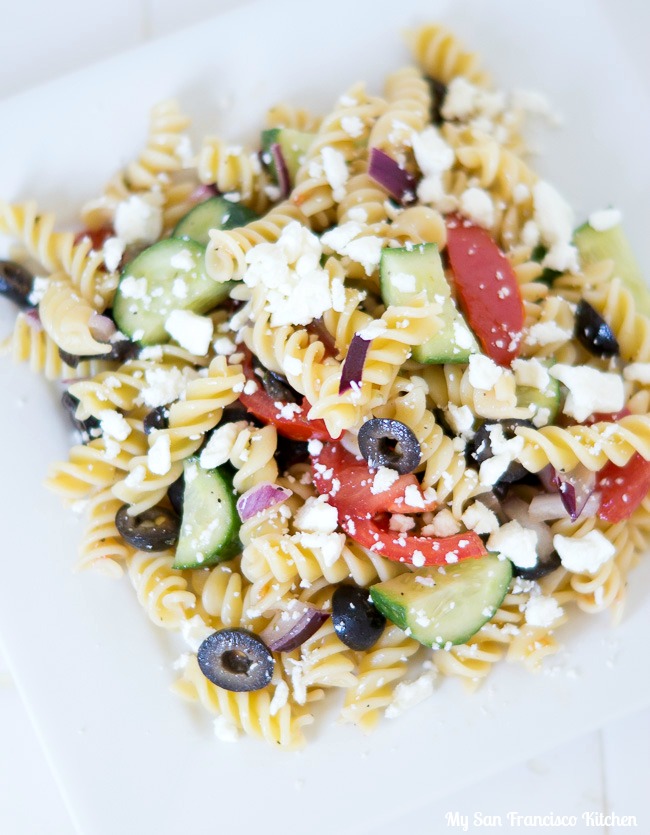 The week is going by so fast! Maybe because it is getting darker sooner, the days have also been flying by. Quick lunches have been my friend this week, like this healthy Greek pasta salad. It is really easy to throw together during a busy afternoon. The tomatoes and cucumbers taste so fresh! I like to eat this Greek pasta salad cold, but it is also good warm. I like to toss it with an easy herb vinaigrette.
Today is usually my running day, but it is so cold and gloomy outside that it makes me not want to go outside. I went cycling yesterday, and I usually don't go two days in a row, but I might just have to go cycling instead! At least it is indoors and warm! The weather has been so strange here lately – one day it is reallllly hot, and the next it is freezing. Come on San Francisco, let's find a nice in-between.
Lately we have been thinking about upsizing our living space since our baby girl will be more comfortable in her own room soon. Last weekend we went to an open house in the city, you know, just to look, and like all of the other times it really sank in how expensive living in the city has become! To buy a 3 bedroom apartment in a nice neighborhood, you have to be ready to take on a $2-3 million dollar price tag. Sometimes I see places that I could definitely see us living in, but most of the time there are always a few things missing or that I would have done differently. The latter always makes me feel better, and the fact that we get to save more money for our dream place someday. For now, our little one bedroom with a tiny kitchen will have to do.

Greek Pasta Salad
Ingredients
Pasta Salad
2 cups uncooked rotini noodles
1 Persian cucumber, chopped
2 tomatoes, chopped
2 tbsp finely chopped red onion
¼ cup black olives, sliced
¼ cup crumbled Feta cheese
Herb Dressing
¼ cup olive oil
2 tbsp red wine vinegar
½ tsp Dijon mustard
1 clove garlic, minced
½ tsp dried oregano
¼ tsp pepper
¼ tsp salt
Instructions
Cook the rotini noodles per package directions.
Drain and add to a salad bowl, followed by cucumber, tomatoes, red onion, olives and Feta cheese.
Add the olive oil, vinegar, mustard, garlic, salt and pepper to a blender and blend until the dressing is well mixed.
Pour the dressing over the salad and toss well.
Serve warm or cold.
Serves 4