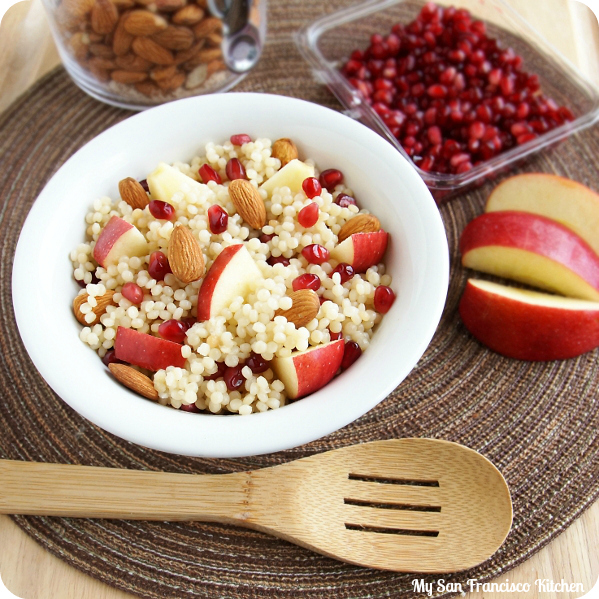 The first time I tried couscous was in Paris. It is quite a popular dish in France, and is usually accompanied by a stew. I love experimenting with couscous because it has such a mild flavor that is pretty much goes well with anything. This couscous apple pomegranate salad recipe is great for breakfast, lunch or as a side dish. I love the texture the almonds give to this couscous salad, and they balance out the sweetness from the apples and pomegranate seeds. I suggest using gala apples, or another sweet apple. Do you have a favorite couscous recipe?
I have been busy with a new project, The Food Blog Network. I am happy to announce that it is finally up and running, so make sure to add your food blog to the directory and check out the forums. If you have any feedback for the site, send me a message via the contact form on the website. I am so excited about this launch because I think it will be a great resource for food bloggers all over the world. A lot of work has gone into it, so it feels good to finally get to see it in action. Thanks to those of you who have already signed up and for supporting the cause. Here's to meeting new foodies!!

Couscous Apple Pomegranate Salad
Ingredients
1⅓ cups couscous, uncooked
1 tbsp olive oil
1¾ cups water
1 cup pomegranate seeds
1 apple, chopped
½ cup raw almonds
Instructions

In a small saucepan, heat the olive oil over medium heat.
Add the couscous and stir until it starts to brown (3-5 minutes).
Add the water and bring to a boil.
Cover and turn the heat down to low. Simmer for 10 minutes.
Remove from heat and uncover, allowing to cool for 10 minutes.
In a large bowl, mix cooled couscous, chopped apples, pomegranate seeds and almonds.
Makes 4 cups