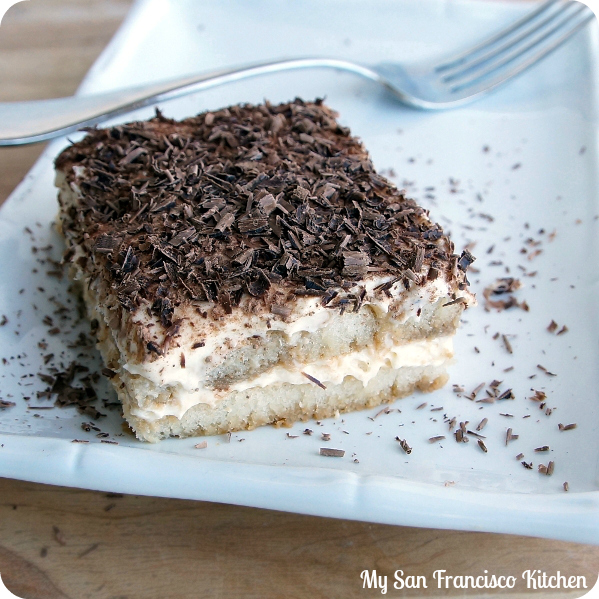 Happy Saturday! I am so excited to share my Valentine's Day dessert with you, Tiramisu, and I have an exciting announcement! Tiramisu is one of my favorite desserts in the world. Italian Savoiardi cookies (also known as Ladyfingers) are dipped in espresso, then topped with a fluffy layer mascarpone cheese and whipped cream flavored with Marsala wine. Just before serving, top the Tiramisu with cocoa powder and dark chocolate shavings. You can prepare this dessert in a baking dish or in small trifle glasses. Did you know that Tiramisu literally means "pick me up"? It is the perfect thing to look forward to in the afternoons or after a long day at work, and pairs well with coffee or tea. I was surprised when I was looking at recipes for Tiramisu because most of them had raw eggs in them. I figured I have eaten enough brownie and cookie batter in my lifetime and have never gotten sick, so it would probably be fine… and I was right, nothing happened. Many people say it is a must to leave the Tiramisu in the refrigerator overnight for the best results, so I tried this and it was incredible. If you can't wait that long, try to wait as long as you can, at least so the filling sets nicely.
On to the announcement… I am currently writing my first book! It isn't a recipe book as you may have thought, although I hope to work on one sometime in the future. How fun would that be? I am not ready to release any details on the book just yet, but it is a fun process and I cannot wait to see the finished product!
Do you have any plans for the 3-day weekend? The weather is gloomy in the city today, so I plan on staying inside and getting some work done. We usually don't go anywhere on 3-day weekends because most places are overpriced and crowded *cough*Tahoe*cough* 🙂 I am hoping for some snow up there so we can go skiing soon!

Tiramisu
Ingredients
2 cups espresso or strong coffee, room temperature
2 tbsp Marsala wine or dark rum
2 eggs, separated
Pinch of cream of tarter
¼ cup granulated sugar
250 g mascarpone cheese
½ cup heavy whipping cream, chilled
20 Savoiardi cookies (Ladyfingers) (if thin, may need more)
Unsweetened cocoa powder, for dusting
Dark chocolate for garnish
Instructions
Add egg yolks and sugar to a large mixing bowl and beat with an electric mixer until fluffy.
Add mascarpone cheese and continue beating until mixed well.
In a standalone mixer or separate mixing bowl, whip the heavy whipping cream until you see stiff peaks (this may take a few minutes).
Gently fold the whipped cream into the mascarpone cheese mixture with a spatula (do not mix!).
Clean the bowl the heavy whipping cream was used in, and add the egg whites and pinch of cream of tarter.
Beat the egg whites with a clean attachment (beaters or large whisk) until peaks form. Make sure there is no trace of dish soap left on the bowl or beaters, or the peaks will not form.
Fold the egg whites into the mascarpone/whipped cream mixture, again gently with a spatula until just combined.
Set in the refrigerator.
Pour coffee and 2 tbsp Marsala wine or rum (if desired) into a bowl and QUICKLY dunk the Ladyfinger cookies one-by-one into the coffee and place side-by-side in a 8x8 baking dish.
Once you have the bottom layer completed, add one half of the filling over the top and spread until even.
Add another layer of dipped Ladyfinger cookies over the filling, and top with the other half of filling. Spread until even.
Cover with plastic wrap and refrigerate for at least 2 hours (overnight is recommended for best flavor!).
Just before serving, garnish by dusting cocoa powder over the top, and shave dark chocolate with a vegetable peeler over the top.


Makes 1 8x8 dish of Tiramisu
This post is sponsored by: