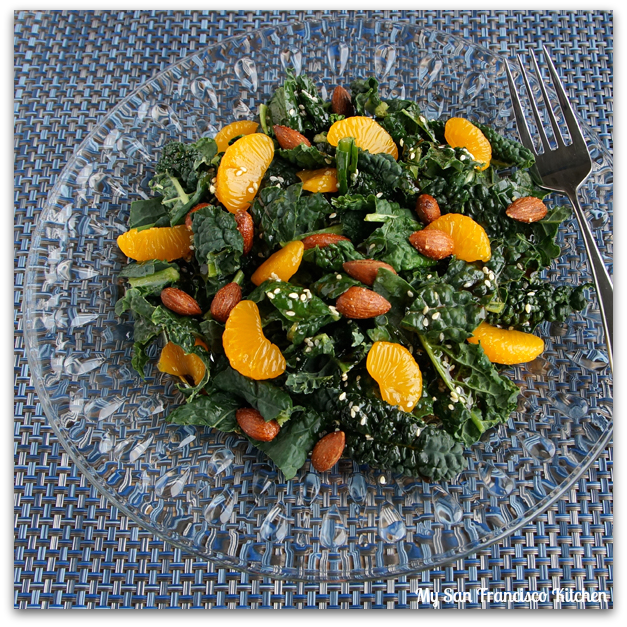 OK, so I'm here, but I'm not really here… My husband and I are currently on vacation, so I added in a few posts for this week for you guys while we are away! I was good and left my laptop at home this trip 🙂 This recipe is a simple, yet delicious, everyday salad recipe. I remember the first time I had an Asian citrus salad back in college at a little restaurant in Isla Vista, CA called Silvergreens. I ate it every single day for a week because I loved it so much. Now, I am not the biggest fan of salads because I tend to get bored of them pretty fast… but I love this one and could never get tired of it. I love the fresh taste of the mandarins, the crunchiness of the almonds, and the delicious citrus dressing. This salad is packed with vitamin C, and perfectly refreshing for the summer. Add griled marinated chicken to make it a healthy, complete meal.

Asian Mandarin Salad
Ingredients
4 cups chopped kale
½ cup mandarin slices
½ cup almonds
Dressing:
2 tbsp olive oil
1 tsp soy sauce
1 tbsp brown sugar
1½ tbsp rice vinegar
1 tbsp toasted sesame seeds
Instructions
Rinse and strain chopped kale. Transfer to a salad bowl and set aside to dry.
Add olive oil, soy sauce, brown sugar, rice vinegar and toasted sesame seeds to a cruet and shake well.
Add mandarins, almonds and dressing to the chopped kale and toss well.
Serve immediately.
Serves 2