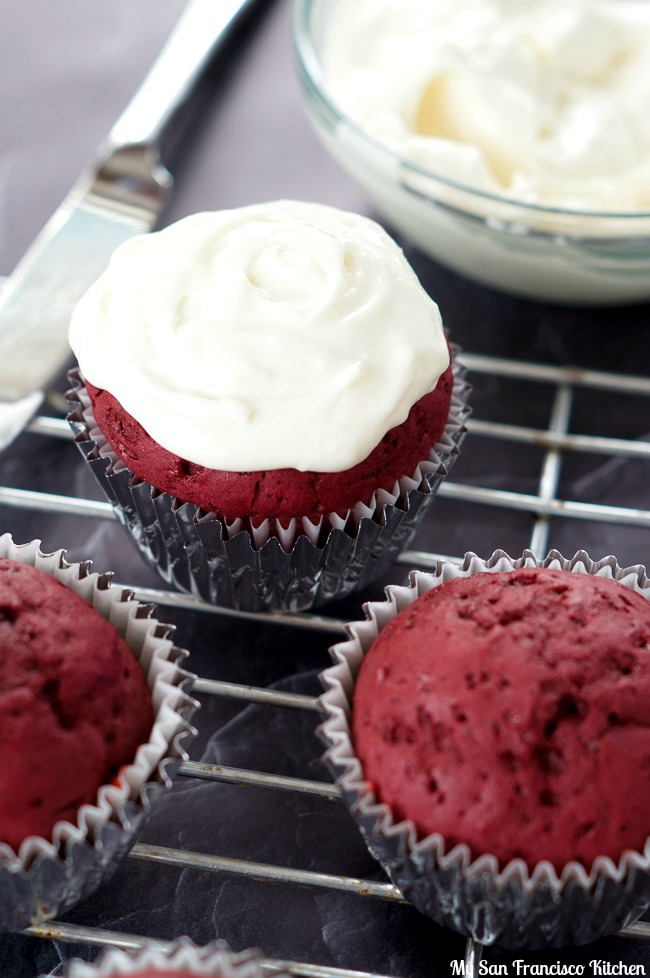 Is it too early to be getting excited for Valentine's Day?
Maybe I am just using it as an excuse to test this recipe for red velvet beet cupcakes I saw in Cooking Light magazine recently. The color is gorgeous, isn't it? It is completely from the fresh beet purée, no artificial dyes here! At first I was worried about adding beets to cupcake batter. That sounds a little disgusting. I was pleased with the end result, since I couldn't taste any beet flavor at all. The chocolate, sugar and buttermilk totally mask it. The beets only add a brilliant red coloring to these red velvet cupcakes and a moist texture. 
Did you know in the past when cocoa was less processed it actually turned the cake red by reacting with vinegar and buttermilk? Now it is harder to find cocoa that is not processed, so most of the time you have to use red food coloring to make red velvet cake. I am happy I found this great alternative!
These red velvet beet cupcakes are frosted with a lighter version of cream cheese frosting, using light cream cheese and greek yogurt.
Me and Leila had fun baking these today during the snow storm. Nothing is better than cupcakes, hot cocoa and sitting by the fireplace with a blanket during a blizzard outside! 🙂
What do you think? Will you try using cooked beets in your next batch of red velvet cupcakes??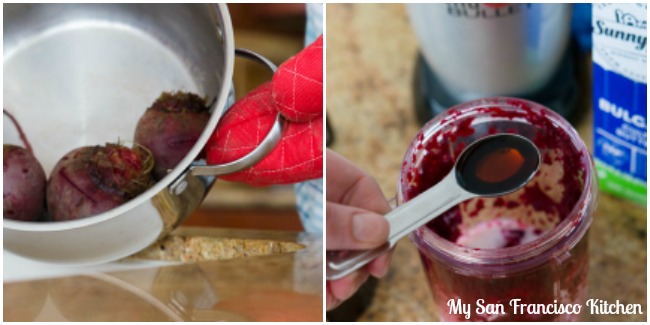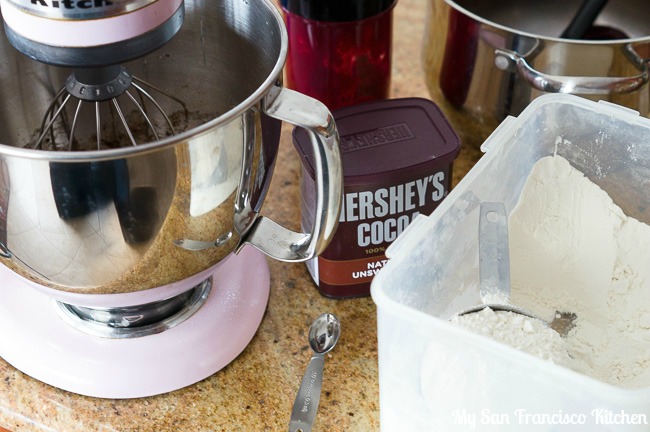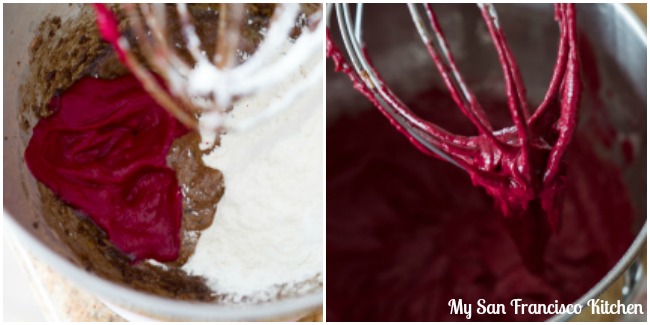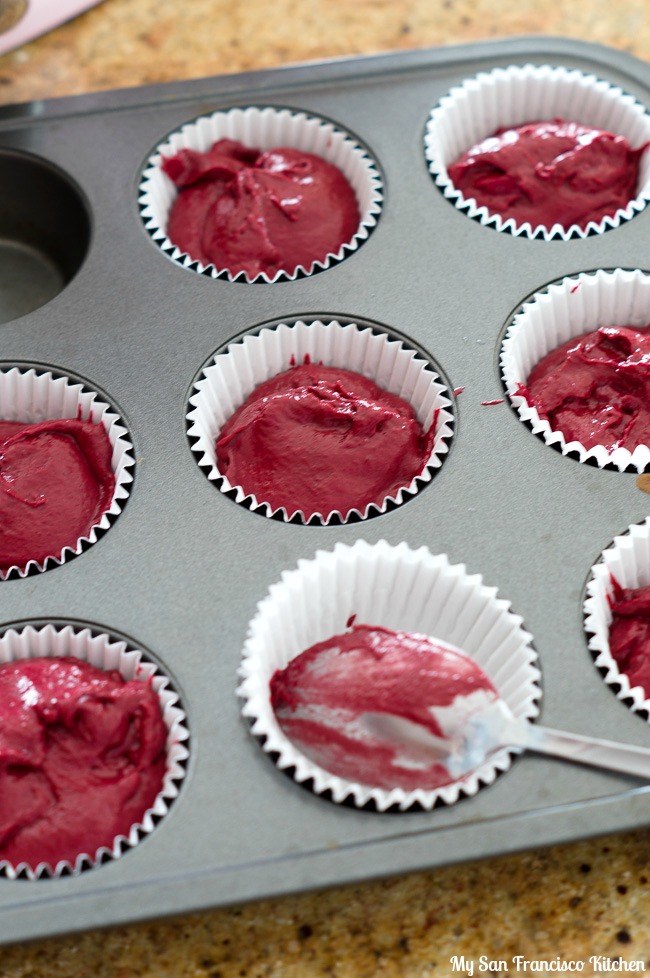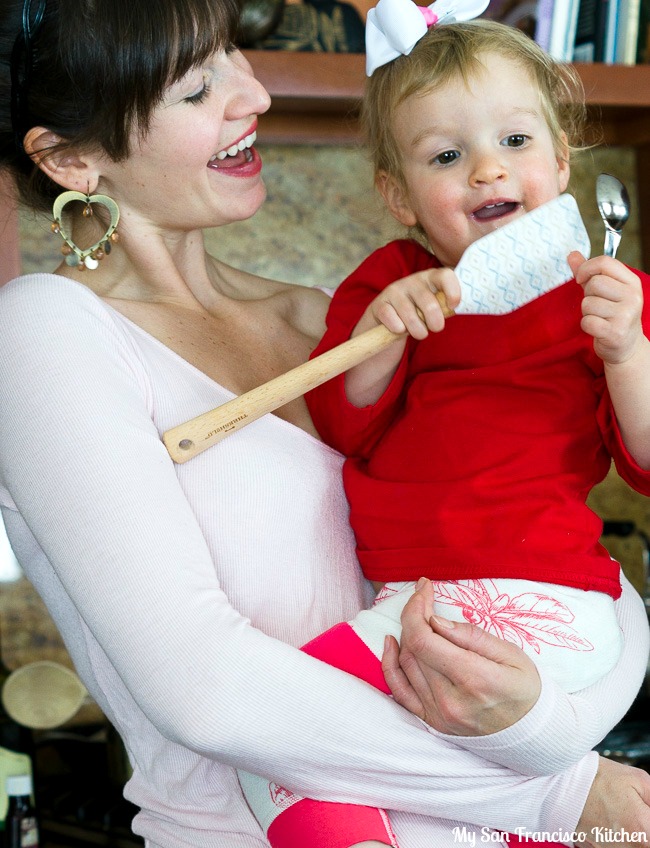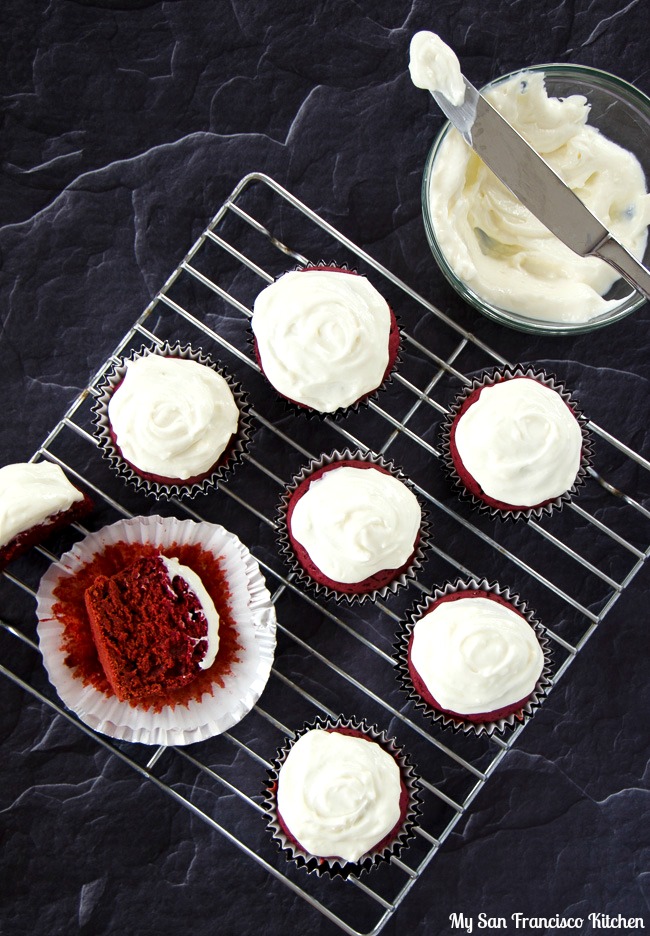 Red Velvet Beet Cupcakes
Ingredients
2 medium-sized beets, boiled, peeled and chopped
⅔ cup nonfat buttermilk
1½ tsp vanilla extract
2 cups all-purpose flour
¼ cup unsweetened cocoa powder
2 tsp baking powder
½ tsp salt
1 cup granulated sugar
¼ cup canola oil
¼ cup butter, softened
2 large eggs
Instructions
Preheat oven to 350 degrees F.
Add the beet, buttermilk and vanilla to a blender or food processor and purée.
Combine the butter, oil and sugar in a mixing bowl using an electric mixer.
In a separate bowl, whisk the flour, cocoa, baking powder and salt together.
Add the eggs to the butter mixture, then alternate adding the flour mixture and the beet mixture until well combined.
Fill a muffin tin lined with cupcake liners ¾ full.
Bake in the oven for 18 minutes.
Cool before frosting.
Makes 12 cupcakes
Recipe adapted from Red Velvet Beet Cupcake Recipe by Cooking Light magazine