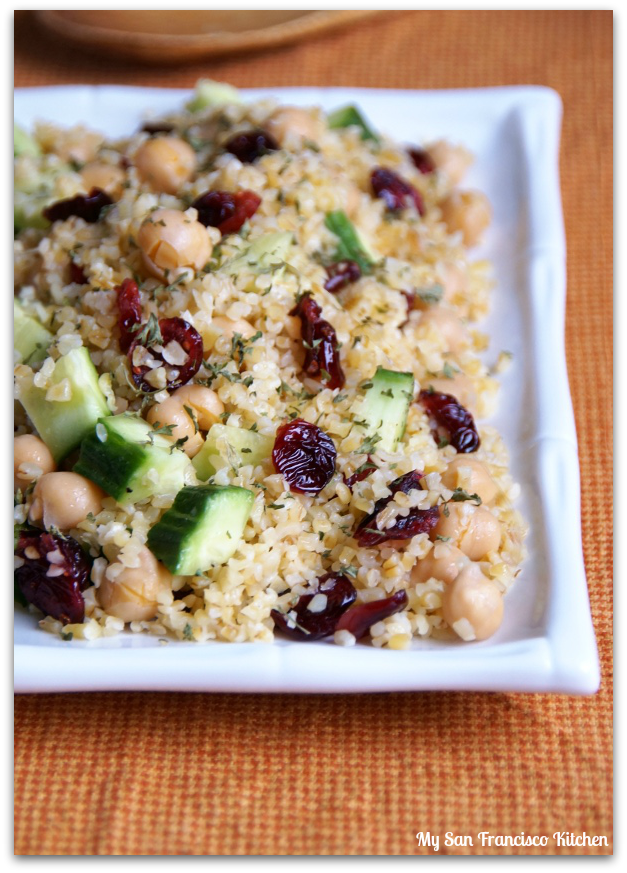 Thanksgiving is only one week away! Have you finalized your menu yet? This year I am spending Thanksgiving with my family, and I am really looking forward to my Mom and Grandma's cooking!! I have been seeing so many fun Thanksgiving recipes all over the internet the past few weeks. This healthy bulgur salad recipe is a must-have side for your Thanksgiving table. It is really easy to make, which is a huge plus on Thanksgiving day when you have so much to prepare. I found this recipe in Cooking Light magazine, and was really pleased with the results. I love dried cranberries, and they go so well tossed together with warm bulgur, cucumbers, chickpeas, parsley and drizzled with a lemony-herb olive oil dressing – yum!
Remember the other day when I said I might have some exciting news? Well, it's official – I am going to be a pharmacist! I got a job offer! Now I just need to get through my last rotations. Oh yeah, and pass my licensure exams. I have been starting to get senioritis for the third time in my life (high school, undergrad, and now grad school!). I really can't wait to start my career…I am so close 🙂
OK, so tell me what you are planning on eating for Thanksgiving this year!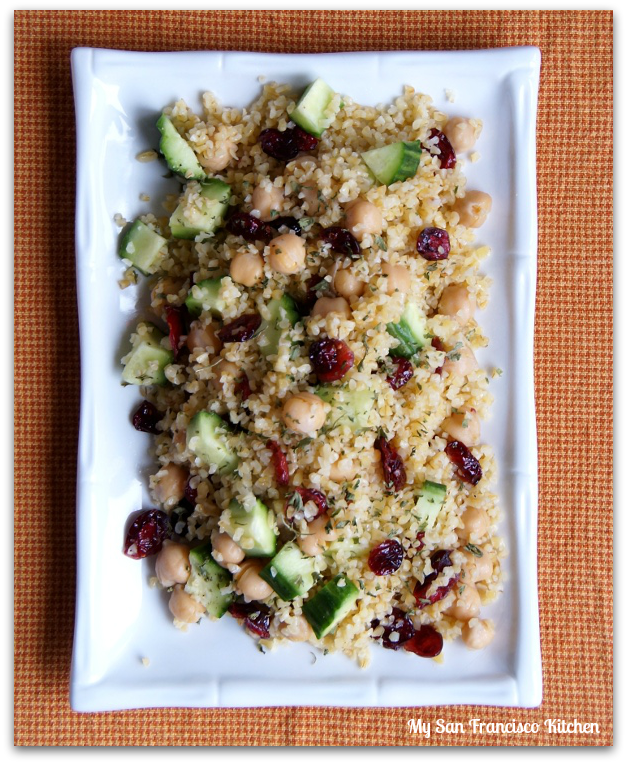 Bulgur with Chickpeas, Cranberries, and Cucumber
Ingredients
1 cup coarse-ground bulgur
2 cups water
2 cups cubed organic English cucumber
1 cup chickpeas
¾ cup organic dried cranberries
1 teaspoon grated lemon rind
⅓ cup fresh lemon juice
⅓ cup extra-virgin olive oil
Salt and ground black pepper to taste
1 tbsp dried parsley
Instructions
Bring a pot of 2 cups water to a boil, then add bulgur. Cover and turn heat to low. Simmer for 10 minutes.
Add cucumber, chickpeas, and cranberries to bulgur and stir.
In a small bowl, whisk together olive oil, lemon rind and juice, salt, pepper and parsley.
Drizzle dressing over the bulgur salad and serve warm or cold.
Makes ~6 cups
Recipe adapted from Cooking Light magazine, Nov 2009 – see original here