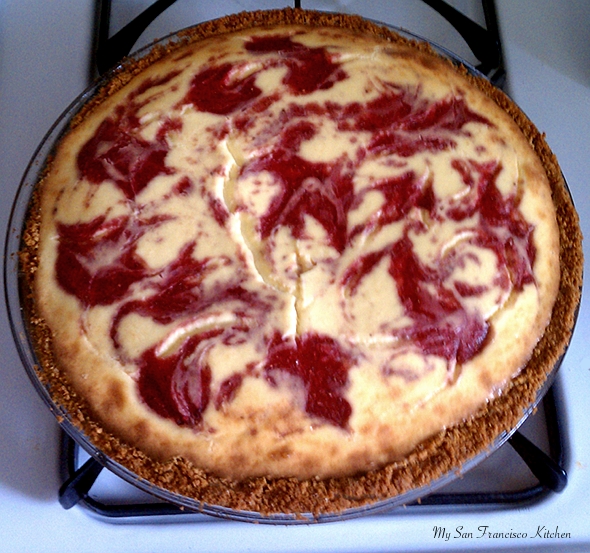 Cheesecakes are so much fun to bake because there are endless variations. This strawberry cheesecake recipe is a classic and a guaranteed hit at any occasion. I have tried this recipe with light cream cheese, and I think it still tastes great so don't be afraid to make the healthier version 🙂

Strawberry Swirl Cheesecake
Ingredients
Crust
2 cups graham cracker crumbs
¼ cup sugar
⅓ cup + 1 tbsp butter
Filling
2.5 cups fresh strawberries (can also use frozen)
1 tbsp cornstarch
2 tbsp sugar
16 oz cream cheese (can sub. light)
3 eggs
¼ cup lemon juice
1 tsp vanilla extract
1 tbsp water
Instructions
Grind graham crackers in a food processor into fine crumbs.
Combine with melted butter and sugar in a pie dish, and press with fingers into a crust.
Refrigerate for 15 minutes.
In a blender, purée strawberries and cornstarch.
Pour into a saucepan and bring to a boil.
Stir in sugar and stir for 2 minutes.
Remove from heat and cool.
Pour ⅓ cup into a separate cup and set aside, and refrigerate remaining portion, covered.
Preheat oven to 300 °F.
In a mixing bowl, beat cream cheese until fluffy.
Beat in vanilla and lemon juice until well blended.
Beat in eggs on low until just combined.
Take crust out of refrigerator, and pour one half of the cream cheese mixture over it.
Spoon one half of the ⅓ cup strawberry sauce that was set aside over the mixture.
Pour the remaining ½ of the cream cheese mixture over the strawberry sauce.
Drop remaining ½ of the strawberry sauce by teaspoonfuls over the top, evenly.
Cut through the top with a butterknife to swirl the strawberry sauce into the cream cheese. Have fun with this part!
Carefully place the cheesecake into the center of the preheated oven, and bake for 45 minutes at 300 °F.
Remove from oven when center is almost set, and cool for 1 hour.
Refrigerate for at least 5 hours before serving (best results: refrigerate overnight!!).
Serve with chilled strawberry sauce, thinned with 1 tbsp water if needed.