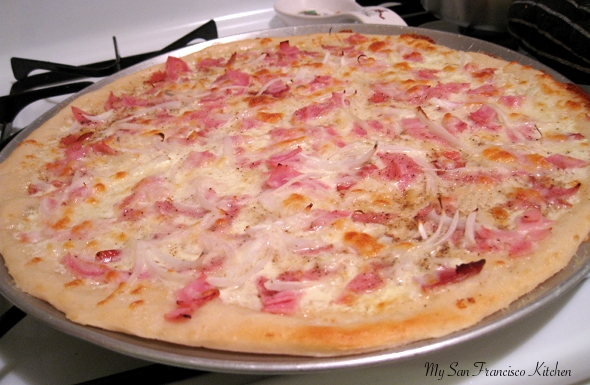 Flammkuchen has to be one of my FAVORITE German dishes. It is delicious! The first time I tried it was in the Spring of 2010, when I lived in Germany for a few months. I fell in love with this dish. Its almost like a pizza, but instead of pizza sauce, creme fraiche is used. You can get a really delicious and inexpensive creme fraiche at Trader Joe's, and I have seen it at other chain grocery stores in the US, but it can be quite expensive.  This traditional German flammkuchen recipe is a basic one, for there are many variations. Usually bacon or prosciutto is used, but I prefer to use ham slices to keep it healthier. Tomatoes, corn, zucchini or basil, are some other toppings I have seen used at German restaurants. The possibilities are endless! Serve with a fresh salad. Tip: If you can't find creme fraiche, try adding 2 tbsp buttermilk to 1 cup heavy whipping cream and let stand covered for 24h then refrigerate…you can also try sour cream, but it will taste a little different…

Traditional German Flammkuchen
Ingredients
1 packet active dry yeast
1 cup warm water
½ tsp salt
Pinch of sugar
2 tbsp olive oil
2½ cups all purpose flour
1 package creme fraiche (6 oz)
1 cup chopped ham (sub bacon or prosciutto)
½ cup thinly sliced white onion rings
¼ cup shredded mozzarella cheese
Pepper
Instructions
Add water to yeast and a pinch of sugar and let stand 10 minutes.
Stir in olive oil and flour a little at a time with a fork or in a standalone mixer.
Knead for 10 minutes on a floured surface, and place in a greased bowl.
Cover with a towel and let rise 1 hour.
Preheat oven to 525 F.
Deflate dough and roll on a floured surface to the size of a large pizza pan.
With a tablespoon, drop creme fraiche around surface of dough, then smear around to fully cover to edges.
Sprinkle pepper over creme fraiche, then top with sliced ham and onions.
Top with mozzarella cheese (only a small amount! No more than ¼ cup).
Bake for 10-15 minutes, checking for browning of the top. Crust should be hard when done.
This post is sponsored by: