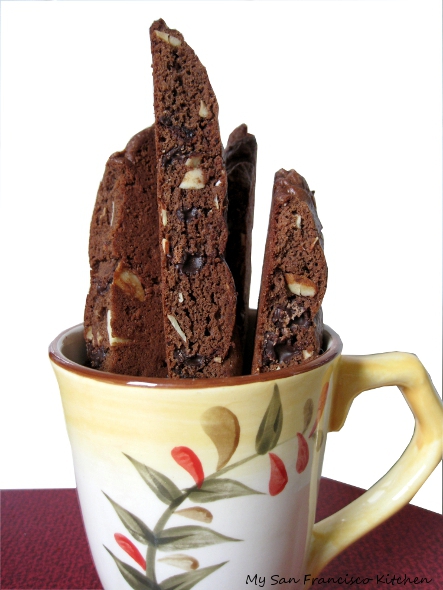 The dark twin of the almond biscotti I made last week, these double chocolate almond biscotti are made with simple ingredients you probably already have in your kitchen: butter, flour, sugar, egg, cocoa, vanilla, sliced almonds, baking powder, salt, milk and chocolate chips. They are twice-baked and come out of the oven the second time crunchy and ready to be dipped in your favorite drink! Try them with this creamy hot cocoa for an extra chocolatey snack 😉

Double Chocolate Almond Biscotti
Ingredients
¼ cup butter, softened
⅓ cup white sugar
1 egg
1 pinch salt
¼ tsp vanilla extract
2 tbsp unsweetened cocoa powder
½ tsp baking powder
¾ cup all-purpose flour
¼ cup semi-sweet chocolate chips
¼ cup sliced almonds
1 tbsp milk
Instructions
In a large mixing bowl, cream butter, salt and sugar with an electric mixer or standalone mixer until light and fluffy.
Gradually beat in cocoa and baking powder for 2 minutes on low.
Beat in the egg and vanilla.
Add the flour a little at a time on low until well blended.
Mix in chocolate chips and almonds by hand with a large spoon.
Preheat oven to 375 F.
Transfer dough to a baking sheet and form a 9 inch long log that is about 1 inch thick. Use buttered fingers to smooth (dough will be sticky).
Brush with milk and sprinkle some sugar over the top if desired.
Bake for 20 minutes, or until toothpick inserted in center comes out clean.
Lower oven temperature to 315 F.
Cool on cookie sheet for 10 minutes, then carefully transfer to cutting board.
Cut the loaf into ½ inch wide diagonal slices.
Place slices on an ungreased baking sheet, and bake at 315 F for 10 minutes.
Turn over, and bake for 10 minutes.
Cool completely, then store in an airtight container.
See this post on Weekend Potluck!