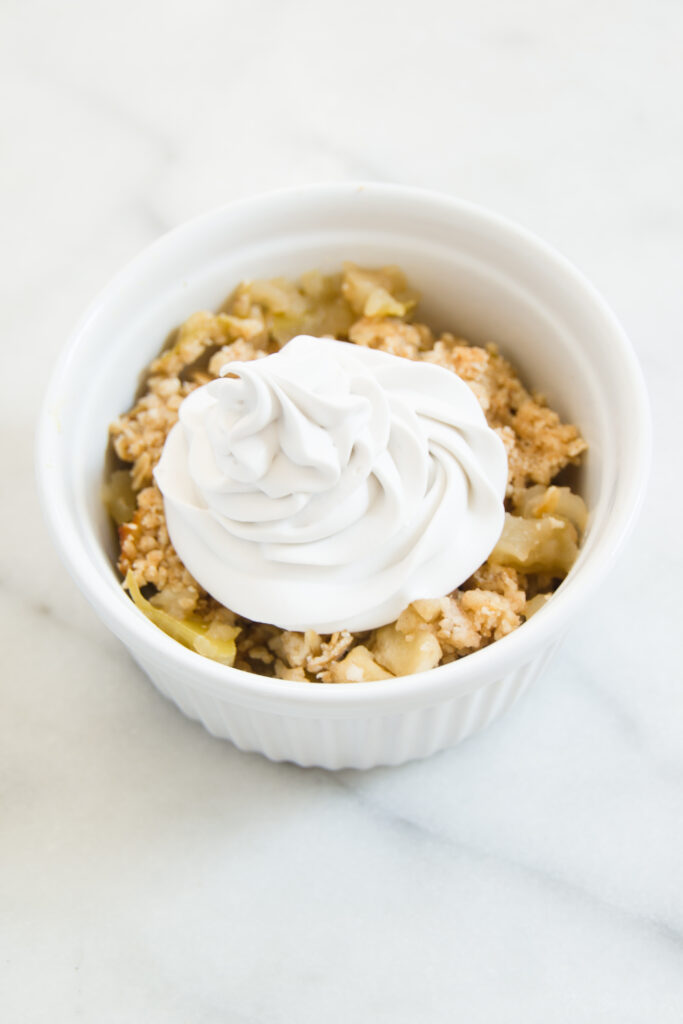 The other day I was making a vegan apple crisp (will post recipe soon!), and realized some whipped cream would be amazing on top. I grabbed some coconut milk cans from my pantry, popped them in the fridge. A few hours later, I added the chilled cream from the top along with some powdered sugar into my Thermomix®, whipped it up with the butterfly whisk attachment and magic happened. Fluffy vegan whipped cream was born! to make it pretty, I added it to a cake decorating bag (a plastic zip lock baggy also works fine) and used a Wilton M2 tip to pipe it onto my apple crisp portions.
The key to making a vegan whipped cream that holds well is making sure to use only the cream, not the milk, from the can, and making sure it is well chilled and whipped in a chilled bowl. The powdered sugar also keeps it stiff.
Enjoy!
Vegan Whipped Cream
Course: Dessert
Difficulty: Easy
Ingredients
2 cans coconut milk

1 tbsp powdered sugar
Directions
Chill the cans of coconut milk for at least 4 hours (overnight is ideal).
Scoop the coconut cream into a Thermomix® mixing bowl after adding the butterfly whisk attachment, then add the powdered sugar.
Whip on speed 3.5 for 30 seconds.
Disclaimer: I am a Thermomix® USA consultant and sell them as an independent business. "THERMOMIX," "VORWERK," "COOKKEY," and "COOKIDOO" are a registered trademark of VORWERK (or its affiliates). VORWERK does not support, authorize or endorse this site.