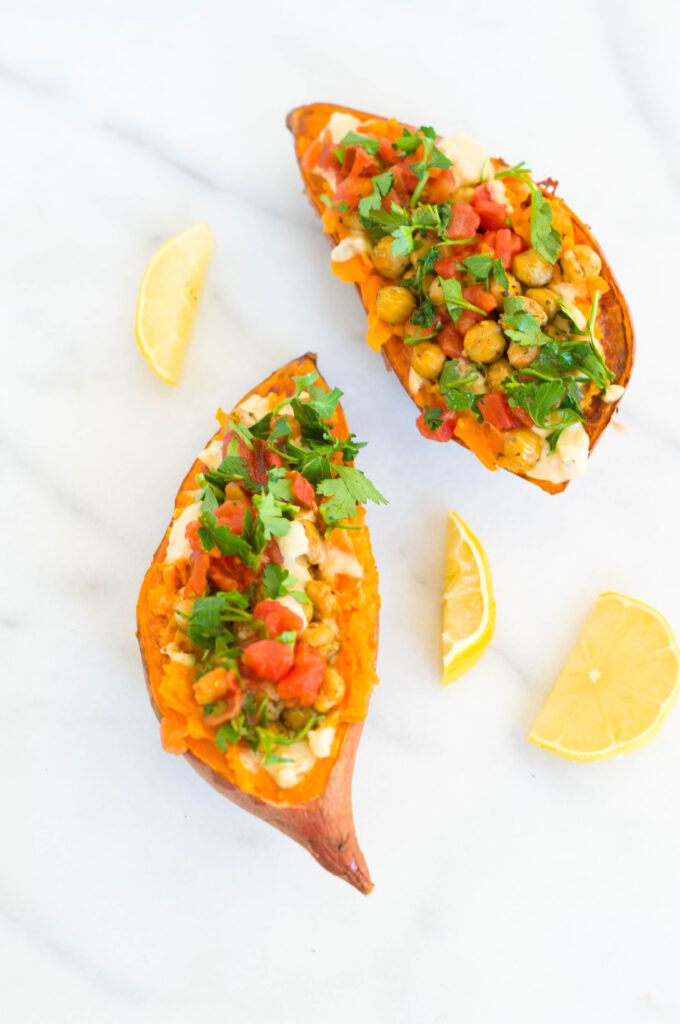 If you are looking for an easy, healthy lunch, I got you covered with these vegan Italian stuffed sweet potatoes! The sweet potatoes are roasted in the oven, then stuffed with roasted chickpeas, garlic hummus sauce, tomatoes and fresh chopped Italian herbs.
Did you know that chickpeas are a great source of plant-based protein? In fact, one cup of chickpeas has about 39g of protein! You can eat them straight from the can, or roast them in the oven after tossing with olive oil and some spices for a firmer texture.
I made the garlic hummus sauce in my Thermomix® with fresh ingredients (garlic, lemon, chickpeas, tahini), but you can also buy store-bought hummus and add some garlic, lemon and water to thin it out into a dressing.
Italian Stuffed Sweet Potatoes
Ingredients
2 large sweet potatoes, halved

Olive oil

1 15 oz can chickpeas, drained and rinsed

1/2 tsp basil

1/2 tsp oregano

Pinch of salt

1/2 cup hummus

1 clove garlic

1 lemon

2 tbsp water

2 tomatoes, diced

Fresh herbs for garnish
Directions
Preheat the oven to 400 degrees F.
Rub olive oil over the sweet potatoes and set them face-down onto a baking sheet.
Toss the chickpeas with a small amount of olive oil and basil, oregano and salt and spread out onto a baking sheet (can be the same one if they fit).
Bake in the oven for 30-40 minutes, until potatoes tender when poked with a fork.
Remove from the oven and cool.
Add the hummus, garlic, 1/2 lemon, and optional herbs and water to thin to a Thermomix® mixing bowl or blender and blend well.
Use a spoon to press into the potato to form a hole for the filling.
Add the chickpeas and tomatoes, then drizzle with hummus sauce and top with fresh chopped herbs, such as basil or parsley.