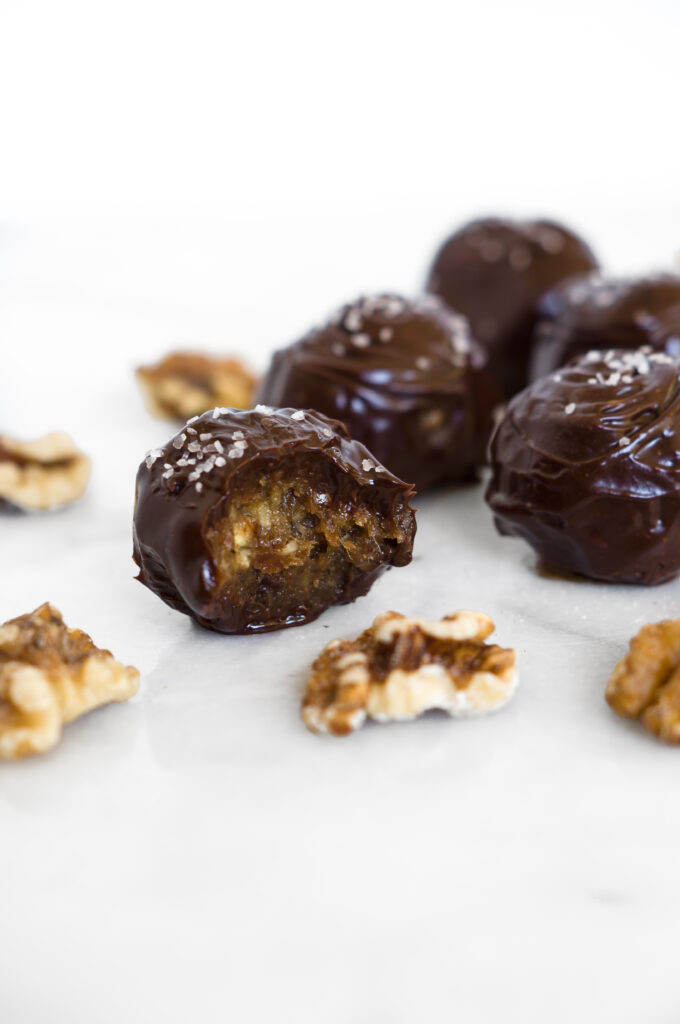 "By posting this recipe I am entering a recipe contest sponsored by California Walnuts and am eligible to win prizes associated with the contest. I was not compensated for my time."
These vegan chocolate walnut date caramels are the perfect afternoon snack to raise your energy levels, or a special healthy dessert. Did you know, research suggests walnut consumption may be associated with improved cognitive function. These walnut date caramels are smart snacks, literally! I love to snack on walnuts because they keep me feeling full and give me an energy boost to complete my daily tasks or have the energy to play with my girls. I coated them in melted vegan chocolate chips with a little coconut oil – so yummy! Sea salt on top is optional, but I am all for it.
I use my Thermomix® to blend the date caramel mixture and melt the chocolate, but you can also use a food processor for the date caramel and double boiler method for the chocolate.
For more healthy walnut snack ideas, check out #RaiseYourSnackIQ on social media!
Vegan Chocolate Walnut Date Caramels
Course: Snack, Dessert
Ingredients
8 pitted dates

1 cup boiling water

2 tbsp coconut oil, divided

1/2 tsp vanilla extract

1/3 cup California walnut halves

1 cup semi-sweet chocolate chips

Sea salt for topping
Directions
Add the boiling water to cover the dates and let stand for 10 mintues.
Drain the dates and add to a food processor along with 1 tbsp coconut oil, and vanilla extract and blend on high speed for 5 seconds.
Add the walnuts and pulse once or twice for 1 second to mix in.
Chill in the freezer for 15 minutes, then roll into 1-inch balls and place back into the freezer.
In the meantime, melt the chocolate with the remaining 1 tbsp coconut oil.
Dip the balls into the chocolate and place on a baking sheet lined with parchment paper. Sprinkle with sea salt if desired.
Let set for 10 minutes in the refrigerator before eating.