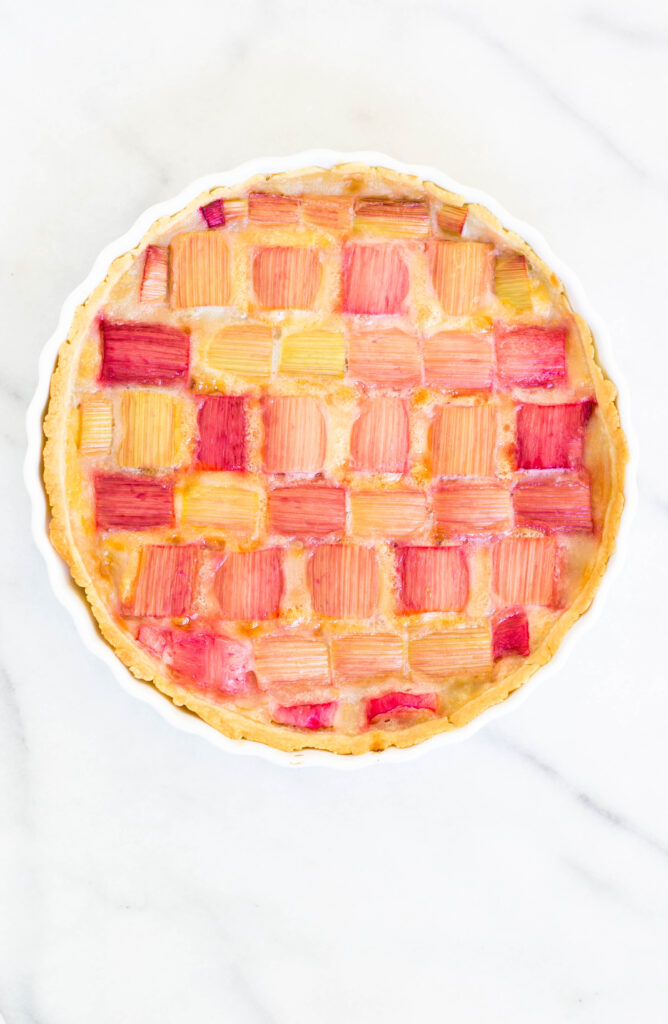 Every April, I get excited about rhubarb season! Rhubarb has such a beautiful color and looks amazing on tarts or pies. It is naturally sour, so you will need to add some sort of sweetener to it when baking in desserts. After you bake rhubarb, it becomes so tender and almost melts in your mouth. I created this vegan lemon rhubarb tart to celebrate the beginning of rhubarb season! The crust is made with olive oil, and it turns out very flaky – the key is prebaking it first before filling so it won't come out soggy. The filling is made with coconut cream, lemon juice and zest, sugar and corn starch to hold everything together. The topping is simply rhubarb and as much sugar or sweetener that you want to add (my husband actually prefers it "tart" and we don't add much sugar at all – your preference!). You can also brush some flavored fruit jam on top – try strawberry or raspberry!
I make the crust and filling in my Thermomix.
Vegan Lemon Rhubarb Tart
Ingredients
Crust

1 cup all-purpose flour

1/4 tsp salt

1/4 cup cold water

1/4 cup olive oil

Filling

1 cup coconut milk (use the creamy part from a can and a little of the liquid under)

1 lemon, juiced and zested

1/2 cup sugar

3 tbsp corn starch

4 stalks rhubarb

Sugar or jam for topping
Directions
Preheat oven to 425 F.
Add the crush ingredients to a Thermomix or stand mixer and mix well until a crumbly dough is formed.
Roll the dough out to fit a pie dish and press into it, then poke holes all around with a fork to prevent bubbles during baking.
Pre-bake the crust for 8 minutes then remove from the oven to cool.
Add the filling ingredients to a Thermomix and blend, then transfer to the pie crust.
Top with chopped rhubarb in any design you would like, and brush with jam or sprinkle with sugar.
Bake at 375 F for 40 to 45 minutes.
Disclaimer: I am a Thermomix® consultant and sell them as an independent business. "THERMOMIX," "VORWERK," "COOKKEY," and "COOKIDOO" are a registered trademark of VORWERK (or its affiliates). VORWERK does not support, authorize or endorse this site.