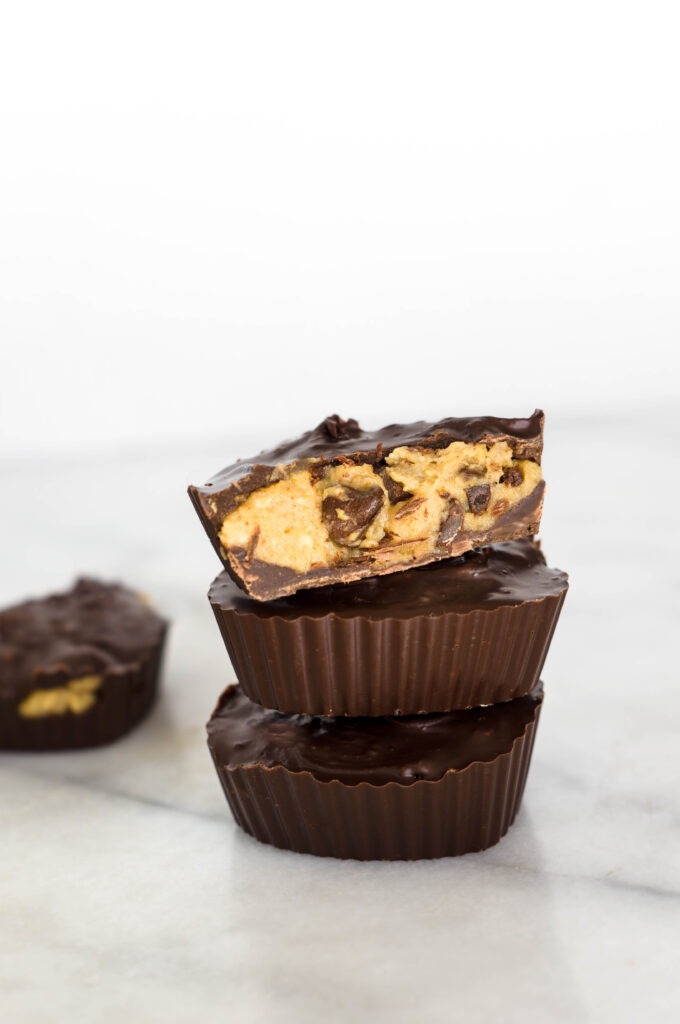 Have you ever played around in the kitchen and discovered a mind-blowing recipe? That is what happened to me the other day when I was tweaking a vegan cookie dough recipe to snack on. It was so good I had to make it EVEN better by creating these vegan cookie dough cups! I love peanut butter cups, and they are pretty much my favorite thing to snack on all day every day…but these vegan cookie dough cups are definitely my new favorite.
These vegan cookie dough cups are really easy to make. I make the vegan cookie dough in my Thermomix by blending all of the ingredients together, then melting the chocolate in it and layering the melted chocolate with the vegan cookie dough in silicone molds. My brother got me these super cute silicone heart molds for my birthday one year, and I use them to make homemade peanut butter cups (and now these vegan cookie dough cups) all of the time! The vegan cookie dough is made with chickpeas (they will blend so well you won't even know you are eating them), almond butter (yum), vanilla extract, brown sugar, maple syrup, salt and chocolate chips. The texture and taste are both so amazing!
Here is a reel I made on my Instagram (@thecookingrx) for a tutorial on how to make the vegan cookie dough:
Vegan Cookie Dough Cups
Ingredients
Vegan Cookie Dough

1 can chickpeas, drained and rinsed

1/4 cup oat flour

1/4 cup brown sugar

1/4 cup maple syrup

1/2 tsp salt

1.5 tsp vanilla extract

1/2 cup chocolate chips

Chocolate Cups

1 tbsp almond butter

1 cup semi sweet chocolate chips
Directions
Add all ingredients except for the chocolate chips to a Thermomix and blend on speed 6. Scrape with a spatula and blend once more.
Add the chocolate chips and set to dough knead setting for 10 seconds.
Chill in the fridge for 15 min.
Add the chocolate and peanut butter to a Thermomix and melt at 120 F for 3 minutes on speed 3 (or double boiler / microwave method).
Pour 2 tbsp melted chocolate into a silicone mold, then top with 1 tbsp cookie dough, followed by 2 tbsp melted chocolate.
Chill in the fridge for 30 minutes.
Makes 6 cups
Disclaimer: I am a Thermomix® consultant and sell them as an independent business. "THERMOMIX," "VORWERK," "COOKKEY," and "COOKIDOO" are a registered trademark of VORWERK (or its affiliates). VORWERK does not support, authorize or endorse this site.