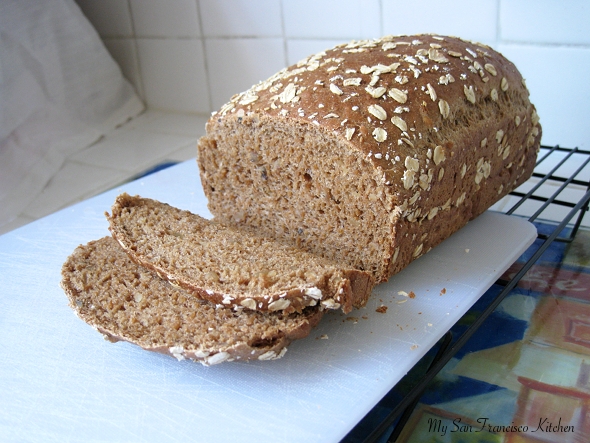 I have been searching for a good whole wheat walnut bread recipe ever since I tried the walnut bread at this amazing bakery down the street. This one from King Arthur Flour is so good, I can't stop eating it. It isn't made with 100% whole wheat, rather 1/3, but that still adds more fiber. Nut breads are the best. You can try to use pecans as well, as the original recipe suggests. This bread is great for breakfast with jam, peanut butter, etc., or as sandwich bread for lunch.

Ingredients
2 teaspoons instant yeast
1 cup + 2 tbsp water
3 tbsp dark brown sugar
2 tbsp butter
2 cups King Arthur unbleached all-purpose flour
1 cup King Arthur whole wheat flour
1¼ tsp salt
¾ cup chopped walnuts
¼ cup rolled oats
1 egg white
Instructions
Add water, sugar, and yeast to a large bowl and let stand 10 minutes (yeast should be poofy).
Add butter, salt, and 1 cup of whole wheat flour and mix with a fork or standalone mixer with hook attachment.
Chop walnuts to a coarse texture in a food processor.
Add remaining flour a little at a time, interchangeably with nut and oat mixture.
Knead by hand on a floured surface or with mixer for 10 minutes.
Place in a greased bowl and cover for 1 hour.
Punch dough down and form into a log. Brush all around with egg white and roll in oats.
Fold ends underneath and place into a 9x5 inch loaf pan. Cover and let rise 45 minutes.
Preheat oven to 350 F.
Bake for 35-45 minutes.
Turn onto wire cooling rack immediately and let cool before serving.
Makes one 1.5lb loaf
This post is sponsored by:
Original recipe: http://www.kingarthurflour.com/recipes/pecan-wheat-bread-1-1/2-pound-loaf-recipe