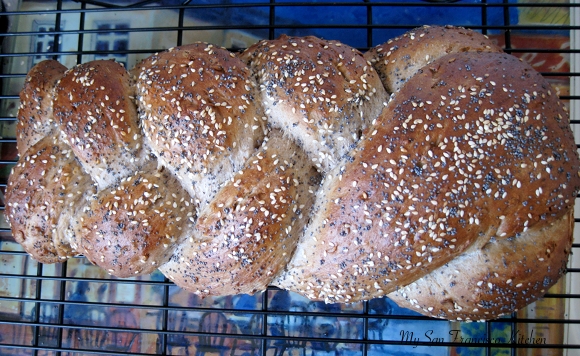 I loved the King Arthur's Flour whole wheat nut and seed bread recipe so much, I decided to try another bread recipe, with a few tweaks of my own. Now I can't decide which I like more! Another great success in my San Francisco kitchen 🙂 This bread is really great for sandwiches or snacking. It is made partially with whole wheat flour, maybe I will try 100% someday…

Whole Wheat Seed Braid Bread
Ingredients
1¼ cups lukewarm water
3 tbsp olive oil
2 cups King Arthur Unbleached All-Purpose Flour
1½ cups King Arthur Whole Wheat Flour
¼ cup unsalted sunflower seed kernels, chopped
¼ cup flax seeds
½ cup rolled oats
1½ tsp salt
1 tbsp sugar
1 tbsp honey
¼ cup milk
1 tbsp orange juice
2 tsp dry Rapid Rise yeast
1 egg white
1 tbsp cold water
Poppy seeds, sesame seeds for decoration
Instructions
Add yeast, honey, sugar and water to a standalone mixer or large bowl and let stand 10 minutes. Yeast should be poofy.
Chop sunflower seeds in food processor to obtain course grounds.
Add salt, oil, seeds, oats and 1 cup of all-purpose flour and mix on low with bread hook attachment, or with a fork if not using standalone mixer.
Add remaining amount of flour little by little, interchangeably with milk and orange juice.
Knead dough for 10 minutes with bread hook on low setting, or by hand on a floured surface.
Place the dough in a lightly greased, covered container, and allow it to rise for 75 minutes.
Gently deflate the dough, and divide it into three pieces. Roll/stretch each piece into a 24" log.
Beat egg white and water together with a fork.
Brush the logs with the beaten egg white to coat well.
Sprinkle with the seeds. Roll logs over, brush with egg white, and sprinkle on more seeds. Roll them around to coat as completely as possible.
Allow logs to rest for 15 minutes, uncovered.
Squeeze the three logs together at one end. Braid into a braid. When you get to the end, squeeze the three pieces together and tuck them underneath.
Transfer the braid to a lightly greased baking sheet.
Brush with more egg white, and and sprinkle with any leftover seeds.
Cover and let rise for 1 hour, till the braid has become noticeably puffy. Toward the end of the rising time, preheat the oven to 425°F.
Bake the bread for 15 minutes. Tent it lightly with foil (to prevent over-browning), reduce the oven temperature to 350°F, and bake for an additional 10 to 15 minutes, until the crust is golden.
Remove it from the oven, and cool on a rack.
Makes 1 loaf
To see original recipe: http://www.kingarthurflour.com/recipes/crunchy-seed-braid-recipe
See this post on Tuesday Talent Show!