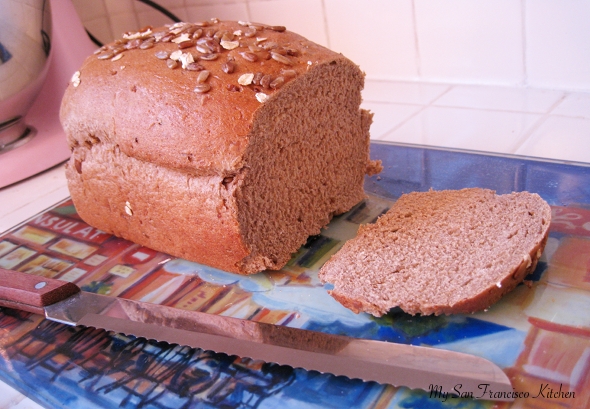 After months of making a special trip to a bakery to buy whole wheat bread (I don't like the store-bought kind…once you've tried real, fresh bakery bread you will never go back!), I decided to experiment with some of my own whole wheat bread recipes. I found a recipe I finally really really like by King Arthur Flour: 100% whole wheat sunflower seed, walnut and oat bread. It is sooo good! I love spreading peanut butter and honey or any kind of preserves on it for breakfast or as a snack. You have to try this recipe and let me know what you think.
The original recipe calls for 5 tablespoons of honey OR molasses OR maple syrup, but I thought that would be way too sweet (I was right) so I came up with a combination of 2 tablespoons honey and 1 tablespoon of molasses-perfection!

100% Whole Wheat Nut & Seed Bread
Ingredients
1⅓ cups lukewarm water
3 tbsp olive oil
2 tbsp honey
1 tbsp molasses
1 tbsp orange juice
4 cups King Arthur 100% White Whole Wheat flour
¼ cup unsalted sunflower seeds, chopped
¼ cup walnuts, chopped
2 tbsp rolled oats
1½ teaspoons salt
2½ teaspoons dry Rapid Rise yeast
Topping
1 egg white
Sunflower seeds
Rolled oats
Instructions
Add yeast, water, salt, olive oil, honey and molasses to standalone mixer with bread hook attachment (or large mixing bowl), and let stand for 10 minutes (yeast should be poofy after 10 minutes).
Chop walnuts and sunflower seeds to a grainy texture in a food processor, and add to yeast mixture.
Add oats and 1 cup of flour and mix dough on low speed until blended (or with a fork).
Add remaining flour and then orange juice and knead in mixer for 10 minutes, or until dough cleans the sides.
Let the dough rest, covered, for 20 minutes, then knead till fairly smooth (either in a standalone mixer or by hand).
Place dough in a greased bowl and cover with a damp towel.
Allow the dough to rise for about 2 hours, or until it's puffy and nearly doubled.
Gently deflate the dough, shape it into a log, and place it in a lightly greased 9" x 5" bread pan. Cover the pan and allow it to rise for about 45 minutes. You may want to use TWO bread loaf pans, because it gets very large!
Brush with egg white and sprinkle sunflower seeds and rolled oats on top, as desired.
Bake the bread in a preheated 350°F oven for 40 to 45 minutes, tenting it lightly with aluminum foil for the final 20 minutes of baking.
Makes 1 large loaf, or 2 medium sized loaves