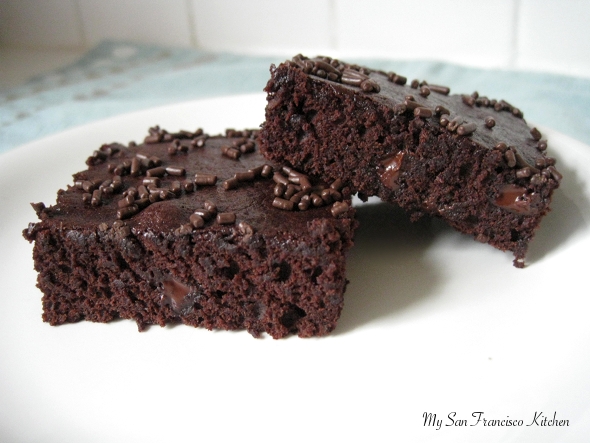 These fudge brownies are made from scratch, and are wayyy better than the box kind! It took me forever to find one I was happy with, but I finally found one and kept tweaking it to make it better and better. I won't go on my rant about how hydrogenated oils in those box recipes are unhealthy AGAIN, but yes…I have had to let go of most of my favorite brownie and cake mixes from the box in order to avoid them. This recipe is heavenly. I use some applesauce in place of butter to make them healthier and cut some guilt. If you love brownies, you have to try it. Its so easy too! I am really impulsive about sweets…today I was just sitting at the table trying to study, and I started craving brownies all of a sudden. 30 minutes later I had a whole plate in front of me and a huge glass of milk…yummmm. There is nothing better than the smell of brownies filling up the apartment on a rainy day. Double this recipe and use a 9×13 in pan to make more brownies.

Better Than Box Fudge Brownies
Ingredients
¼ cup (1/2 stick) unsalted butter
¼ cup unsweetened applesauce
¾ cup white sugar
2 large eggs
½ cup unsweetened cocoa powder
½ tsp salt
½ tsp baking powder
½ tbsp vanilla extract
¾ cup unbleached all-purpose flour
¼ cup semisweet chocolate chips
Instructions
Preheat oven to 350 F.
In medium bowl, add cocoa, applesauce, eggs, salt, baking powder, and vanilla and whisk until all blended and smooth. Add chocolate chips on top, but do not stir in yet.
In a separate small bowl, microwave butter until melted (30 seconds). Add sugar, and microwave again for 30 seconds.
Pour melted butter and sugar over chocolate chips sitting on cocoa mixture and stir.
Add flour and stir until everything is well blended and smooth.
With a spatula, transfer to a lightly greased 8x8 glass dish.
Bake for 25 minutes (check middle with toothpick or fork-if comes out clean, brownies are done!).
Let cool in dish before cutting.
Serve with a glass of cold milk.
Makes 9 brownies
This post is sponsored by: