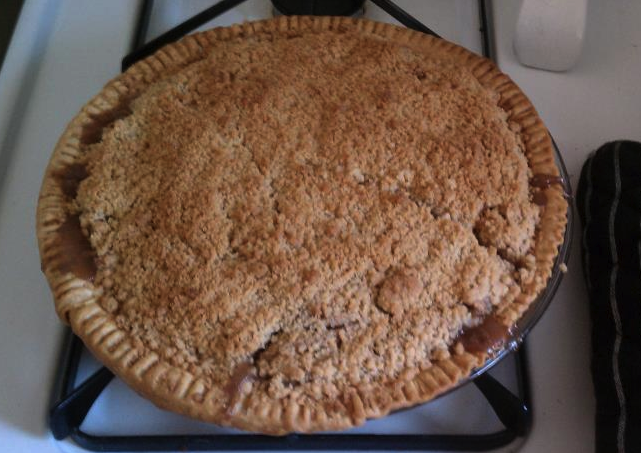 This apple pie recipe has been in my family for years. I grew up baking apple pies every Thanksgiving with my mom, and now I bake one whenever I crave one! This dessert is perfect for a holiday dinner, especially served warm with vanilla ice cream on a cold day. I use all organic ingredients, but you can choose to use organic or regular and it still comes out great! I also add a pinch of allspice to the apple mixture to give it some extra flavor, but some may not like it too strong.

Ingredients
Pie Filling
1 pie shell (homemade or store-bought)
8 medium granny smith apples*
⅓ cup all-purpose flour
½ cup brown sugar
¼ cup white sugar
1 tsp cinnamon
1 tsp nutmeg
¼ tsp salt
Top Crust
½ cup unsalted butter (1 stick, room temperature)
1 cup all-purpose flour
½ cup brown sugar
Instructions
Preheat oven to 425° F.
In a large bowl, cut in flour and brown sugar into the stick of butter with a pastry blender or a fork until you make a crumbly pie crust topping. Set aside.
Peel and thinly slice apples and toss into a large bowl.
Add flour, sugar, salt, cinnamon, and nutmeg and stir well (~3 minutes).
Add apple mixture into pie shell (layering makes it easier to cut and it looks nicer when cut, but it takes longer because you have to place one slice at a time into the pie shell in a circle), and pour the crumbly crust topping over the apples.
Place in the oven for 15 minutes at 425° F.
After 15 minutes at 425° F, take out and cover the edges of the pie crust with aluminum foil (or a pie crust edge cover if you are lucky enough to have one of those!).
Turn the temperature down to 375° F, and carefully place back into the oven for 45 minutes.
Place a drip tray underneath, because apple mixture may boil out of the pie towards the end and make a mess in the oven.
Take out of the oven and cool on the stove for 3-4 hours.
*Can use gala apples, but decrease sugar or will be too sweet
See this post in
Tasty Thursday
!