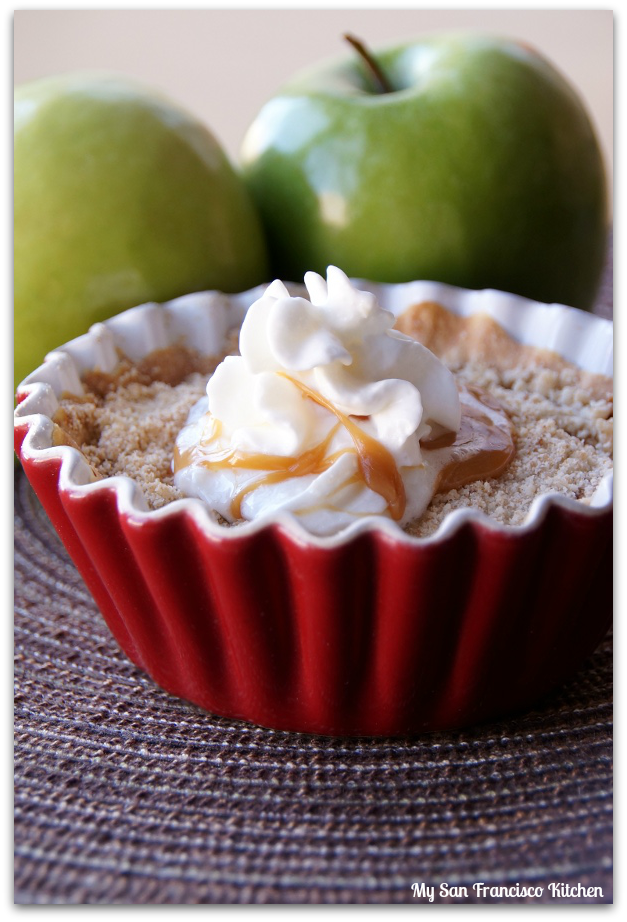 Did everyone start their Christmas shopping yet, or are you waiting for the Black Friday craziness to end? I am going to try to do most of my shopping online this year to avoid the crowds! Yesterday we went hiking with some friends in Marin County. We got there just in time to see the fog rolling in over the city, check it out: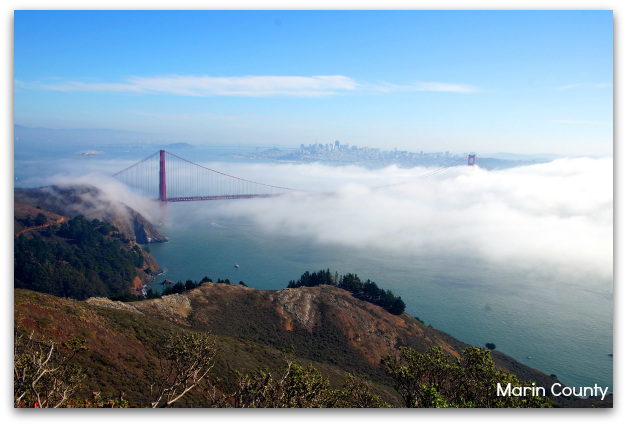 Today I am doing a little Christmas decorating. In honor of kicking off the holiday season, Organic Valley sent me a coupon to try one of their products. I chose to try their organic butter, since butter is an essential ingredient during the holiday baking season! I baked mini caramel apple pies with it, and they came out delicious!! Remember eating caramel-dipped apples as a kid? Well, combine that with apple pie and you've got a caramel apple pie…mmmm. I always prefer to bake mini versions of desserts so we aren't stuck with a lot left over (although this isn't always such a bad thing ;)).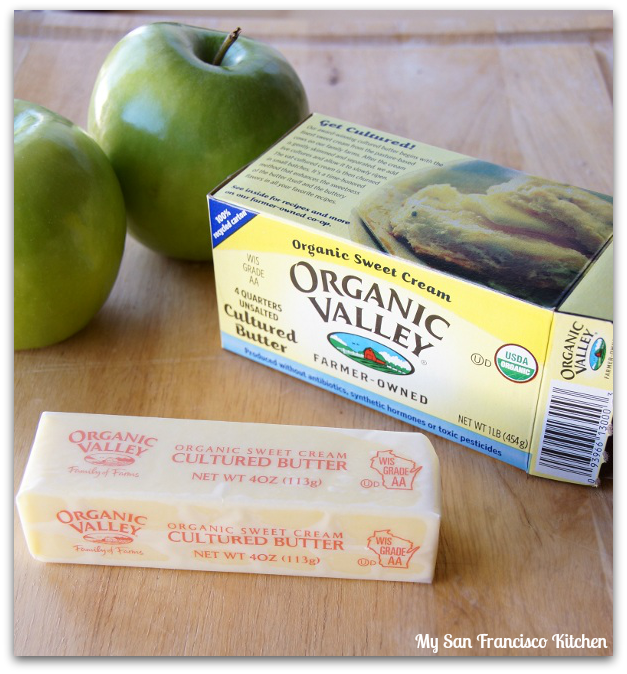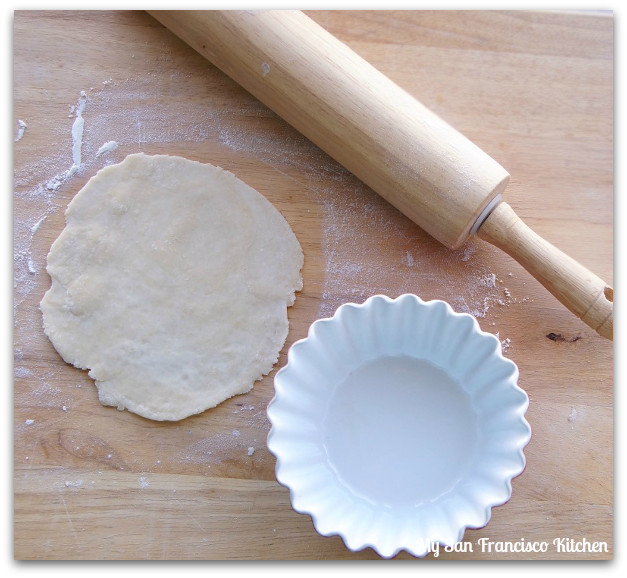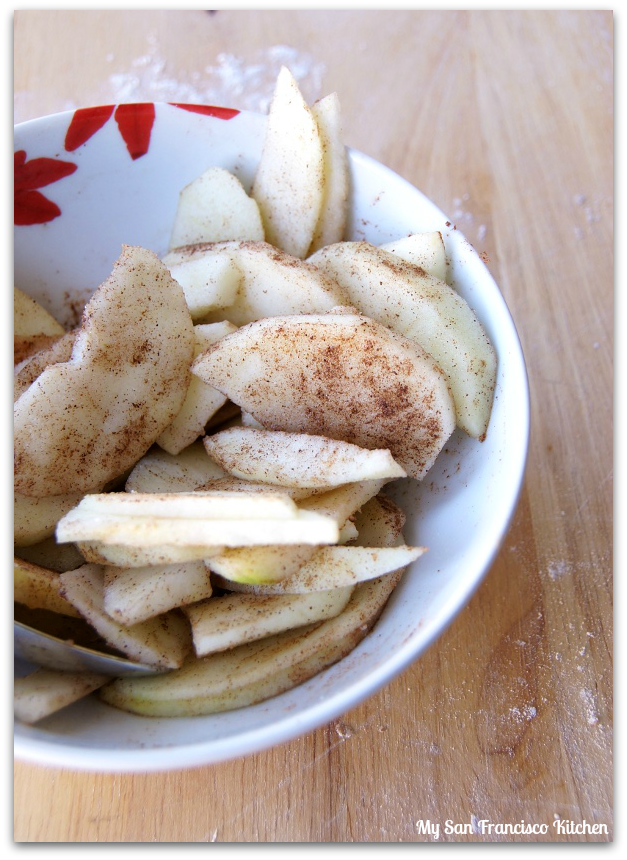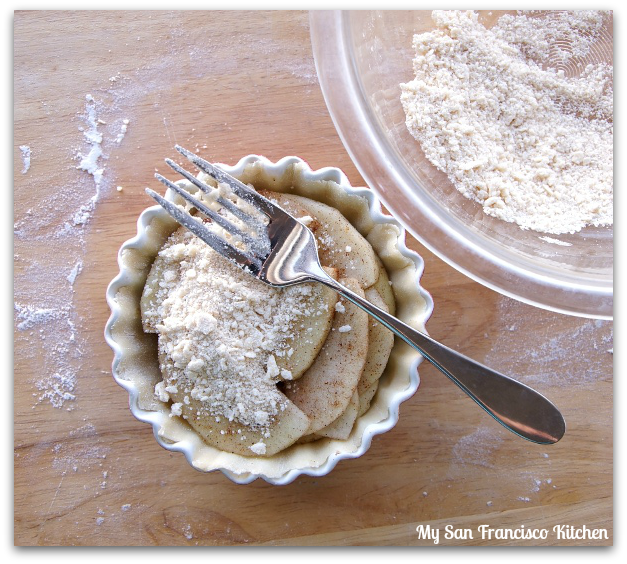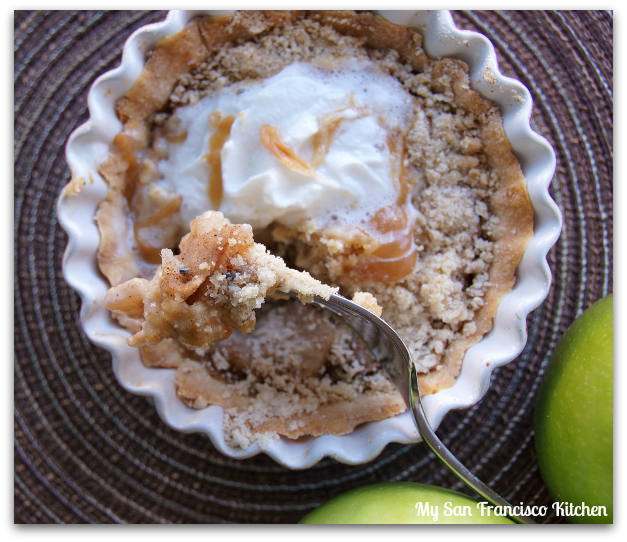 Mini Caramel Apple Pie
Ingredients
Crust
2 cups all-purpose flour
¼ tsp salt
12 tbsp Organic Valley butter, cubed and chilled
Filling
2 tbsp cornstarch
2 tbsp apple juice
1 cup sugar
4 tbsp Organic Valley butter
12 granny smith apples, peeled and sliced
¼ cup almond liqueur (optional)
1 tsp cinnamon
⅛ tsp cardamom
⅛ tsp cloves
1 tsp vanilla extract
Topping:
½ cup Organic Valley butter, cubed and chilled
1 cup flour
½ cup brown sugar
Instructions
Combine flour and salt in a large bowl and cut in butter using a pastry blender or fork until crumbly.
Wrap dough in plastic wrap and chill for 30 minutes.
To make the topping, add topping ingredients to a large bowl and cut with a pastry blender or fork until crumbly. Set aside.
Preheat oven to 375 degrees F.
Whisk together cornstarch and apple juice and set aside.
Melt butter in a small pot over medium heat and add sugar. Stir for 7 minutes, and continue to cook until sugar caramelizes.
Add apple slices to a bowl and coat with spices.
Add the apple slices and cook for 8 minutes, stirring occasionally.
Add vanilla and cornstarch mixture and stir 2 minutes. Let cool.
Roll dough to four 7-inch, ⅛-inch thick rounds and press half into four greased 5-inch pie plates.
Divide the filling among the four pies and top with crumbly topping.
Bake for 25 minutes, until golden brown.
Serve cool or warm with caramel topping.
Makes 4 mini pies
Recipe adapted from Organic Valley Caramel Apple Mini Pies