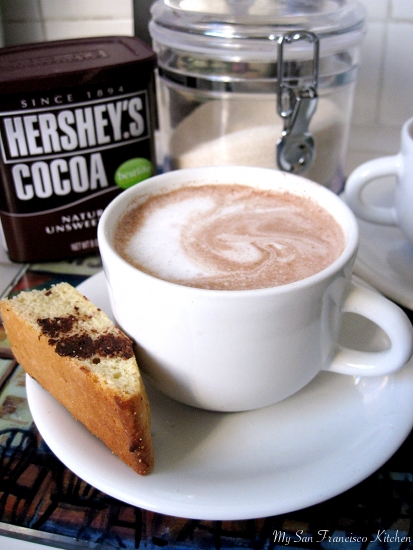 I admit it-I used to be an avid drinker of the hot chocolate packets…I loved trying all of the different kinds, from milk chocolate to dark chocolate to marshmallows and all of the other flavors. Since I learned about hydrogenated oils and how bad they are for your health, I have been trying to stay away from all products with them (its hard, there are so many that were SO GOOD 🙁 …goodbye Betty Crocker cakes & frostings, etc…). However, it has forced me to make more things from scratch, including hot cocoa! Yes, it isn't as quick as pouring some hot water of the packet kind, but its soo worth the little extra time to make your own from scratch. Remember that each tablespoon of sugar is about 12-15 grams. This hot cocoa recipe calls for about 1.5 tbsp per person, or 22g of sugar. You can reduce or increase the amount of sugar as desired. Serve with almond biscotti.

Ingredients
2 tbsp unsweetened cocoa powder
3 tbsp white sugar
pinch of salt
2 tbsp boiling water
1-3/4 cups milk
¼ tsp vanilla extract
¼ cup half-and-half cream or heavy whipping cream
Instructions
In a saucepan over medium heat, combine the cocoa, sugar and pinch of salt.
Add the boiling water.
Bring this mixture to an easy boil while you stir with a whisk.
Simmer and stir for about 2 minutes.
Stir in the milk and heat until hot, but do not boil!
Remove from heat and add vanilla and cream.
Makes 2 mugs of hot cocoa
This post is sponsored by: