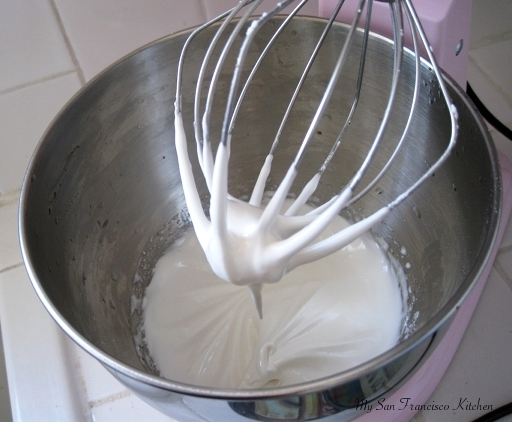 The other day I was making these yummy Nutella Whoopie Pies and realized I did not have any marshmallow fluff! I looked at many online recipes, but wasn't happy with what people were saying in the reviews. I decided to go with my gut and create my own from the ones I looked at and everyone's advice on the different recipes. It came out sooo good, and better yet, the Nutella Whoopie Pies were perfect. This marshmallow creme recipe is so easy, you will never have to buy it at the store again.

Homemade Marshmallow Creme
Ingredients
2 egg whites
1 cup light corn syrup
3 tbsp water
Pinch of cream of tarter
¼ teaspoon salt
1 cup confectioner's sugar
½ tbsp vanilla extract
Instructions
In a standalone mixer with whisk attachment, beat egg whites and cream of tarter together until peaks form.
Heat corn syrup and water on medium until boil, then transfer to egg mixture.
Add salt and beat on high speed until thick (about 10 minutes).
Add confectioners' sugar and vanilla and beat on low until blended.
Makes 2 cups