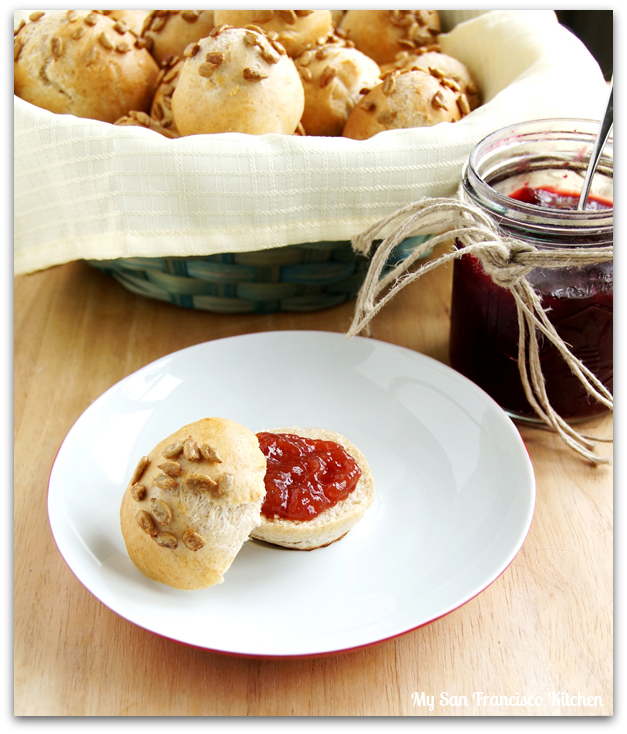 What I miss most about being in Germany is the breakfasts. I don't think I have ever eaten so much as I did when I was there last year! You will usually find many different kinds of fresh bread rolls on the table, and a wide array of fresh jams and cheeses. Growing up, I never ate bread for breakfast, unless it was a piece of toast. After spending some time in Germany, I became addicted to eating all sorts of fresh bread rolls with jams, cheese, or peanut butter in the mornings, and I took the tradition back to the U.S. with me. Here is a recipe for fresh honey wheat rolls that you could serve for breakfast with honey, jam, or cheese. These rolls are very easy to make, and come out great every time. They are slightly sweetened from the honey, so they go very well with jams! I topped these rolls with Honeycomb Sunflower Kernels from NatureBox just before popping them in the oven.

Honey Wheat Rolls
Instructions
In a large bowl, dissolve yeast and honey in warm water. Let stand 7 minutes until frothy.
Add salt, olive oil, egg, and 1 cup whole wheat flour and stir with a wooden spoon or mix in a stand mixer with a hook attachment.
Add the all-purpose flour a little at a time, continuing to mix the dough.
When all of the flour is added to the dough, it should be elastic and not very sticky. Add more flour as needed until smooth.
Turn dough out onto a floured surface and knead for 10 minutes, or continue to mix in the stand mixer with the hook attachment for 10 minutes.
Grease the bowl with olive oil and place the dough inside. Cover with a towel and let rest for 1 hour to rise.
After 1 hour, punch the dough down and shape into 2-inch round balls with your hands, or by circling your hand over the dough on a smooth, clean surface.
Place the dough balls onto a greased baking sheet, about 2 inches apart. Cover with a towel and let rise another 30 minutes.
Preheat oven to 375 degrees F.
After 30 minutes, remove the towel and brush each roll with egg whites.
Sprinkle sunflower kernels on the tops and place in the oven.
Bake for 18 minutes, until the tops are golden brown.
Remove from oven and cool on a wire cooling rack.
Store in a paper bag for 2 days, or freeze in a freezer bag for later use.
Makes 16 rolls
See this post on the
NatureBox blog
!