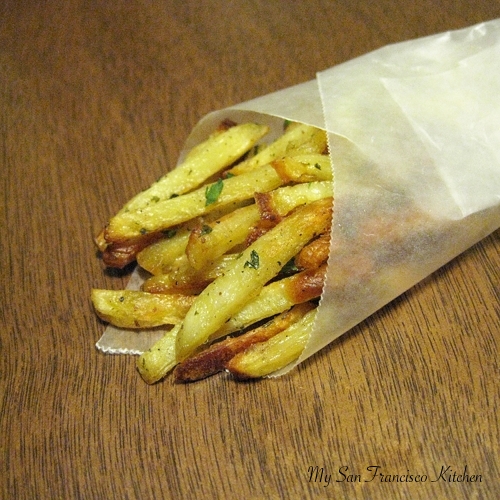 In college one of my favorite restaurants was called Silvergreens and they had these amazing garlic fries that I would always get as a side. I don't like to make fries often because of the huge amount of fat and the acrylamides that form when baking/frying the potatoes, but they are SOO good sometimes I can't resist. I adapted this baked garlic fries recipe from Ellie Krieger on the Food Network.

Ingredients
3 cloves garlic, minced
2 tbsp canola oil
3 large baking potatoes, peeled
½ tsp salt
½ tsp pepper
1 tbsp parsley
Instructions
Preheat oven to 450 degrees F.
Cut the potatoes into ¼-inch fries using a julienne blade on a mandoline slicer or with a knife.
In a large bowl, toss oil, garlic, salt, pepper and potatoes together.
Spread the potatoes onto a greased baking sheet in a single layer.
Bake about 40 minutes, or until golden brown (turn after 20 minutes to bake both sides).
Toss with parsley and serve hot. You may wish to pat excess oil with a paper towel.
Get your own mandoline slicer:
This post is sponsored by: