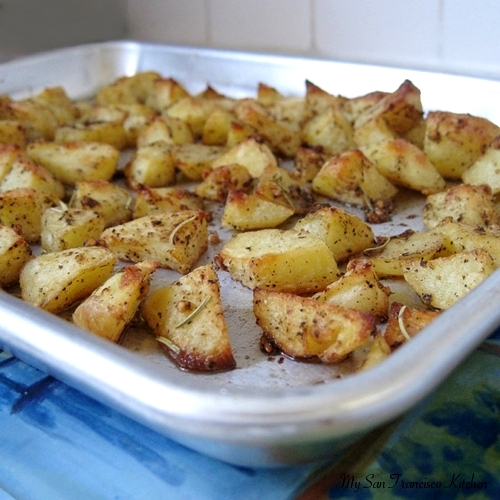 This past Sunday I made these delicious roasted garlic rosemary potatoes for lunch, along with creamed spinach and lemon pepper Swai. My fiancé's grandparents have a tradition where every Sunday they either make a special lunch or go out to a restaurant for a gourmet lunch. When I learned of this, I thought it was a great tradition and have been trying to start setting time aside for a special lunch every Sunday. I have Sundays off, so its a perfect day to spend some therapeutic time in the kitchen making and getting to enjoy the results! This is one of my favorite side dish recipes because it goes with many dishes (fish, chicken, steak, etc.) and its extremely flavorful! I usually eat Ketchup with my potatoes, and I never do with this recipe because they are so good without it.

Roasted Garlic Rosemary Potatoes
Ingredients
7 small white potatoes (or 3-4 medium russets), peeled and chopped
¼ cup olive oil
1 tsp salt
1 tsp black pepper
6 cloves fresh garlic, minced
1 tbsp rosemary
1 tbsp parsley
Instructions
Preheat oven to 400 degrees F.
In a large bowl, mix olive oil, salt, pepper, garlic and rosemary with a fork.
Add chopped potatoes and stir well. Let stand 5 minutes.
Transfer potatoes to a pan or baking sheet.
Bake for 30 minutes, then turn over with a large spatula, and continue baking for 30 additional minutes. After 1 hour the tops of the potatoes should be browning.
Toss with parsley and serve.
This post is sponsored by: