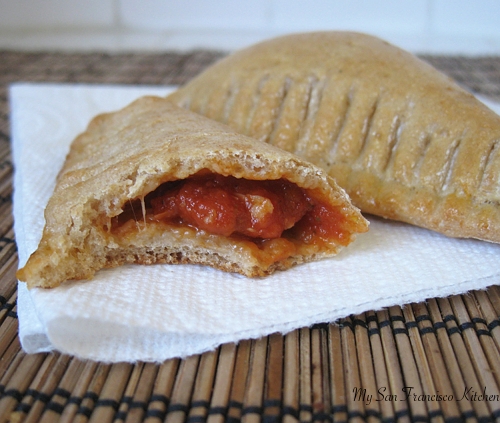 Hello my friends! I know it has been a while since my last post, but I have been in the middle of midterms (nope, not over yet :() so I haven't had much time to play in the kitchen. I did make some of these whole wheat pizza pockets because they are a great study snack or lunch served with a salad. The best part is you can freeze them and reheat them in the oven at 300 for 15 minutes and they taste freshly made. I love experimenting with different fillings. This time I used artichokes. Be careful if you try it with spinach or any really wet vegetable because I am not sure if they will turn out as crispy (let me know if you try it!). You can also play around with different sizes-mini ones make great appetizers. These come out of the oven with crispy edges and a firm shell (thanks to the egg wash)…yum yum! I never seem to add enough sauce in the middle though, so it is a good idea to serve with an extra side of marinara sauce for dipping. One last note: I realize most people use yeast packets which equal 2 1/4 tsp of yeast, and this recipe uses 1 tsp (I use the jar kind since I use so much of it!). I am curious to find out how they will turn out with the 2 1/4 tsp, but I was afraid they would be too doughy…and with the 1 tsp they came out PERFECT. Maybe I will try with the 2 1/4 tsp sometime though, and if I do I will update this post and let you know!
So I almost completed my wedding registries, yay! At one point I realized there was tons of kitchen stuff on there-oops, Fabi would LOVE that…hehe 😉 Oh, and yes, I painfully removed the $800 (on sale!) DeLonghi automatic espresso maker….sigh….someday…. If you notice in the pictures below, I had to use a paintbrush (never used for painting) as a pastry brush when brushing the egg wash onto the pizza pockets because I don't even own a proper pastry brush. I realized after buying a whole painting set in college that my baking & cooking skills are much better than my painting skills…At least the paint brush has now gone to good use 🙂 It is so hard trying to pick out things you will have for your whole life, its like it has to be perfect. My grandma was telling me she still has some fine servingware that she received as gifts for her wedding!
What are your favorite pizza pocket fillings?? XoXo

Whole Wheat Pizza Pockets
Ingredients
1 tsp dry rapid rise yeast
1 cup warm water
1 tsp sugar
1 tsp salt
2 tbsp olive oil
2½ cups white whole wheat flour (or 1 cup white, 1½ whole wheat)
1 egg
1 jar pizza sauce (or homemade mmm)
Shredded mozzarella cheese
Parmesan cheese (for topping)
Marinara sauce (for dipping)
Filling ideas
Artichoke hearts
Mushrooms
Ham
Bell pepper
Instructions
Add yeast, sugar and warm water to a standalone mixer bowl, fitted with hook attachment.
Allow yeast to proof for 7 minutes, or until poofy.
Add olive oil, salt, and 1 cup of flour and mix until blended on low speed (setting 2 on KitchenAid).
Slowly add remaining flour and mix for 10 minutes to knead on low speed.
Remove from hook and leave in bowl, covered with a towel. Let stand 30 minutes.
Preheat oven to 400 degrees F.
Roll out very thin on a floured surface and cut 6 inch by 6 inch (or desired size) squares with a pizza cutter.
Add 1-2 tbsp pizza sauce, toppings, and 1-2 tbsp mozzarella cheese to the center of each square.
Brush the sides with egg wash and carefully fold over each other in a triangle shape and press together.
Use a fork to flute the edges to further merge them together and place on an ungreased baking sheet.
Beat the egg in a small bowl with a fork.
Brush the tops of the pizza pockets on the baking sheet with egg wash, and sprinkle Parmesan cheese over the tops if desired.
Bake about 20 minutes. Tops should be golden brown and hardened with tapped with your finger.
Remove from the oven and allow to cool a few minutes before serving.
Serve with marinara dipping sauce.
Makes ~16 palm-sized pizza pockets
This post is sponsored by:
See this post on weekend potluck!