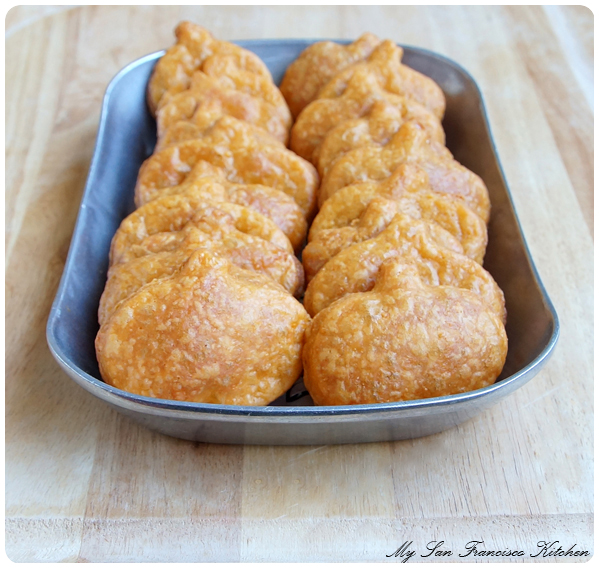 Happy October 1st! I can't believe it is already October. In celebration of the month of Halloween, I made these pumpkin-shaped cheddar cheese crackers. The husband calls them "cheese cookies" because they look more like cookies than crackers. I guess I could have rolled the dough thinner to make them look more like cheddar cheese crackers, but I also like their plumpness. You can get creative with the shapes you want for your cheese crackers. These pumpkin-shaped crackers make a fun appetizer recipe for a Halloween party, and they go really well with soup! I found a recipe for cheddar crackers on the Wilton website, and I have to admit I was worried about using Worcestershire sauce in my crackers (isn't that for meat?!), but I loved how they came out – super flavorful and cheddar cheesy!
What did everyone do this weekend? I went out in North Beach for the first time, and it was a lot of fun. I also saw Looper, which was pretty good! I am usually not a fan of "shoot 'em up" movies, but this one had some great twists and an interesting story.
OK, back to these cute pumpkin cheddar crackers…

Cheddar Cheese Crackers
Ingredients
8 oz sharp cheddar cheese (about ½ a block), shredded
4 tbsp butter, softened
1 tbsp Worcestershire sauce
¾ cup all-purpose flour
Pinch cayenne pepper
¼ tsp salt
½ tsp paprika
Instructions
Preheat oven to 375 degrees F.
Shred the cheese by hand with a cheese grater.
Cream the shredded cheese, butter, Worcestershire sauce and seasonings together until smooth in a standalone mixer with paddle attachment.
Gradually add the flour to cheese mixture until well-blended.
Flour hands and shape dough into a ball.
Use a floured rolling and roll dough out to desired thickness (thinner will give best results).
Use a knife or cookie cutter and transfer shapes to an ungreased baking sheet.
Bake about 12 minutes or until turning slightly golden brown.
Makes about 20 thick crackers (I rolled my dough thick)
Recipe adapted from Wilton Cheddar Cheese Crackers
This post is sponsored by: