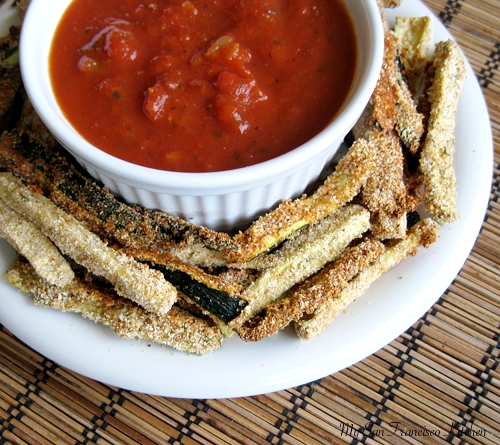 MMM I discovered my new favorite non-guilty snack food today! Once again I bought the huge organic zucchini pack at Trader Joes this week, and a few days have gone by and I haven't even opened it yet. I had to use up some of these zucchini! The choice was between baked zucchini chips or trying out a new recipe: baked organic zucchini fries. They are crispy on the outside and soft on the inside-almost like sweet potato fries. This is a fun appetizer to make for friends, or keep them all as a snack for yourself! You can play around with different seasonings. Zucchini is naturally very plain so these fries will need some flavor added to them. Some ideas are paprika, garlic, onion powder, salt, pepper, Parmesan cheese, Italian seasonings… Its a good idea to google some videos on how to easily slice zucchini into fries. I hope everyone is having a relaxing Sunday afternoon. Enjoy! XoXo

Ingredients
3 organic zucchini, washed
1 cup plain bread crumbs
2 egg whites (can sub for full eggs to avoid waste)
2 tbsp paprika
1 tsp garlic salt
1 tsp onion powder
Salt and pepper to taste
Instructions
Preheat oven to 400 degrees F.
Slice both ends off of the zucchini, then slice them in half.
Slice into matchsticks and dip into egg whites in a bowl (or beaten egg if using whole eggs).
Add bread crumbs and seasonings to a large ziplock bag.
Add dipped zucchini to bag a handful at a time and shake to coat.
Place one-by-one to a greased baking sheet.
Bake for 20 minutes.
Serve immediately with marinara sauce (they are best when hot out of the oven, yum!).
This post is sponsored by: