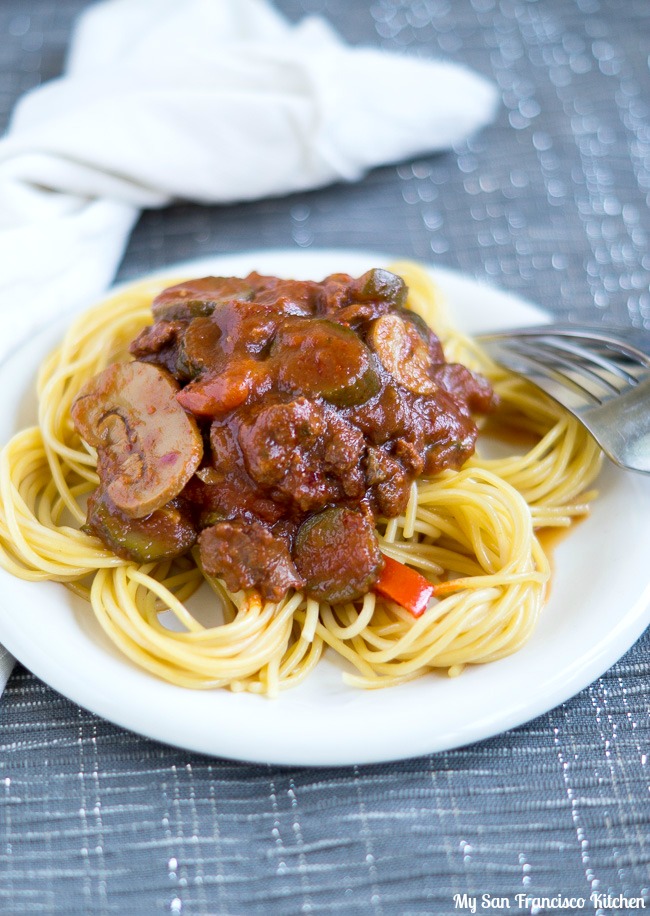 Are you guys excited for Super Bowl weekend? Here in San Francisco, everyone is really excited. There have been many events for the past week to celebrate the big game this weekend. I haven't noticed the crowds too much, but then again I haven't been downtown much (where all of the Super Bowl events are taking place) to avoid them. The Super Bowl makes me a little nostalgic, because in my family it is always tradition to watch the game (my mom and I secretly watched just for the funny commercials and the half-time show :-)) and my dad would always get in the kitchen and make his famous homemade chili. 
As we are heading into the tail end of winter, February is still a perfect month for warm, comforting dishes. This slow cooker crumbled Italian sausage pasta is really easy to make and the perfect dish to feed a lot of people coming over to watch the Super Bowl! It literally took me less than 15 minutes to chop and toss the vegetables and crumbled sausage into my slow cooker, top with some Organic RAGÚ Old World Traditional pasta sauce, and set it on low. Slow cookers are the best, aren't they? They do all the work while you can relax. Then, once the sauce is done cooking, all you have to do is quickly cook some spaghetti noodles to serve with it. Don't forget the fresh basil and Parmesan cheese for topping this slow cooker crumbled Italian sausage pasta!
From now on, it is going to be my tradition to cook a slow cooker meal for the Super Bowl, since it is so easy and stress-free! Speaking about traditions, they are an important part of who we are and help us learn about ourselves. Find out why heritage is important to RAGÚ and how it ties into RAGÚ's commitment to high standards, by visiting the "Our Story" section on RAGÚ's website.
For more recipe ideas, visit RAGÚ's homepage!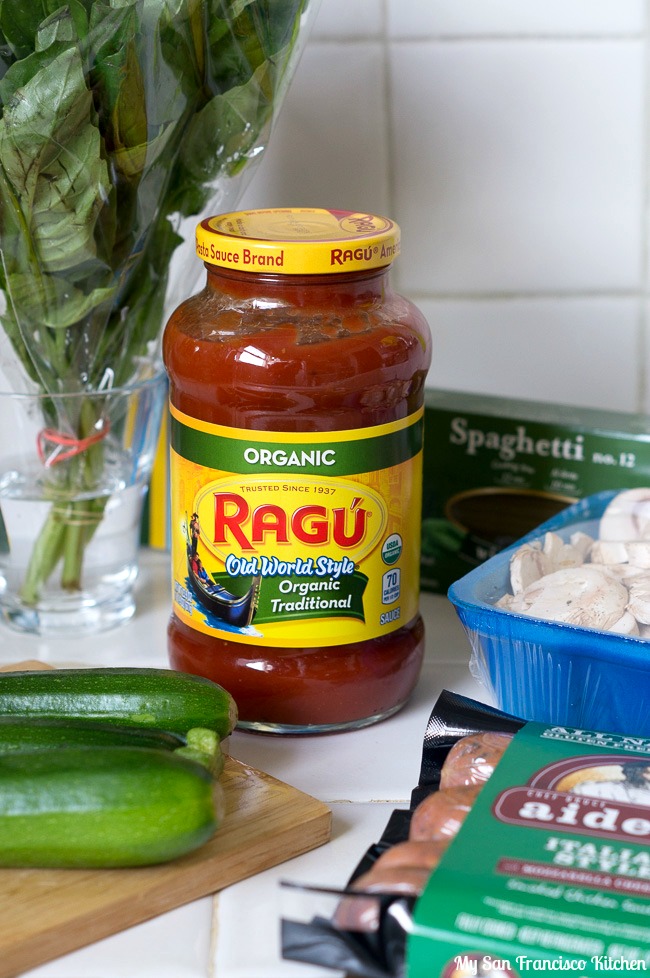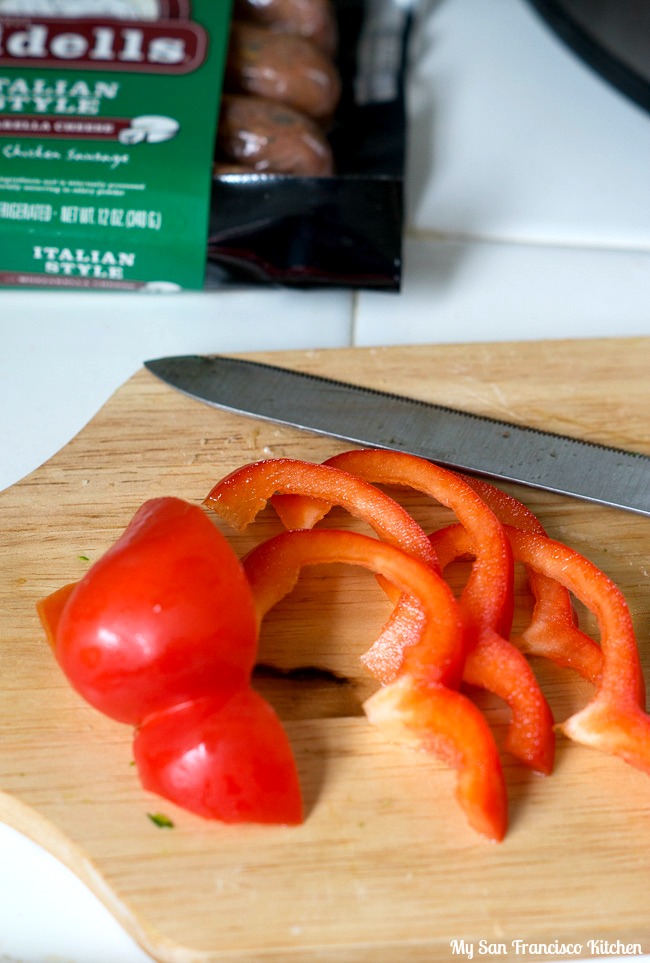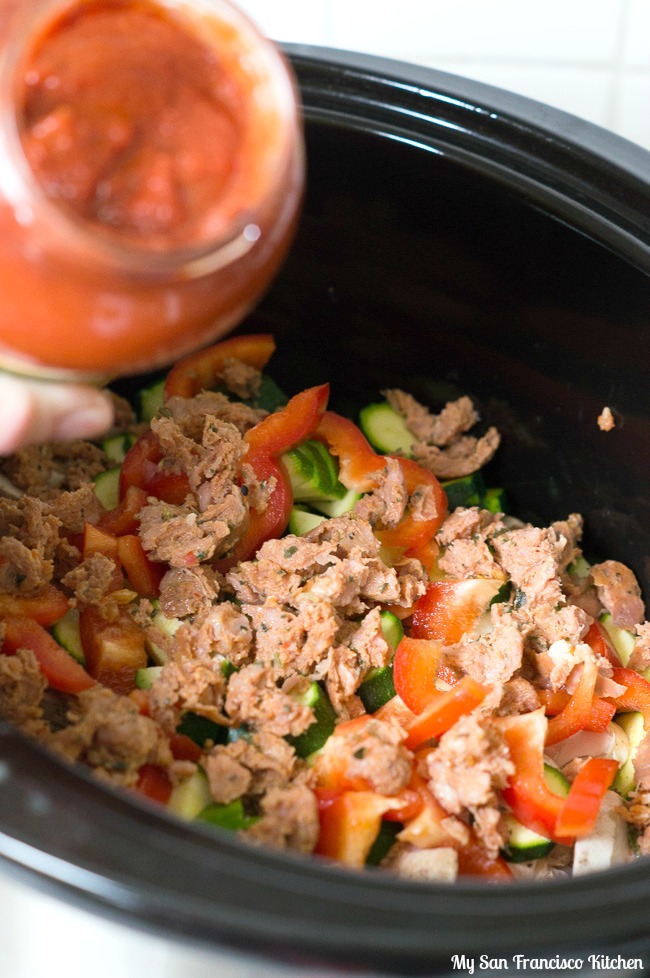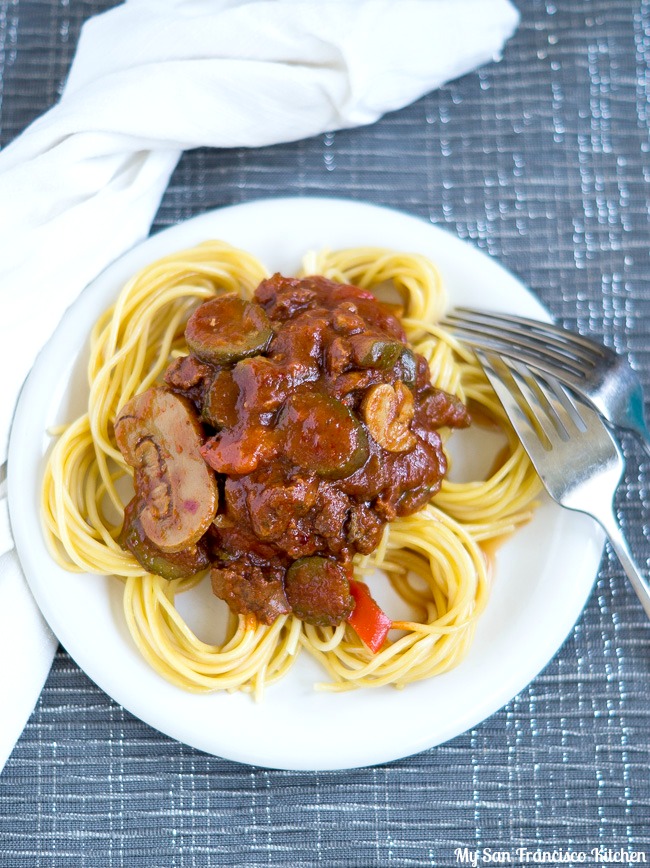 Slow Cooker Crumbled Italian Sausage Pasta
Ingredients
1 12 oz package spaghetti noodles
1 26 oz jar Ragu Organic Old World Traditional pasta sauce
3 small zucchini squash, chopped
1½ cups sliced white button mushrooms
1 medium red bell pepper, chopped
2 cooked Italian chicken sausages
Instructions
Add the mushrooms, zucchini, and bell pepper to a slow cooker set to low.
Slice the sausages and peel off the casing. Crumble the sausage over the vegetables in the slow cooker.
Pour the pasta sauce into the slow cooker and stir well.
Cover and cook for 6-8 hours on low.
Cook the spaghetti according to package directions and drain well.
Makes 4 servings