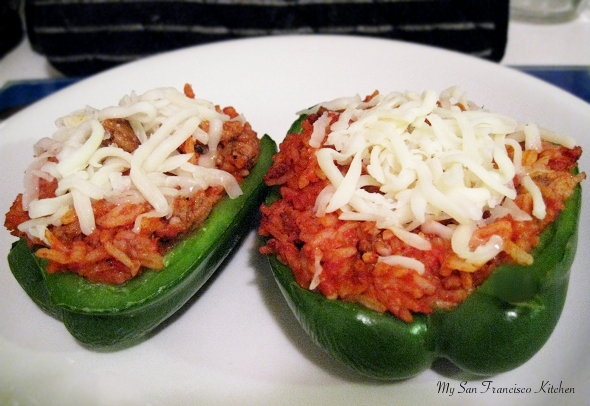 This stuffed green bell pepper recipe is adapted from Emeril Lagasse's Mr. John's Meat-Stuffed Bell Peppers from Food Network in 2003. It always comes out so flavorful and perfect every time! I can never eat a whole stuffed pepper myself, so I like to cut them in half and bake them with a toothpick holding the two halves together. There are so many stuffed pepper variations I want to try, but here is one for the meat lovers out there!

Stuffed Green Bell Pepper Halves
Ingredients
2 green bell peppers
1 tbsp vegetable oil
½ cup chopped onion
½ pound ground beef
1 tsp minced garlic
3 tbsp chopped fresh parsley
¼ tsp garlic salt (sub salt)
½ tsp ground black pepper
Pinch of red pepper flakes
1 cup cooked white rice
1 6 oz can tomato paste
¼ cup water
½ cup tomato sauce (season as desired with oregano, basil, etc.)
½ cup shredded mozzarella cheese
Toothpicks
Instructions
Preheat the oven to 350 ºF.
Bring a pot of water to boil.
Boil peppers 2-3 minutes then remove.
In a large skillet, heat the oil over medium-high heat.
Add the onions and minced garlic and stir occasionally for about 3 minutes.
Add the beef, parsley, salt, black pepper, and pepper flakes. Stir occasionally.
When meat is browned, add the rice, water, tomato paste and tomato sauce and stir well. Remove from the heat and adjust seasoning to taste.
Pour enough water into a baking dish to just cover the bottom.
Remove tops of bell peppers and with a spoon carve out seeds and white parts.
Slice peppers in half and fill with the rice mixture.
Put peppers back together, closing with toothpicks.
Place in the baking dish and bake until the peppers are tender, about 25 to 30 minutes.
Remove and immediately open and sprinkle mozzarella cheese on tops.
See this post on Foodie Friday!