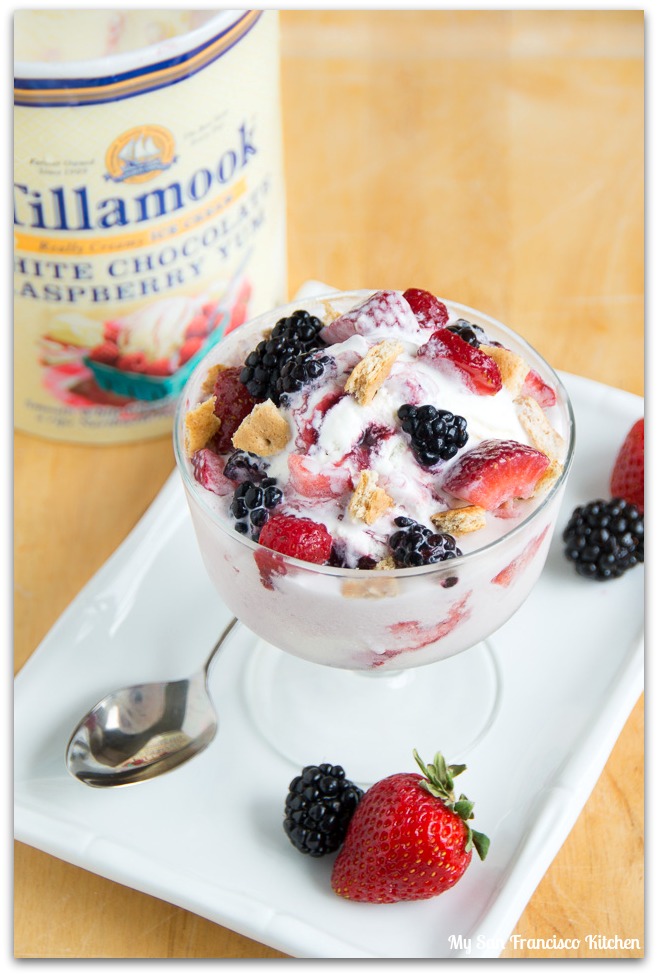 This week I got a special delivery from FarmBox SF, and was invited to try their berries with a Tillamook ice cream flavor and come up with a "Fresh-Picked Craving" recipe. FarmBox SF is a company that supports local, organic farmers to bring fresh produce and groceries weekly to your door. Although I love supporting local farmers by buying groceries from the farmers' market, I have not joined a CSA because I am very picky about my produce and always worry that it will arrive not very fresh. I was thrilled when my berries arrived from FarmBox SF – they looked like they were just picked before my delivery – each one was perfect! No mold or mushy berries were to be found, unlike those surprises you get sometimes from berries that have been sitting on the grocery store shelves for a long time.
Although I loved all of the Tillamook ice cream flavors I got to try, my favorite was the White Chocolate Raspberry Yum. It went perfectly with my freshly picked FarmBox berries, and I decided to mix them in along with some graham cracker crumbs to create this berry white chocolate fantasy dessert! This ice cream creation is the perfect summertime treat on a hot day. Don't forget to double the recipe to make enough for two!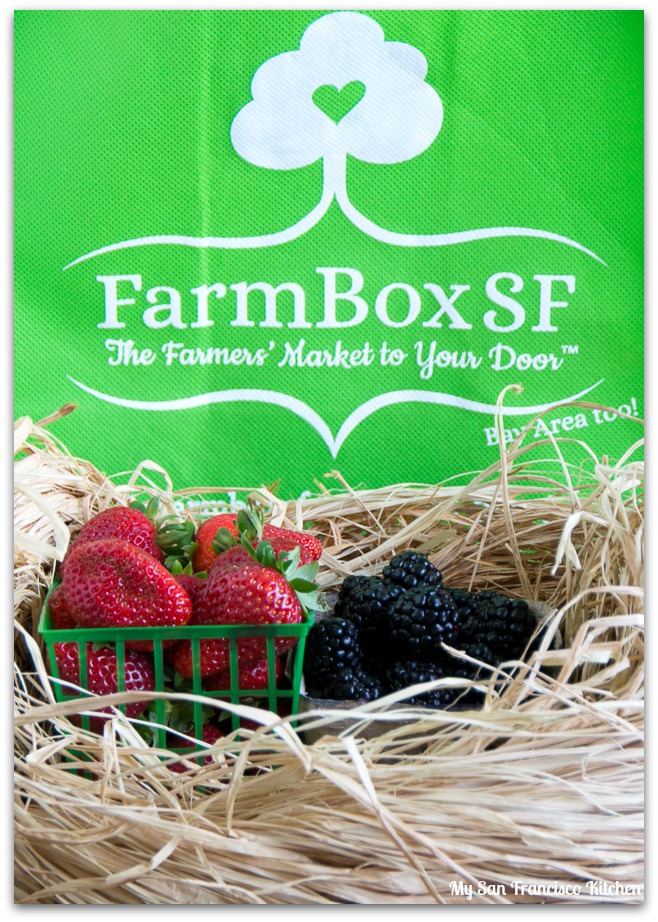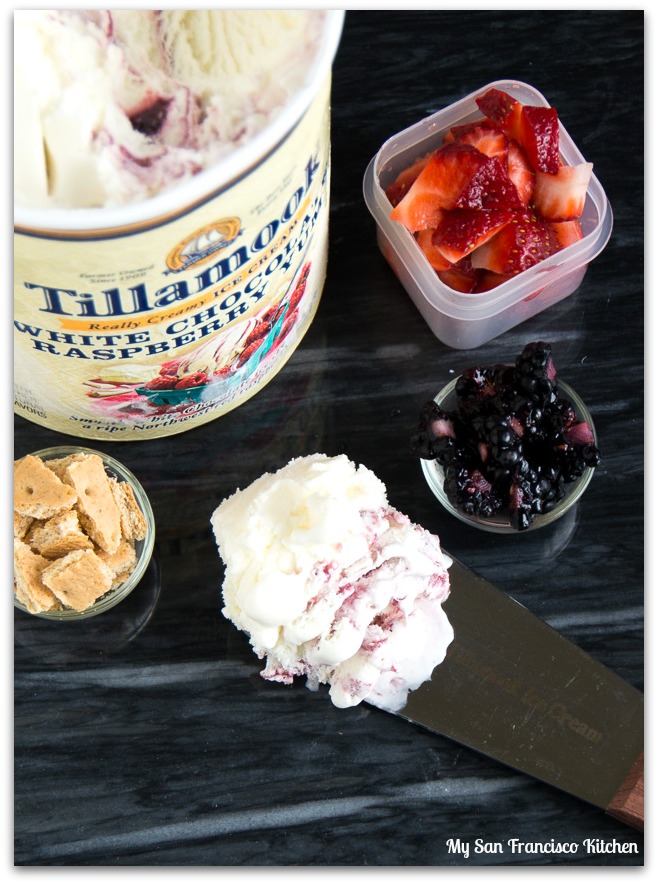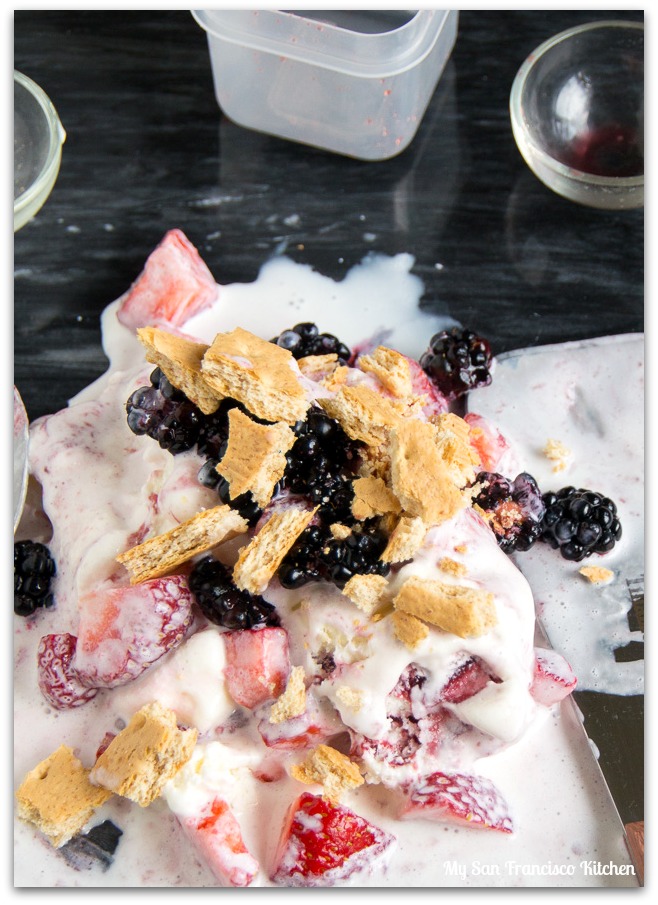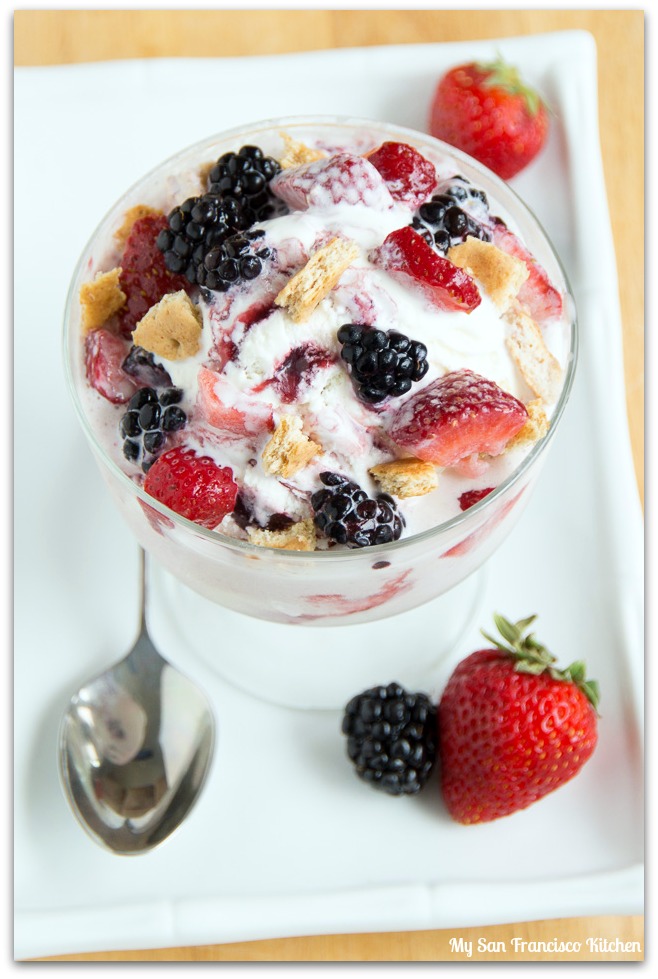 Berry White Chocolate Fantasy
Ingredients
1 cup Tillamook White Chocolate Raspberry Yum ice cream
¼ cup blackberries, chopped
¼ cup strawberries, chopped
¼ cup coarse graham cracker crumbs
Instructions
Allow the ice cream to soften for 10 minutes.
On a cool surface, transfer 1 cup of ice cream and fluff with a spoon to soften.
Quickly mix in the berries and graham cracker crumbs, then place into a serving bowl.
Makes 1 cup
More about FarmBox SF:
FarmBox sources all of their produce from local farms that practice sustainable, organic farming and delivers farm fresh foods right to your door.
FarmBox delivers baskets of fresh seasonal fruits and veggies, prepared meals, organic grains, and even specialty items like gluten-free foods.
Facebook | Twitter | Instagram
More about Tillamook:
Tillamook Ice Cream is really creamy premium ice cream crafted with only the highest quality ingredients using time-honored techniques and farm fresh milk from cows not treated with artificial growth hormones.
Tillamook Ice Cream flavors contain the finest fruit, berries and nuts grown in the Pacific Northwest, pure Madagascar vanilla extract and premium Dutch cocoa.
Tillamook has been making the smoothest, creamiest, most utterly craveable ice cream since 1947.
Facebook | Twitter | Instagram
A big THANK YOU to FarmBox SF and Tillamook for such a nice treat ;)!