UPDATE: This giveaway is now closed. Thanks to everyone who entered, the chosen winner was Sarah D.!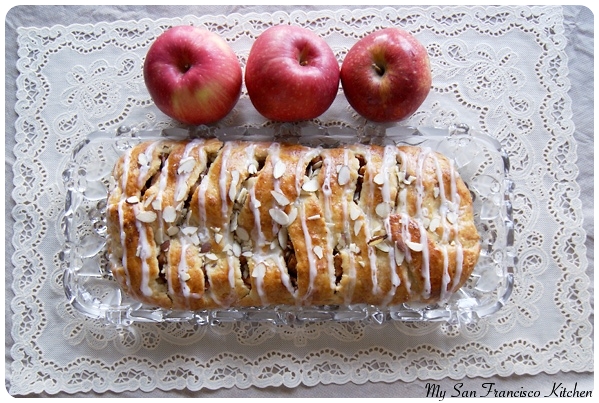 Yesterday marked the end of our Thanksgiving vacation and in a few hours we will be driving back up to San Francisco. I didn't want the vacation to end, because December is coming faster than I want it to and I have finals, a 3rd year cumulative exam, research project, and of course the stress of the holidays coming up! One good thing to look forward to is holiday baking! We spent the evening having dessert with my grandparents last night, so I made this braided apple pastry. It was a huge hit, everyone said it looked store-bought (but tasted much better since it was homemade!). I thought it tasted great cold with some tea, but you could also warm it up when serving it. I think the presentation is really pretty, and it is much easier to make than it looks – I promise! One tip is to chill the dough for 10 minutes before braiding, because I am super slow at everything when it comes to baking and I found the dough started falling apart more easily when it became too warm. Truvia® was so generous to send me a sample of their baking blend, and I never substitute anything for sugar because I hate the taste so much of anything BUT sugar, but I thought I would give their product a try since it is more of a blend of real sugar and a natural sweetener. I honestly could not tell the difference, and nobody else could either when I told them I used a sugar substitute! I also liked that it had a true sugar-like texture, and actually looks like real sugar. It has 75% less calories and twice the amount of sweetness of pure sugar, which is good for me during the holidays because I have the biggest sweet tooth in the world and want to avoid gaining the almost unavoidable extra holiday pounds! I would definitely use it again in my holiday baking – I promise I'm not just telling you this because I got it for free, that is my honest opinion of their product.
Truvia® $25 Holiday Giveaway
Are you ready to get your holiday baking started?! Truvia® is giving one lucky reader a $25 gift card to any grocery store of his/her choice. All you have to do to enter the contest is leave a comment stating what Holiday cookie/dessert recipe you are most excited to try recreating using Truvia® Baking Blend. The winner will be chosen on 12/17. Click here to view the contest rules! Good luck & happy baking!
Visit the Truvia® website for more tips and information on Truvia® Baking Blend

Braided Apple Pastry
Ingredients
1 package active dry yeast
¼ cup warm milk
1¼ cups all-purpose flour
½ tbsp Truvia® Baking Blend
⅛ tsp salt
¼ cup unsalted butter, chilled
1 egg
¼ cup sliced almonds
Filling:
2 McIntosh apples
1 tbsp Truvia® Baking Blend
½ tbsp brown sugar
½ tsp cinnamon
¼ tsp nutmeg
Squeeze of lemon juice
Glaze:
½ cup confectioners' sugar
½ tbsp water
Instructions
Dissolve yeast in warm milk in a medium-sized mixing bowl.
In a separate bowl, whisk together flour, Truvia® Baking Blend, and salt. Cut in butter with a pastry blender, fork, or food processor until crumbly.
Add dissolved yeast to flour mixture and stir with a fork.
Beat egg and add ½ of it to the dough and stir well (save the other ½ for coating).
Turn dough out onto a floured surface and knead a few times. Roll out to a 12x8 inch rectangle and transfer to a greased baking sheet.
Peel and dice apples and add to a large bowl. Add sugars and seasonings under "Filling" above and mix well. If it it too runny you can also add a tsp of flour.
Add apple mixture down the center of the rectange lengthwise (so you are making it the longest possible size), leaving 2 inches room on each side for the strips as well as on the top and bottom.
Cut 1 inch strips on each side diagonally, so looking at it in front of you the strips are oriented in a V shape (see photo).
Tuck each end over the apples and fold the strips over the apples, alternating sides. The end of each strip should be covered by the next.
Cover with a damp towel and let rise in a warm place for 1 hour.
Preheat oven to 425 degrees F.
Add 1 tsp of water to the remaining egg and brush over the pastry.
Bake for 15 minutes, then reduce heat to 350 degrees F and cover with aluminum foil to prevent it from browning too much. Bake for another 15 minutes, then remove from the oven.
If possible, transfer to a wire rack to cool. If it is too heavy and falling apart, let cool on baking sheet.
While cooling, quickly stir the water and confectioners' sugar until you reach the desired consistency (should not be TOO runny) and add to a plastic bag with a tiny hole cut in the corner.
Drizzle over the pastry and add sliced almonds for garnish.
Serve warm or cold.
Makes 1 loaf
This post brought to you by Truvia® Natural Sweetener. All opinions are 100% mine.