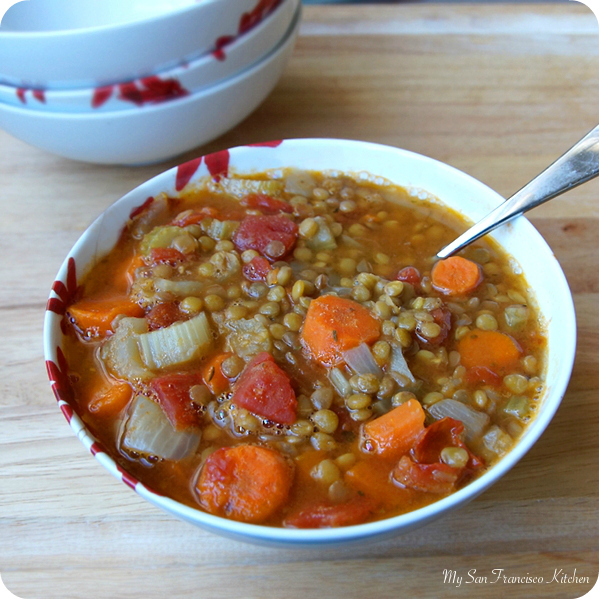 I am finally back in San Francisco after a long flight from Germany – and I have no food in my fridge! Does somebody want to go grocery shopping for me so I will just wake up and my fridge will be full? Waa! We were so lucky to eat at many restaurants and enjoy several four-course dinners, but I definitely missed cooking over the past 2 weeks while we were on vacation. One of my favorite soups to make in the winter is my Grandma's lentil soup recipe. She used to always make it for me when I was in college, and I would stock up my freezer. Her lentil soups were a lifesaver during finals week. If it wasn't for those lentil soups, I would have probably made due with take-out and chocolate every day during my finals. Thanks Grandma for always making sure I was eating healthy during my college years! Now that I don't get to go back home too often, I asked her for her lentil soup recipe and make it myself. It continues to help me during my busy weeks as school, since you can make a large batch and store it for weeks. I love adding a lot of vegetables, and lentil soup is high in fiber. My grandma soaks the lentils in water overnight, then drains them the next day before preparing the soup as the recipe directs. I also add garlic to my soup (this was not in her original recipe).

Grandma's Lentil Soup
Ingredients
2 tbsp olive oil
1 white onion, peeled and chopped
2 stalks celery, chopped
1 clove garlic, minced
2 large carrots, peeled and chopped
1 large russet potato, diced
2 large tomatoes, diced
2 cups dry lentil beans
5 cups chicken broth
1 cup water
½ tbsp oregano
1 tsp parsley
½ tsp black pepper (add more to taste)
Pinch crushed red pepper
2 bay leaves
Instructions
Heat olive oil in a large stock pot over medium heat.
Add onion and celery and simmer over medium-low heat for 7 minutes.
Add minced garlic and stir.
Add lentils, 5 cups chicken broth and 1 cup water and bring to a boil.
Stir in the spices and bay leaves, then cover.
Once boiling turn heat to medium and simmer for 1½ hours, or until lentils are tender.
At the 1 hour mark, add tomatoes, carrots, and potatoes.
Remove bay leaves before serving.
Cool completely before storing in refrigerator or freezer.
Makes 8 cups
This post is sponsored by: