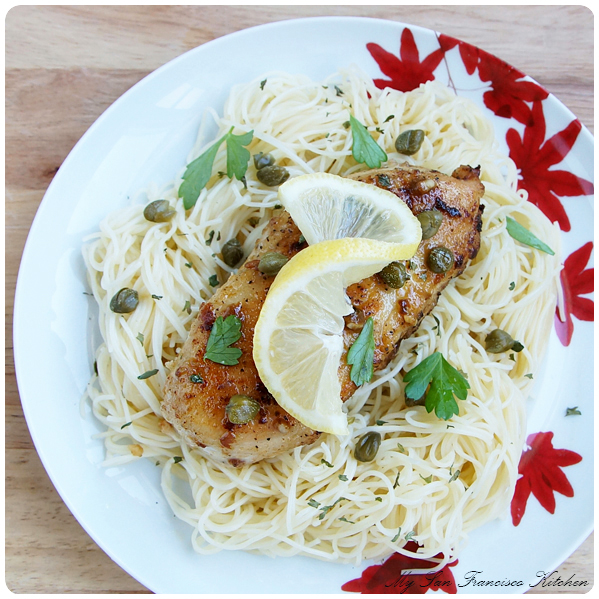 Chicken piccata originated in Italy, and although it looks like a more involved dish, I find it very easy to make. It is a great staple weeknight dish. The combination of butter, lemon and capers create intense flavor with every bite. I love making chicken piccata after a run because it has a lot of protein AND carbs, which is great. Speaking of running, I have been doing pretty well with the half-marathon training – 13.5 weeks to go! Today I am up to 4 miles, and 13 miles is seeming almost reachable now haha.
This past weekend was so much fun. We went to a Halloween party on Friday night in North Beach, and I usually get my costumes at Spirit Halloween, but this year was so last minute so I went as a devil. On Saturday, we took a day trip to Santa Cruz and Big Sur. We ate at one of my favorite places, Nepenthe. The view is just gorgeous. The weather was just perfect for the beach. Sunday I continued my training and the weather was again beautiful. I love running when it is sunny outside…for some reason when its foggy I can't get myself to get out there!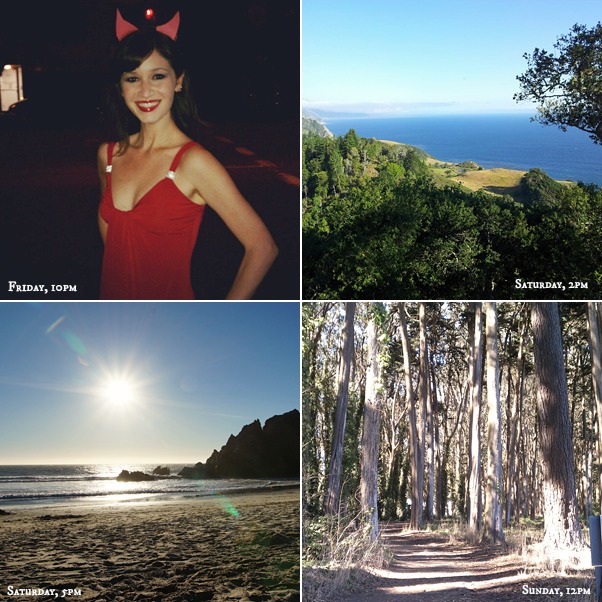 Oh yeah, and GO GIANTS! I know I am a little late, but congrats for winning the World Series (2nd time since I have lived in SF!!).
How is everyone on the East Coast doing?? I hope you are all ok. I found a link to the USDA website with some tips on food safety during a hurricane. Updates anyone? Please stay safe over there!
XoXo
p.s. Don't forget to enter my NatureBox giveaway where on lucky reader will win a free NatureBox!!

Chicken Piccata
Ingredients
2 skinless, boneless organic chicken breasts
½ cup all-purpose flour
¼ tsp salt
¼ tsp ground black pepper
2 tbsp unsalted butter
2 tbsp olive oil
2 garlic cloves, minced
½ cup dry white wine (sub white wine vinegar)
¾ cup chicken broth
2 tbsp fresh squeezed lemon juice
2 tbsp drained capers
Fresh parsley for garnish
1 box angel hair pasta
Instructions
Place each chicken breast between 2 sheets of wax paper and pound to ½-inch thickness using a meat mallet.
Sprinkle both sides of the chicken breasts evenly with salt and pepper.
Coat chicken breasts in flour on a plate and shake off excess.
Melt 1 tbsp butter in a large skillet over medium-high heat and add 1 tbsp olive oil.
Add chicken and sauté about 6 minutes on each side or until done. Juices should run clear.
In the meantime, bring water to a boil in a large pot and cook angel hair noodles al dente and then strain and set aside.
Remove chicken from pan and keep warm in an oven at 250 degrees F, or cover with aluminum foil.
Add remaining 1 tbsp oil to the skillet and add the minced garlic.
Stir and sauté 1 minute, then add the white wine or white wine vinegar.
Bring to a boil and scrape the pan gently with a wooden spoon.
Once almost all the liquid has evaporated, add ½ cup chicken broth and bring to a boil. Cook until reduced by half (about 5 minutes).
Stir in 1 tsp flour to ¼ cup chicken broth and add to the skillet.
Stir until slightly thick (about 1 minute).
Place noodles on each plate and top with chicken breasts.
Drizzle the tops with about 2 tbsp sauce and sprinkle with fresh parsley.
Serves 2
Recipe adapted from Cooking Light.
This post is sponsored by: