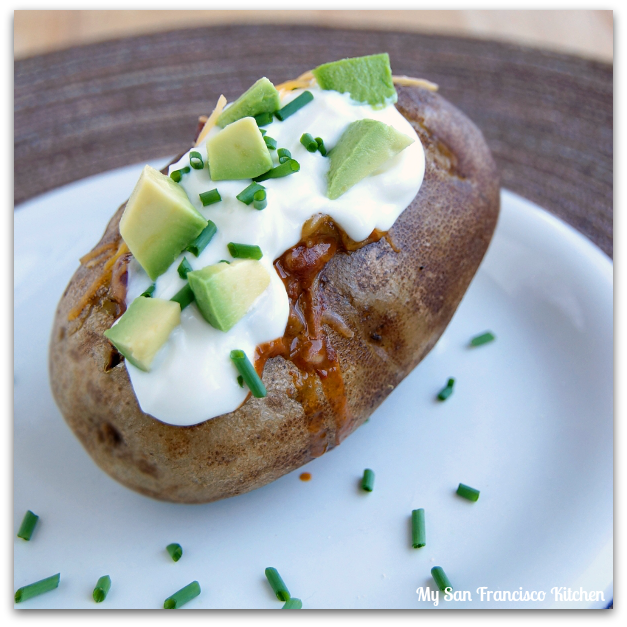 Cinco de Mayo is right around the corner! Are you doing anything special? I usually indulge in homemade Mexican food every year to celebrate. FLASHBACK! Two years ago around Cinco de Mayo, Fabi and I were hiking in Yosemite with our families 🙂 It was so much fun! The time is going by so fast.
Although this vegetarian chili baked potato isn't a "typical" Mexican dish, it is topped with some traditional Mexican food ingredients, like sour cream and freshly chopped, ripe avocados – yum! You can get creative with the toppings 🙂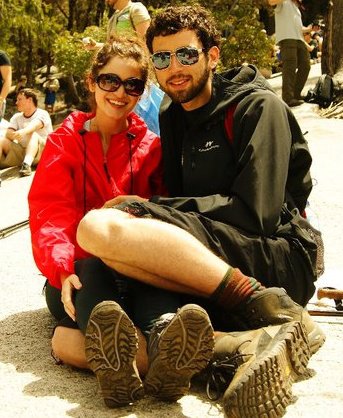 Chili Baked Potatoes
Ingredients
2 large potatoes
2 tbsp olive oil
1 can vegetarian chili (or your favorite homemade recipe!)
1 ripe avocado, pitted and diced
2 tbsp shredded cheddar cheese
¼ cup sour cream
1 tbsp chopped fresh chives
Instructions
Preheat oven to 350 degrees F.
Wash and dry potatoes, then rub with olive oil.
Using a fork, pierce holes into the potatoes in multiple places.
Wrap each potato in aluminum foil and bake in the oven for 1h 30min.
Once done, heat chili in a saucepan over low heat, then use a knife cut open the potato.
Squeeze the sides in to open the potato more, forming a bowl.
Add the chili, then top with cheese, sour cream, chopped avocado and chives.
April has been a fun month, there have been so many contests and giveaways I have been able to share with you guys! I have another fun contest to tell you about before the month ends. This year for Cinco de Mayo, Avocados from Mexico and Avocado will be hosting a fun photo sweepstakes! All you need to do is post a photo of you and your significant other celebrating Cinco De Mayo with your favorite dish made with Avocados from Mexico, or the avocado dish on the entry page. You can enter the sweepstakes via the I Love Avocados For Cinco De Mayo sweepstakes page on their web or mobile site, or through either Avocados from Mexico on Facebook.The prizes are as follows:
Free premium version of Avocado app and:
1st place: $1000
2nd place: $500
3rd place: $250
If you haven't heard of the Avocado app, you should check it out! It has a messenger, calendar, to-do/grocery list and more. I tried it out with my hubby, and loved the "quick faces" feature. You can take pics of different facial expressions to send to your friends/significant other that are pretty hilarious.
Lastly, on May 7th between 3:00 and 4:00pm EST there will be an #iloveavocados for Cinco de Mayo Twitter party hosted by @Avocado and @guacgrl! Check it out for a good time and good food!
OK, so tell me – what are you making for Cinco de Mayo?? If you haven't thought about it yet, here are some Cinco De Mayo recipes to give you some inspiration!!
This post brought to you by Avocado App. All opinions are 100% mine.