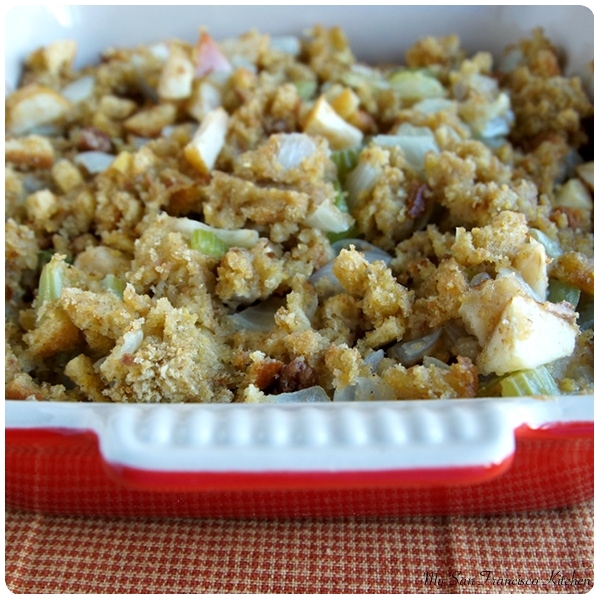 Seriously…Thanksgiving is next week?! The holidays are coming so fast! My favorite Thanksgiving dish is my Mom's stuffing, and now that Thanksgiving is right around the corner it got me thinking – why do I only eat stuffing once a year??? It is soo good, and I love the different varieties that are out there. This is my Mom's recipe, except she uses Italian sausage, but I omitted this and kept it vegetarian. I also added a little touch of my own: pecans. I think the pecans add a little crunch to this stuffing recipe that is fantastic!
OK, so what is your favorite Thanksgiving dish? More importantly, what are you thankful for this year? I am thankful for many things, but my top three are : 1) my family (which grew bigger this past summer 🙂 ) 2) the privilege of living in a peaceful part of the world and 3) having [healthy] food to eat every day. In Mrs. Cubbison's "Thanksgiving Survey Across America," the majority of American's reported that they will be giving thanks for their family, health, God and friends this year. In addition, Thanksgiving was the #2 favorite holiday in America, following closely behind Christmas, and turkey was America's favorite Thanksgiving menu item (of course!). Click here see more survey results.
Back to the stuffing recipe…I used Mrs. Cubbison's Corn Bread Stuffing mix, which you can find at the grocery store. For more recipe ideas, check out Mrs. Cubbison's Facebook page and ThanksgivingTips.com.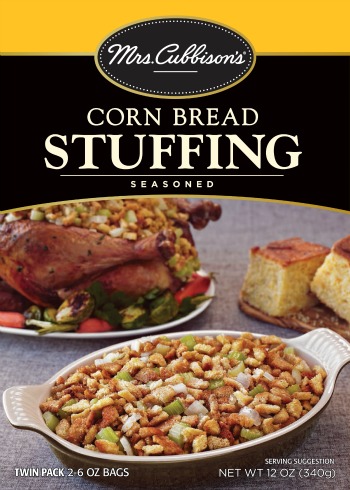 Corn Bread Stuffing with Apples and Pecans
Ingredients
1 box of Mrs. Cubbison's corn bread stuffing
½ cup unsalted butter (1 stick)
½ cup olive oil
1 yellow onion, chopped
1 cup celery, chopped
1 apple, peeled and chopped
½ cup pecans
2 cups chicken broth (or water for less sodium)
Instructions
Preheat oven to 350 degrees F.
In a large saucepan, add butter and olive oil over medium heat.
Add onions and celery and simmer for about 7 minutes.
Add apples, pecans and corn bread stuffing mix.
Add 2 cups of chicken broth (or water) and stir well.
Transfer to a greased baking dish and cover with aluminum foil.
Bake for 30 minutes, then remove foil and bake for 15 more minutes for a crispy top.
Makes 5-6 cups
This sponsorship is brought to you by Mrs. Cubbison's who I have partnered with for this promotion.