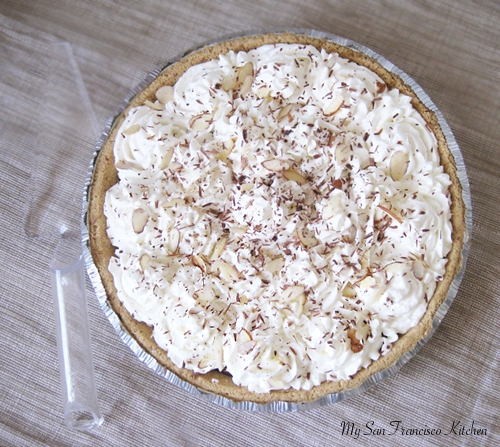 Yawwwwwnnn it's Monday once again! I got up at 6:00am to get to the library early this morning and study for my therapeutics exams this week. One coffee later and I'm still not awake :/ Last night we went to our friend's apartment to have dinner: caprese salad, a delicious pumpkin pasta, and homemade chocolate cream pie for dessert. I find this chocolate cream pie recipe is rich, too rich for some. I am a chocolate lover, so I love it! It makes an easy dessert for dinner parties, and you can make mini pies for two. I usually make my own graham cracker pie crust, but this time I used the store-bought kind and made the chocolate filling and whipped topping from scratch. The most fun part is decorating it. You can use sliced almonds and chocolate shavings (use a peeler and scrap a dark chocolate bar over the pie) to dress it up really nice. You can find the whipped topping recipe here.

Ingredients
1 graham cracker pie crust
2 tbsp unsalted butter
1 cups semisweet baker's chocolate, chopped
1 tsp vanilla extract
⅔ cup granulated sugar
3 tbsp cornstarch
2 tbsp unsweetened cocoa powder
⅛ tsp salt
3 egg yolks
1 cup heavy cream
1½ cups milk
2 cups whipped topping
Instructions
Add chopped chocolate, butter, and vanilla extract in a heat-proof mixing bowl and set aside.
In a medium saucepan away from heat, whisk together sugar, cornstarch, cocoa and salt.
Whisk in ¼ cup of cold heavy cream until the mixture is smooth. Repeat with another ¼ cup of the cream.
Whisk in the egg yolks.
Place the saucepan over medium heat, and gradually whisk in the remaining cream and milk.
Bring to a boil, whisking constantly and boil for 1 minute as mixture thickens.
Remove the pan from the heat and pour the mixture over chocolate and butter and whisk until melted and smooth.
Place plastic wrap over the top layer to prevent skin formation on the surface and refrigerate for 1 hour.
Scoop into pie shell with a spatula and smooth out.
Pipe whipping cream over the top, and top with sliced almonds and chocolate shavings if desired.
Makes 1 pie
This post is sponsored by: