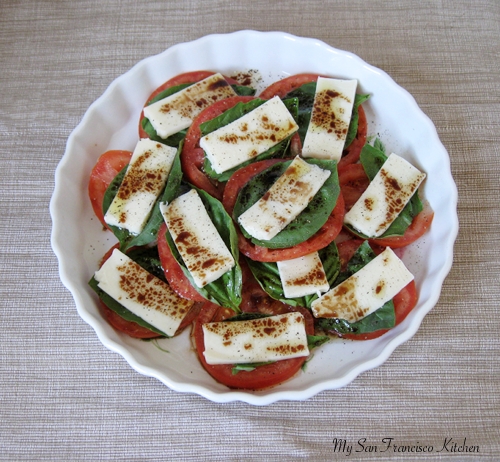 Today's post is fast and simple because there isn't much going on in the kitchen this week…I have 2 midterms (well, had one today and one more tomorrow at 8am yuck!). The one today wasn't too bad, it was an oral exam on warfarin counseling and my timeslot was last in the day so I literally sat in the library from 10am until 4pm studying. I came home and slept for a little…therapeutics really wipes me out! Unfortunately, I have to resist the urge to cook or bake until tomorrow is over 🙁 The good thing is that you can still eat healthy no matter how busy you get, and this caprese salad is proof! It is a fast and really easy dish that will fill you up. It is also great for entertaining, and there are so many ways to arrange the ingredients. In the one pictured above, you can serve with toothpicks as an appetizer.

Ingredients
2 large tomatoes
1 lb fresh mozzarella
1 bunch fresh basil
3 tbsp olive oil
2 tbsp balsamic vinegar
Salt and pepper to taste
Instructions
Wash tomatoes and basil, and slice tomatoes and mozzarella cheese into ¼ inch thick circles (or squares if you like the shape better).
Arrange tomatoes, mozzarella cheese, and basil leaves in an alternating pattern in a serving dish.
Whisk together olive oil and balsamic vinegar with a fork.
Drizzle oil mixture over salad and sprinkle with salt and pepper.
Cover and refrigerate until ready to serve.
This post is sponsored by: