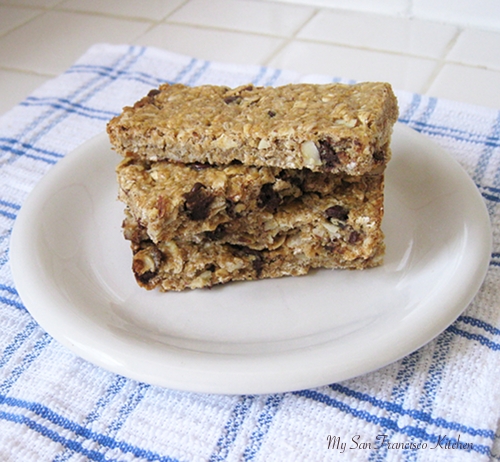 This was my first attempt at making my own homemade chocolate chip granola bars. Many store-bought granola bars are made with high fructose corn syrup and a lot of sugar, so I wanted to create a healthier version that still tasted delicious. I have wanted to try it for so long, but I was scared it wouldn't come out the way I wanted. I've looked at a bunch of different recipes, and read through tons of comments on what worked, what didn't. I finally scribbled down what I thought would make "the perfect granola bar" and when I was ready to start, I realized I didn't have wheat germ (one of the main ingredients). So then I had to research what I could sub for it since I didn't want to make a trip to the store just for wheat germ. Plus, I have no clue where to even find it! Feel free to try the recipe with it, but I substituted it for ground flax seeds (which I happened to have in my pantry) and this recipe turned out AMAZING. They cooled to be nice and chewy, and taste just like the kind you buy at the store (except a little healthier ;)). Want proof? Out of the whole batch there is 1/2 a bar left…I gave one to my fiancé and he couldn't stop eating them. Taste-test approved! I should have made more to last the week :/ I made these with sliced almonds and chocolate chips. This recipe is a great base for your own creativity-add fruit (raisins, dried cranberries, blueberries, banana), nuts, M&Ms, etc. I would love to hear your ideas!

Homemade Chewy Granola Bars (No High Fructose Corn Syrup)
Ingredients
1 cup rolled oats
4 tbsp packed brown sugar
¼ cup ground flax seeds (or wheat germ)
½ tsp ground cinnamon
½ cup all-purpose flour
Pinch of salt
3 tbsp honey
1 egg, beaten
⅛ cup vegetable oil
⅛ cup unsweetened applesauce
1 tsp vanilla extract
½ cup semi-sweet chocolate chips
¼ cup sliced almonds
Instructions
Preheat oven to 350 degrees F.
In a large bowl, mix oats, sugar, ground flax seeds, flour, cinnamon, salt, almonds, and chocolate chips together.
Add egg, honey, oil and apple sauce on top and stir with a spoon for a few minutes until all ingredients are blended together.
Transfer to a greased 8x8 pan and flatten down to desired thickness using wax paper.
Bake for 25 minutes, or until just firm and edges are golden brown. Do not overbake or they will be too hard!
Cool 5 minutes, then cut with a knife and leave in pan to cool.
Once completely cooled, remove and store in an airtight container.
Makes 8 bars
Nutrition Information
Serving size:
1
Calories:
210
Fat:
6g
Sugar:
16g
Fiber:
2.5g
This post is sponsored by:
See this post on Sweet Indulgences Sunday!