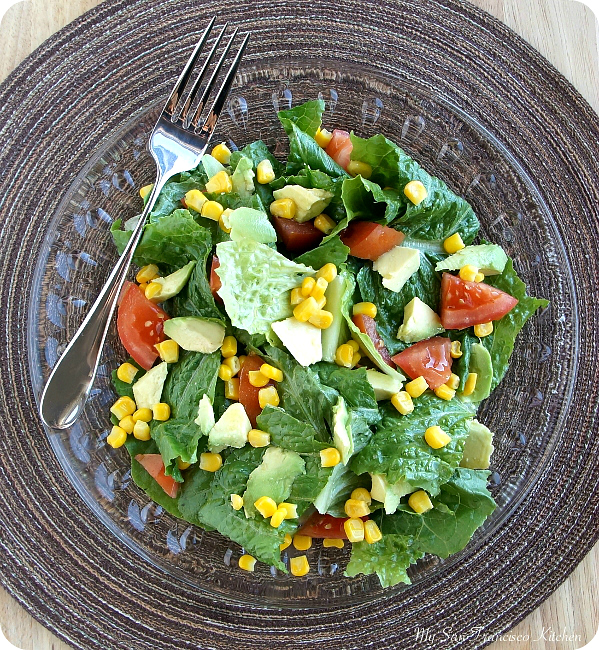 I have been having many busy days lately, and the quickest lunch for me to make in the morning is a salad! It is easy if you make the dressing the night before (or already have some on hand) and in the morning you can just toss some romaine lettuce and vegetables in a to-go container in less than 5 minutes. This simple avocado salad is one of my favorite salads, especially with a lime dressing. It tastes so fresh! You can add other items to it, such as black beans and cilantro, and even turn it into a fiesta salad and top with sour cream and salsa – yum!
This week has been pretty uneventful. I am eagerly waiting for my rotations schedule (should be coming out Friday *fingers crossed*) so I will know what areas in the hospital I will be working in for the next year starting in a few months. The half-marathon is creeping up on me. Yesterday I ran 5 miles and it nearly killed me (after taking a 2 week vacation over the holidays from running – bad bad bad idea). Today I am going to the gym for another run. I wonder if I will be this good about working out when the race is over? 😉

Simple Avocado Salad
Ingredients
4 cups romaine lettuce, rinsed
1 medium tomato, diced
1 avocado, peeled and diced
1 cup corn
Lime dressing
3 tbsp lime juice
4 tbsp olive oil
2 tbsp sugar
Pinch of salt
Instructions
Toss the romaine lettuce with the cherry tomatoes, corn, and avocado.
To make the dressing, shake all ingredients in a salad dressing cruet or whisk well in a bowl until the sugar dissolves. Adjust to taste.
Drizzle the dressing over the salad or mix in.
Serves 2
This post is sponsored by: