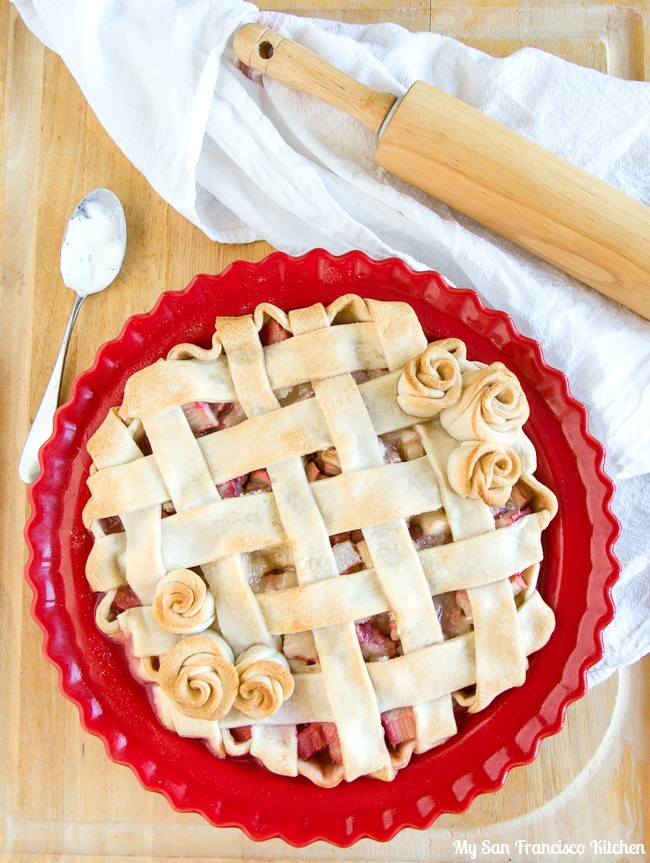 Happy Birthday, Fabi!!
Yesterday was my husband's birthday, and Leila and I made him a rhubarb pie since rhubarb is one of his favorite vegetables. I first tried it in Germany in different baked goods and fell in love with it too. Without sugar, it is very tart and sour. However, mixed with a little sugar and it tastes delicious in pies and cakes. Did you know the leaves are poisonous? Don't worry, most of the grocery stores only sell them as stalks anyway, but if you happen to buy the whole plant be sure to chop off the rhubarb leaves. 
Rhubarb is very similar to celery, and when chopping you may see some peeling. Go ahead and peel the stringy parts off, but don't worry about peeling the stalks completely. The chopped rhubarb will bake very nicely in the pie even with some outer peels left on.
This rhubarb pie is very easy to make. It is even easier if you use store-bought pie crusts! I usually make my own, but Leila and I cheated this time and went with the store-bought crusts…shhhh. I had to use 3, because the dough rosettes almost use one whole crust on their own. I used the other two for the bottom and the dough lattice topping.
The dough rosettes may look complicated and time consuming, but they are actually very easy to make – just use a circle cookie/biscuit cutter to cut out four circles form the rolled pie crust, and layer them slightly over each other. Then, roll them up and slice them in half. With your finger, pull down each layer on one side. The picture below will be helpful when making your dough rosettes.
I hope you enjoy this lovely, easy rhubarb pie!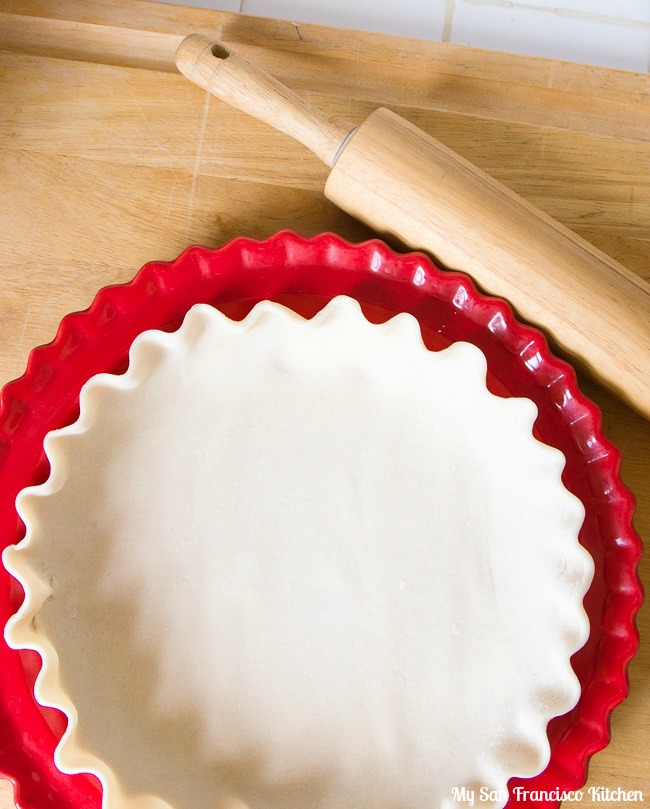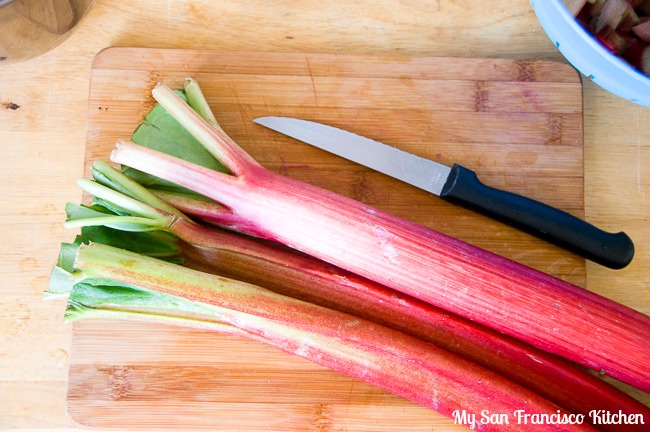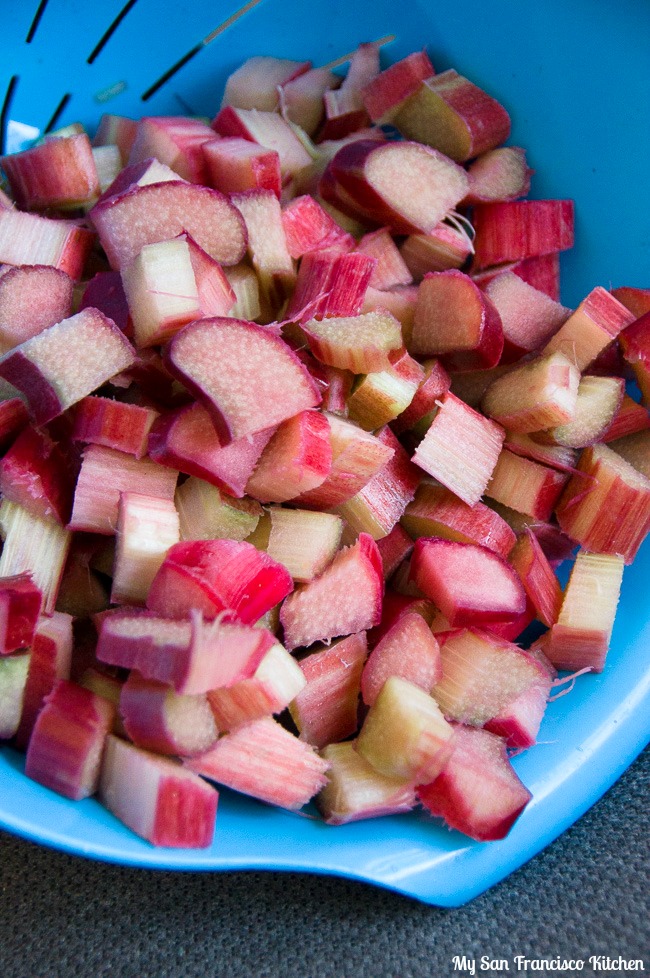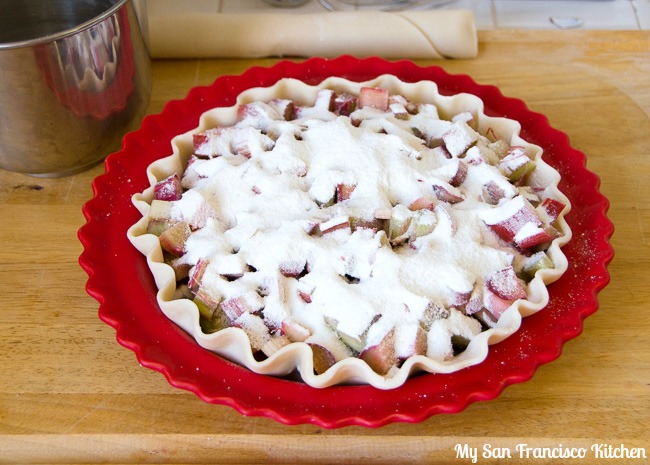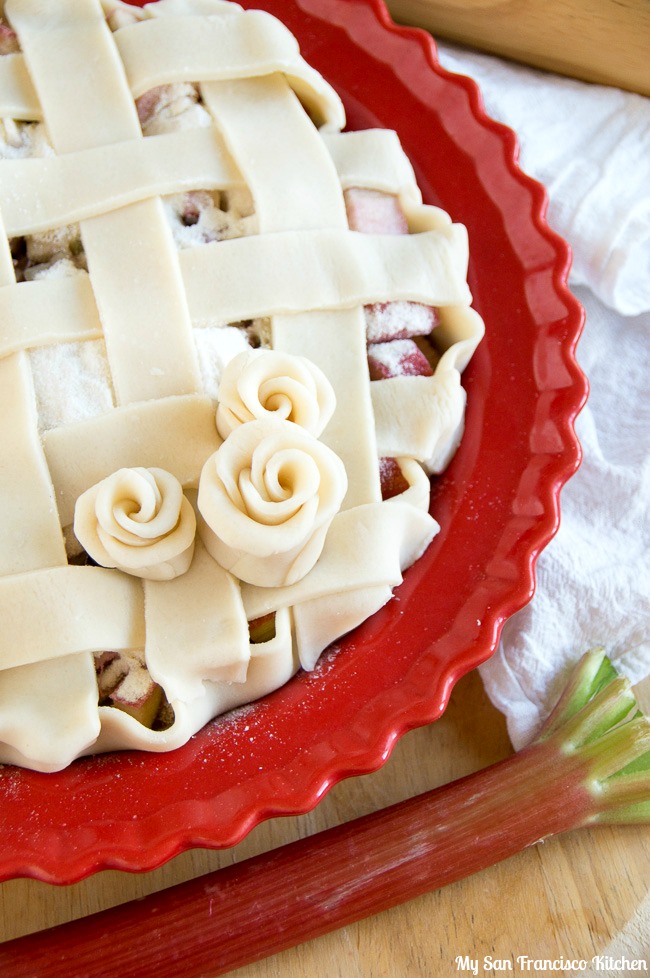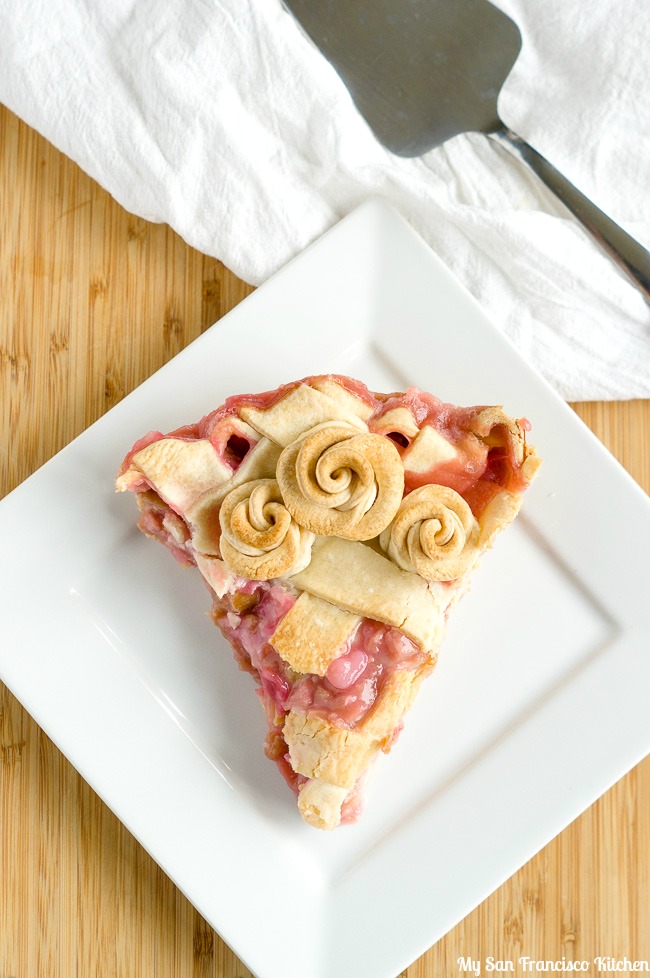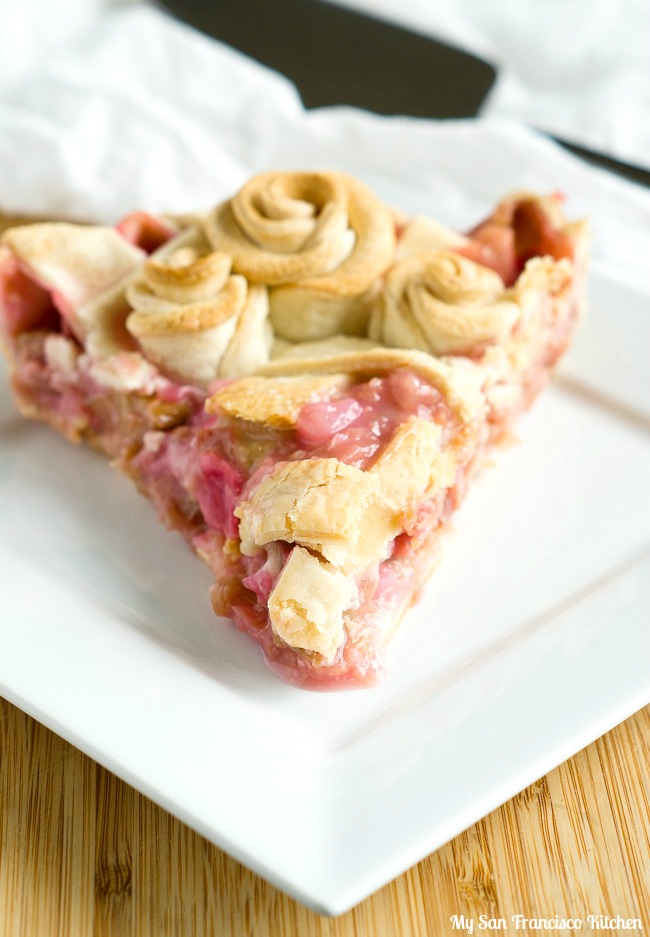 Easy Rhubarb Pie
Ingredients
3 store-bought pie crusts
4 cups chopped rhubarb
1¼ cup granulated sugar
¼ cup + 2 tbsp all-purpose flour
Instructions
Preheat oven to 450 degrees F.
Press one of the pie crusts into a greased 9-inch pie crust.
Combine the sugar and flour in a mixing bowl with a whisk and sprinkle a few tablespoons of it over the bottom pie crust.
Top the pie crust with the chopped rhubarb, and top with the remaining sugar and flour mixture. Use a spoon to gently even it out over the entire pie (no need to mix thoroughly).
Top the pie with a 6-inch crust or lattice, and dough rosettes (see tutorial above).
Bake for 15 minutes, then turn down the oven to 350 degrees F and bake for 45 additional minutes (until pie filling is bubbling). Cover the top crust/dough rosettes with aluminum foil if browning too much before the pie is done baking.
Serve warm or chilled!
Makes 1 6-inch pie