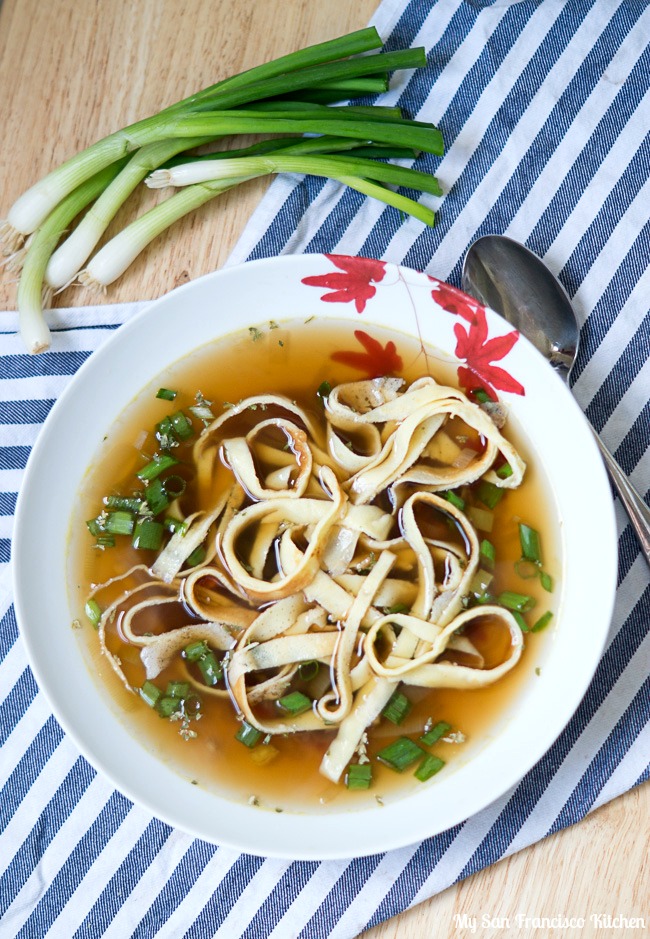 This weekend we have the perfect weather in San Francisco for a warm soup. It has been cloudy, foggy, and rainy for many days already this year in the city. It has somehow become sort of automatic for me to cook more soups on rainy days. After I recently got over my lentil soup and butternut squash soup kick, I remembered this comforting flädlesuppe recipe. Flädlesuppe kind of means "pancake soup" in German, and this recipe was given to me by my husband a long time ago when we first started cooking together. 
This flädlesuppe is one of the easiest recipes I know, and I usually always have the ingredients on hand to make this German pancake soup. It is made with basic ingredients to make crêpes (flour, eggs, milk) and only a few vegetables, which are even optional. In our flädlesuppe recipe I usually use leek, green onion, celery and carrots. The crêpes can be made quickly in a blender, and are easiest to shred with a knife when they are cooled to at least room temperature, if not colder. For the soup base, I use beef broth for a stronger flavor, but you can also use vegetable or even chicken broth if you want…go ahead and experiment! No last minute trip to the store needed, yay! It is the worst when you can't scramble up enough things in your pantry to cook anything on a rainy day.
Hopefully you will always have this flädlesuppe recipe to fall back on during rainy days, like I do now 🙂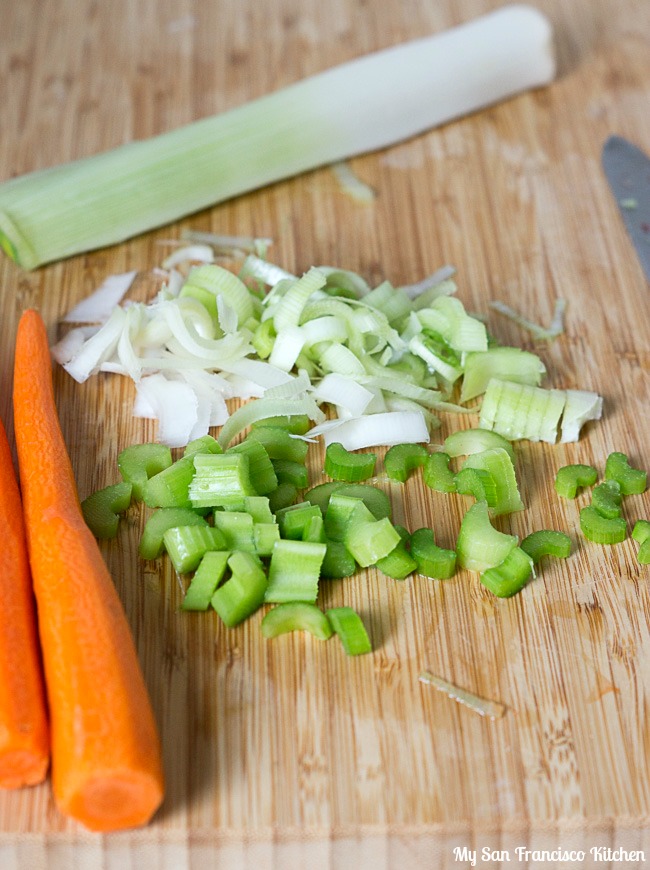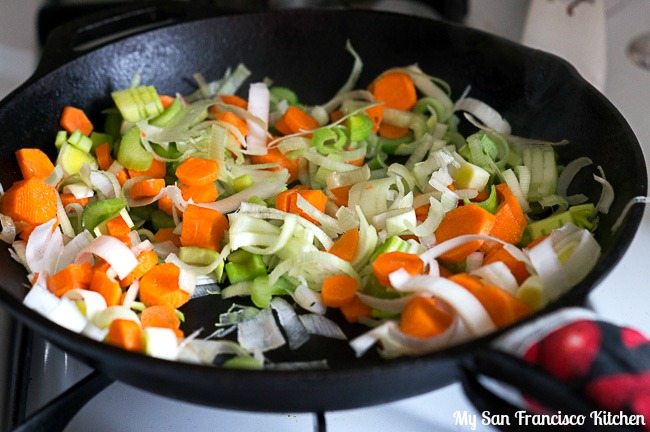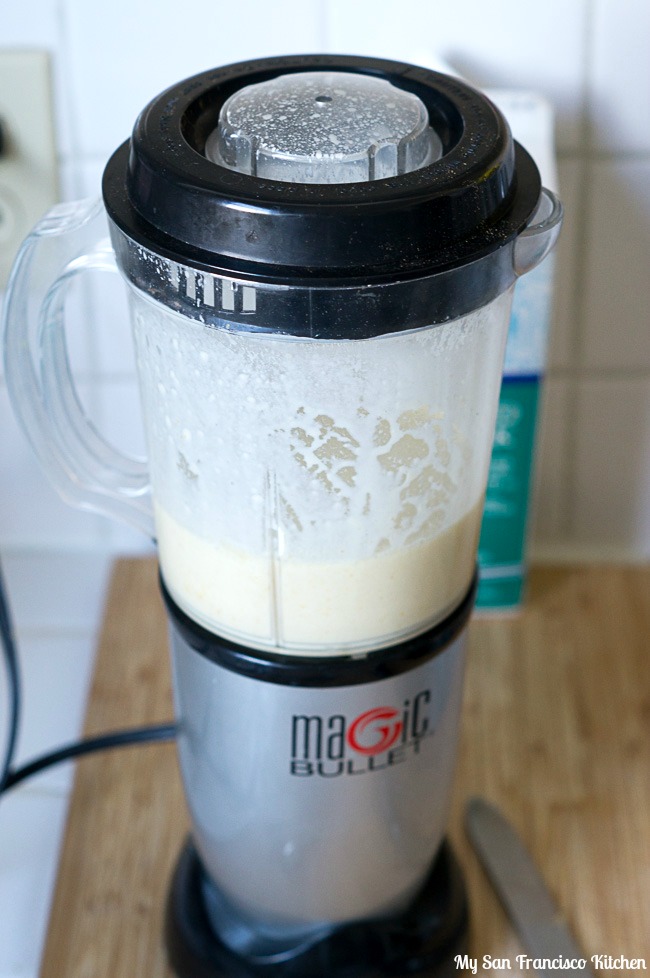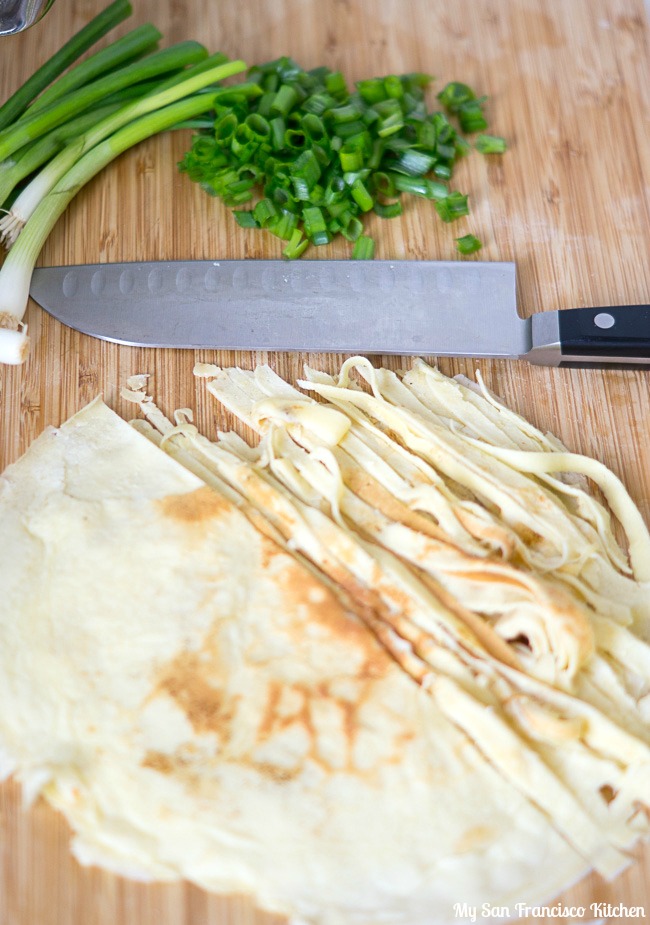 Flädlesuppe (German Pancake Soup)
Ingredients
1 cup all-purpose flour
Pinch granulated sugar
⅛ tsp salt
2 large eggs
1½ cups milk
2 tbsp butter, melted (plus more for greasing pan)
4 cups beef broth
2 tbsp olive oil
1 leek, thinly sliced
¼ cup chopped green onion
1 large carrot, peeled and chopped
1 large celery rib, chopped
1 tbsp chopped fresh parsley
Instructions
Add the flour, salt, sugar, milk, eggs and butter to a blender. Chill the batter for 30 minutes.
Pour ¼ cup of batter onto a greased, hot skillet and swirl around the pan to thin the batter out. Carefully peel and flip when edges begin to peel up off the pan, and cook the other side for 30 seconds.
Cover the crepes and chill for 15 minutes.
Heat the olive oil in a large pot over medium heat and sauté the leek, celery, green onion, and carrots for 5 minutes.
Add the beef broth and bring to a boil. Remove from heat, stir in the parsley and set aside.
Stack the crepes on a cutting board and thinly slice using a sharp knife.
Serve the soup warm, with a handful of sliced crepes on top.
Makes 4 cups