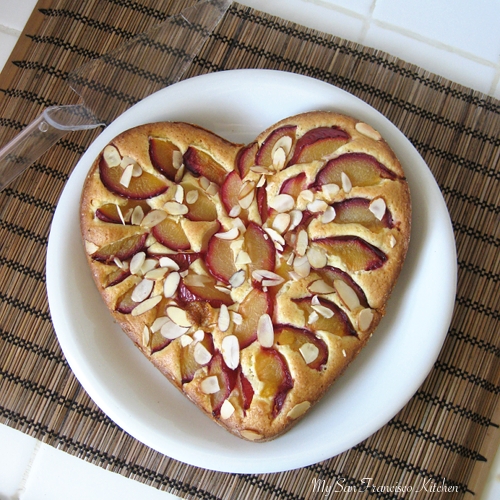 What a beautiful, sunny day in San Francisco today! After lunch, this afternoon I plan to head to the beach and hopefully get a little summer color going. The wedding is in ONE MONTH and I am as white as a ghost! Yikes. This weekend is my bridal shower in LA, I can't wait to see my family & friends and have a relaxing weekend at home 🙂 Yesterday I made this German plum cake, called Zwetschgenkuchen in German. One time when I was in Germany visiting Fabi's family, his aunt made it one time and I couldn't stop eating it because it was so good. I can't explain how much I love this cake…it combines the flavors of lemon, almonds, and plum to create an incredible experience in your mouth-I'm being totally serious, you have to try it! If you don't like cakes a little on the tart side, this might not be your favorite-although sprinkled with a little brown sugar, the plums still give this cake a sour kick to it. I think it goes perfect with afternoon tea.

German Plum Cake (Zwetschgenkuchen)
Ingredients
7 tbsp unsalted butter, softened
2 eggs
1 pinch of salt
½ cup granulated white sugar
1 tbsp freshly grated lemon zest
1⅔ cups all-purpose flour
1 tsp baking powder
Topping
1 lb plums (about 4 plums)
2 tbsp sliced ​​almonds
1 tbsp brown sugar
Instructions
Cream together butter and sugar in a standalone mixer fitted with paddle attachment (or electric mixer).
Add eggs and lemon zest.
Whisk together salt, baking powder, and flour in a separate bowl, then add slowly to mixer on low speed.
Once all of the flour mixture is added, turn up the speed to high for 5 seconds to make sure all is blended and fluffy.
Use a spatula to transfer to a greased & floured cake pan.
Preheat oven to 375 degrees F.
Wash, pit, and slice plums into ¾ inch thick slices and layer around the top of the cake, pressing in until just the top peaks out.
Sprinkle sliced almonds and brown sugar on top.
Bake for 45-50 minutes, or until plums look soft and toothpick comes out of the middle clean.
Let cool in pan on stove/cooling rack before transferring to a serving plate. Cut around the edges to loosen with a butter knife, and remove with help from a spatula or 2 forks on either side of the cake.
Serve with cool whip, vanilla yogurt or ice cream.