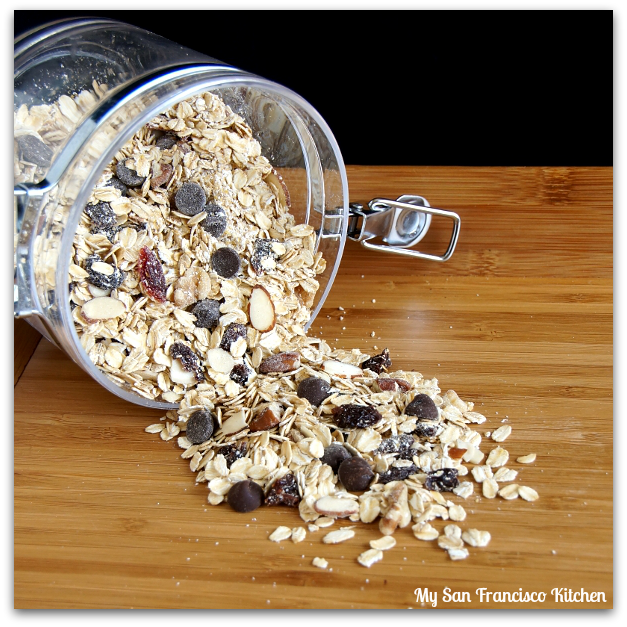 I am home! We had a wonderful time in beautiful British Columbia (I will share a few pics on my next post). The scenery is just breathtaking! We got back late last night, and this morning I woke up to an empty fridge. Don't you just hate that when you get back from vacation? I didn't even have cereal! I decided to make some chocolate cherry muesli with oats, pecans, sliced almonds, walnuts, chocolate chips, dried cranberries and dried cherries. I love experimenting with different ingredients, but this one is my all-time favorite! If you have never heard of muesli before, it is a popular European breakfast (originally from Switzerland). You can also eat it anytime during the day, or as a light dessert with fresh fruit and yogurt. I haven't seen it in American grocery stores, but it is commonly found in the grocery stores in Germany. I prefer to make my own at home, because I usually have the ingredients on hand and it saves money!
Back to the huge amount of laundry I have to do today, and unpacking… ahh! It is good to be back home, though, and I can't wait to catch up on my foodie friends' blogs and see what you have all been up to in your kitchens (sorry I haven't been able to keep up since I have been gone all week) 🙂
Chocolate Cherry Muesli
Ingredients
2 cups organic rolled oats
¼ cup dried cherries
¼ cup dried cranberries
¼ cup semi-sweet chocolate chips
2 tbsp chopped pecans
2 tbsp chopped walnuts
2 tbsp sliced almonds
Instructions
Add all ingredients to a large bowl and mix.
Store in an airtight container.