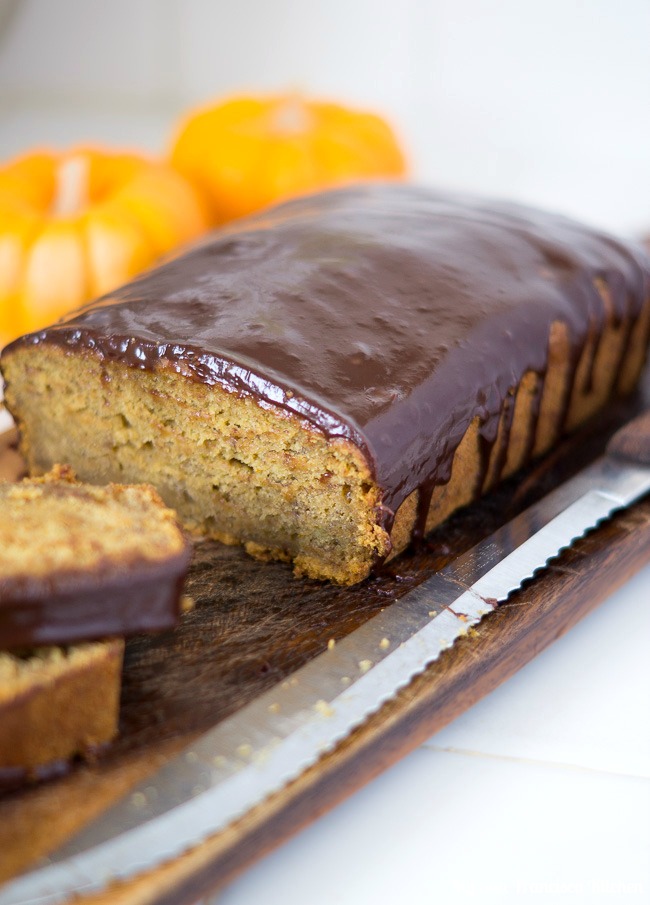 I've sort of been on a ganache kick lately, ever since I made that yellow cake for my 4 year blog anniversary. This is going to be the last dessert I post on here for a while, because we have been going a little crazy with the sweets lately! I was doing so good getting back into my healthy eating lifestyle… This pumpkin banana bread is totally worth the calories. It is SO GOOD! It doesn't even need the ganache topping, I just love everything more if it is coated in chocolate 😉
The nice thing about this pumpkin banana bread is that the pumpkin and bananas make it moist enough without needing to add a lot of butter or oil. Except for the sugar, I would say it is a pretty healthy bread!
If you do decide to top your pumpkin banana bread with chocolate ganache, remember that ganache takes a while to set! I wanted to eat it right away, but had to wait hours until the ganache was nice and firm for the best result. I heard if you put it in the refrigerator, the ganache will become dry, grainy and cracked…yikes! I'd rather just wait it out at room temperature. 
This pumpkin banana bread loaf is a nice gift for friends to celebrate the Fall season. You can also make them with mini loaf pans
(just adjust the recipe accordingly).
Remember when I told you about my extended cycling class? I barely survived. It wasn't just cycling longer like I thought…the instructor took the extra time in the class to work on our max wattage. We had to spin as hard as we could for 4 minute intervals, and then have a cool down, then repeat for the whole class. It was brutal. My legs felt like jello after, and all day yesterday they were sore! I won't be going back to that class again, the regular spin classes are definitely enough for me.
We were really lucky with the weather this past weekend and took our baby girl outside on a few walks. She loves looking at all the trees now, and facing outwards in our carrier. It is so much fun watching her grow!!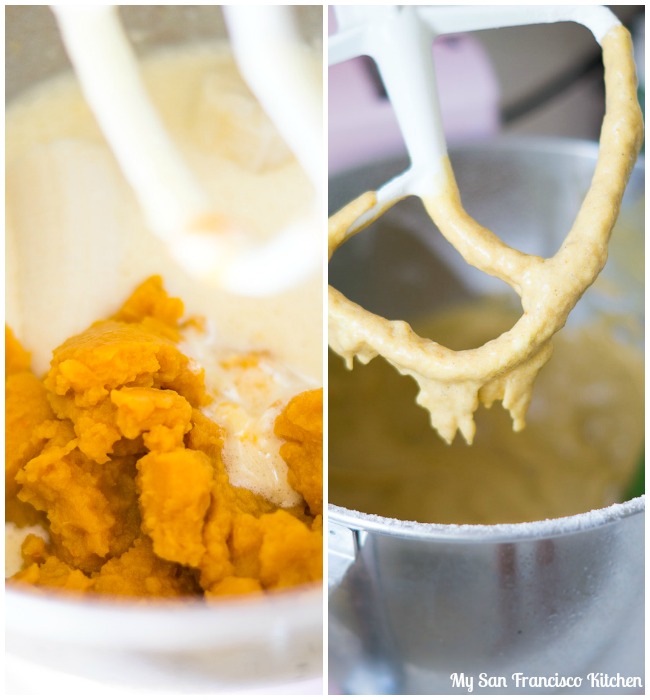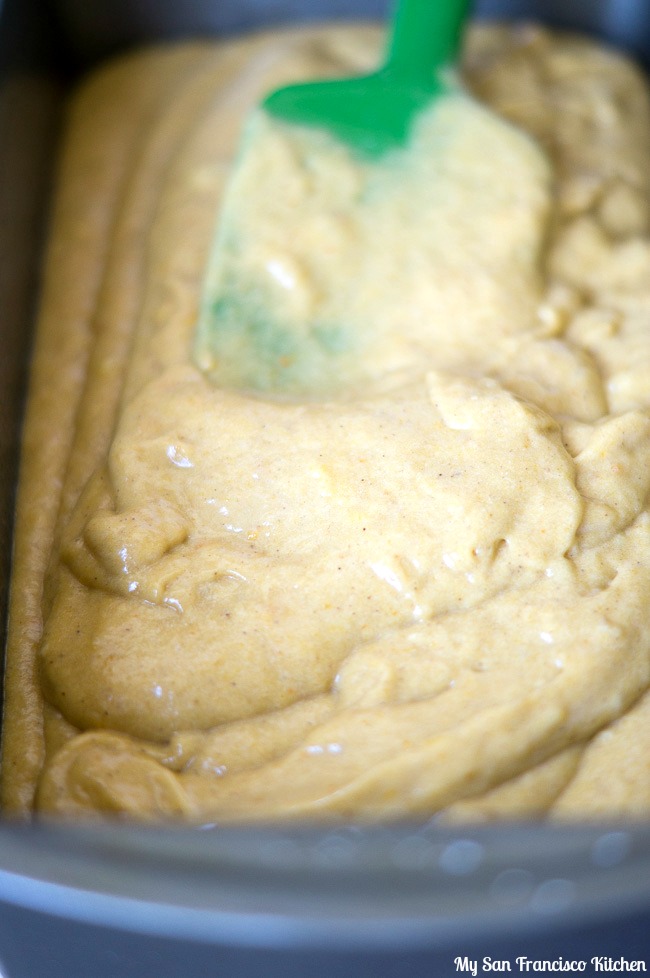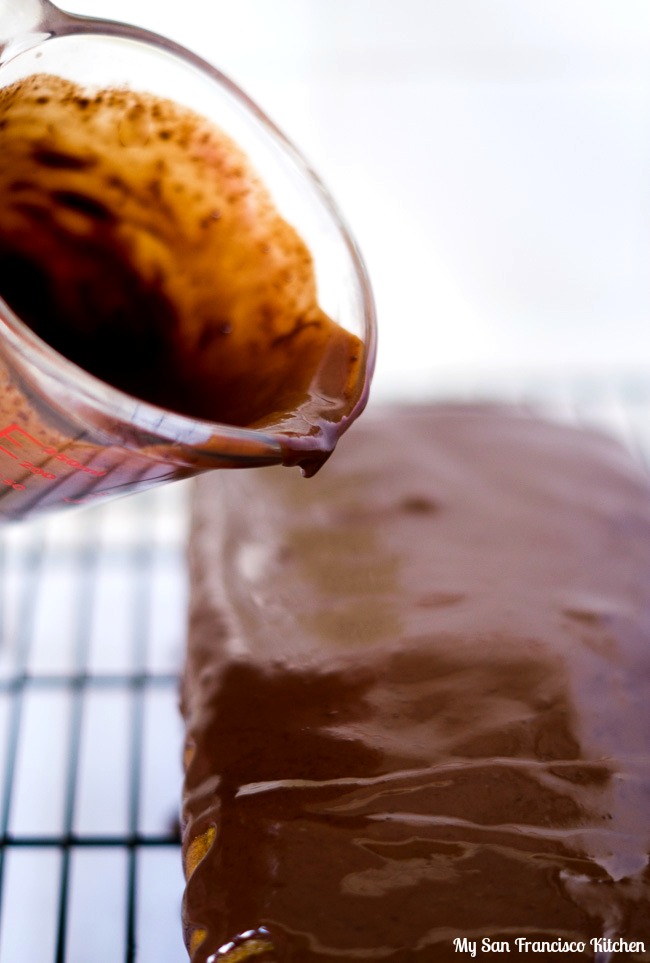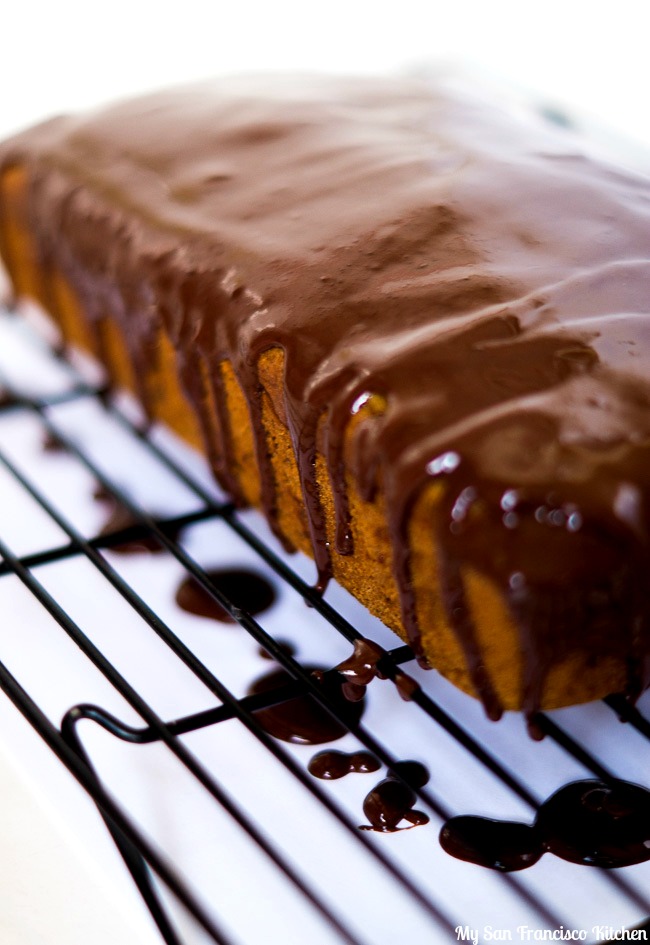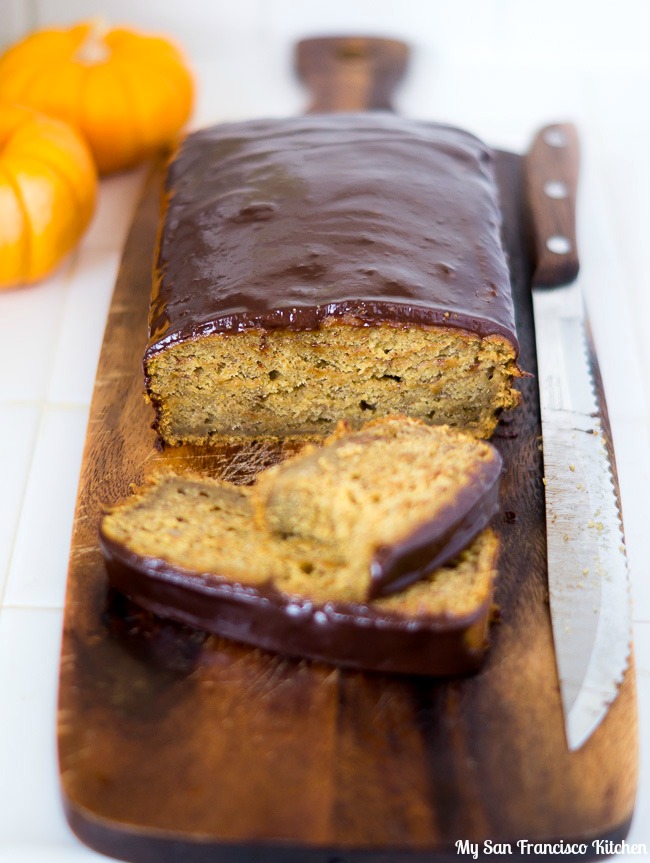 Pumpkin Banana Bread with Ganache
Ingredients
5 tbsp butter, room temperature
¾ cup sugar
2 eggs
2 ripe bananas
⅔ cup canned pumpkin
2 cups all purpose flour
1 tsp baking soda
1⁄4 tsp salt
½ tsp cinnamon
¼ tsp nutmeg
¼ tsp allspice (optional)
Chocolate Ganache
6 oz (1/2 bag) semi-sweet chocolate chips
½ cup heavy cream
Instructions
Preheat oven to 300 degrees F.
In a mixing bowl, combine the flour, baking soda, salt, cinnamon, nutmeg and allspice. Set aside.
Cream together the butter and sugar in a mixing bowl until smooth, then add the eggs.
Add the banana and pumpkin and mix until just blended.
Add the dry ingredients while mixing.
Transfer the batter to a greased 9x5-inch loaf pan and bake in the oven for 1 hour 15 minutes.
Once the loaf pan is cool to touch, transfer the bread to a wire rack to finish cooling.
Once the bread is cool, prepare the ganache by boiling ½ cup of heavy cream and pouring over the chocolate chips. Stir until smooth, then pour the ganache over the bread. For easier cleanup, put a piece of paper under your bread to catch the drips.
Cool at room temperature for 2-3 hours to set.
Did you make it? I'd love to see! Snap a pic and share via #mysanfranciscokitchen, or tag my social media sites!
Disclaimer: Some of the links in this post are affiliate links.