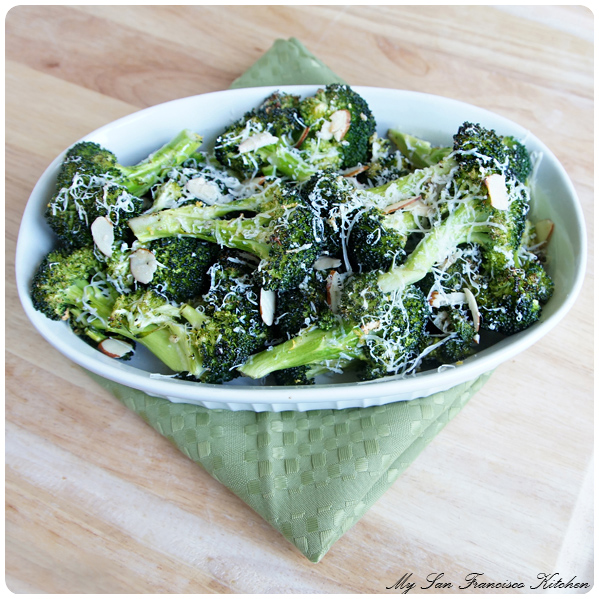 I LOVE broccoli. Is that weird? I guess I remember not liking it as a kid, but broccoli kind of grew on me and now I love it – especially because it is so healthy for you! Broccoli can be boring if you steam it over and over, so sometimes I like to switch things up and get creative with it. This is one of my favorite roasted broccoli recipes. It is so easy and the broccoli comes out of the oven crispy and flavorful. Just toss some organic broccoli with olive oil, garlic, salt, pepper and sliced almonds and grate some fresh Parmesan cheese over after taking it out of the oven. Don't forget a little squeeze of fresh lemon juice for that extra flavor! You can use this roasted broccoli recipe as a side dish or you can toss it with some noodles and olive oil to make a broccoli pasta – yum! If you aren't the biggest fan of broccoli, maybe you just need a little flavor 🙂
Soooo I started school today. I woke up ready to start class, and told myself this year I would cut back on the daily coffees. Today, I told myself, I didn't need it. Ha. That lasted one hour … after only an hour of pharmaceutical chemistry I was in desperate need of caffeine. Actually, it was more like 30 minutes. How sad is that? Here we go again…

Roasted Garlic Broccoli
Ingredients
1 large head of organic broccoli
5 tbsp olive oil
4 garlic cloves, minced
½ tsp salt
½ tsp black pepper
2 tbsp sliced almonds
⅓ cup grated Parmesan cheese
1 lemon
Instructions
Preheat oven to 425 degrees F.
Add olive oil, salt, pepper, and freshly minced garlic cloves to a mixing bowl and mix with a fork.
Wash broccoli and dry very well.
Chop broccoli into small florets and add to bowl.
Toss all of the ingredients in the mixing bowl well, then transfer to a baking pan lined with aluminum foil sprayed with cooking spray for easy clean-up.
Drizzle extra olive oil over broccoli if needed.
Use a grater to grate about 1 tbsp lemon zest over the broccoli.
Bake for 20 minutes, or until slightly browning.
Remove from oven and squeeze a fresh lemon over the broccoli for desired taste (careful not to overdo it!). Drizzle a little more olive oil over the broccoli, and add the freshly grated Parmesan cheese over the top.
Serve warm.
This post is sponsored by: